Honoree, Volunteer
Brian Morson
Ascension St. Vincent Anderson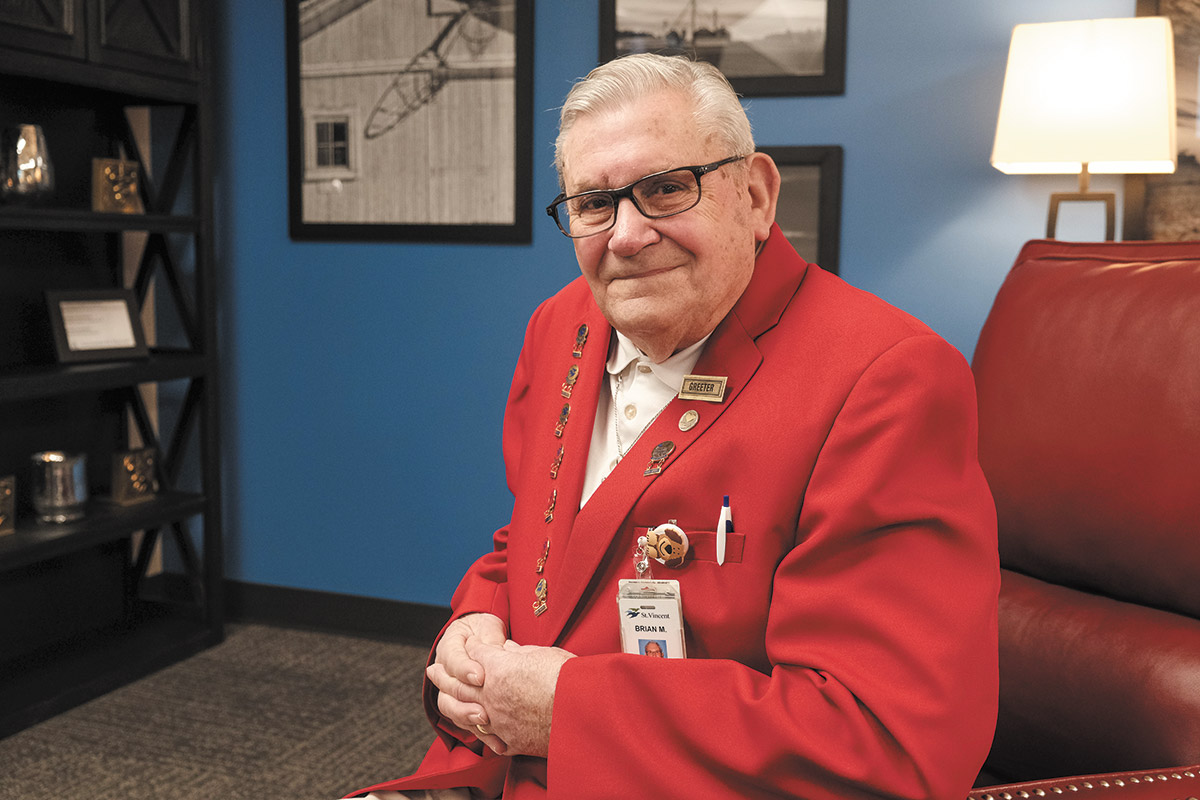 Brian Morson's almost 20-year career as a greeter at the main entrance to St. Vincent Anderson Hospital was inspired by his short stay there in 2002 and by the country he left behind.
Morson, 85, was born in London but spent much of his life about two hours north of there, in Peterborough, England. After his wife died in 1997, one of his daughters got him involved in a pen pal group. After a few years of correspondence, he'd met Julie, who would become his second wife. It didn't matter that she lived thousands of miles and an ocean away in Anderson, Indiana. Morson moved here in 2001, married Julie and began settling into his new life.
Not long after he arrived, he began working on a home project that landed him in the hospital. He was digging a pond in the back yard when his hip went out. That led to a hip replacement—and an idea—at St. Vincent Anderson.
Morson had been looking for volunteer work and decided during his inpatient recuperation that he could be a greeter at the hospital. His only other volunteer gig had been as a guide at Peterborough Cathedral, where he gave tours for nine years and was once honored to meet Princess Diana. Morson volunteered at the cathedral while still working as chief quality control inspector for an engine manufacturer in England.
Volunteering as a hospital greeter seemed like the perfect retirement job. The only problem was that, unlike in England, most hospitals in the United States don't have greeters.
From his hospital bed, he suggested to the manager of the hospital's volunteers that St. Vincent Anderson make him its first greeter. He was still recovering from the hip replacement and using a cane when he showed up for his first day on the job.
Morson has since logged nearly 9,000 hours as greeter, charming guests with his English accent and warm smile.
"He is a great listener when patients or family need someone to listen," said Elizabeth Hart, the hospital's coordinator of mission and volunteer services. "He is so dependable and such an icon at our facility. People smile when he says, 'Have a good day, governor,' or asks, 'How are you this morning, my sweets?'"
Morson, who works 8 a.m. to noon every Monday, Wednesday and Thursday, said he works, not for the hospital, but for the people who walk through its main entrance. "I laugh with them, I cry with them, and I pray with them," he said.
Occasionally, the people he encounters make him laugh, like the man who walked in and said he was looking for a room on the 11th floor. Morson pointed out the hospital is only about half that tall.
"Sometimes I wake up and feel like I don't want to go," but helping people, some of whom are frightened and confused, always makes him feel better.
Volunteering has become a family affair for Morson and his wife, a cancer survivor who volunteers at the hospital's cancer center. Morson also used to be a fixture at the Veterans Day program at one of the local schools. He'd show up wearing a blazer with the insignia of the ship he served on in the Korean War as a member of the Royal Navy. As the only participant who wasn't a U.S. military veteran, Morson was a hit with the children.
Just as he's a hit in the main lobby of the hospital. "We are fortunate to have him at our facility," Hart said.•
Please enable JavaScript to view this content.