Honoree, Community Achievement in Health Care
Damien Center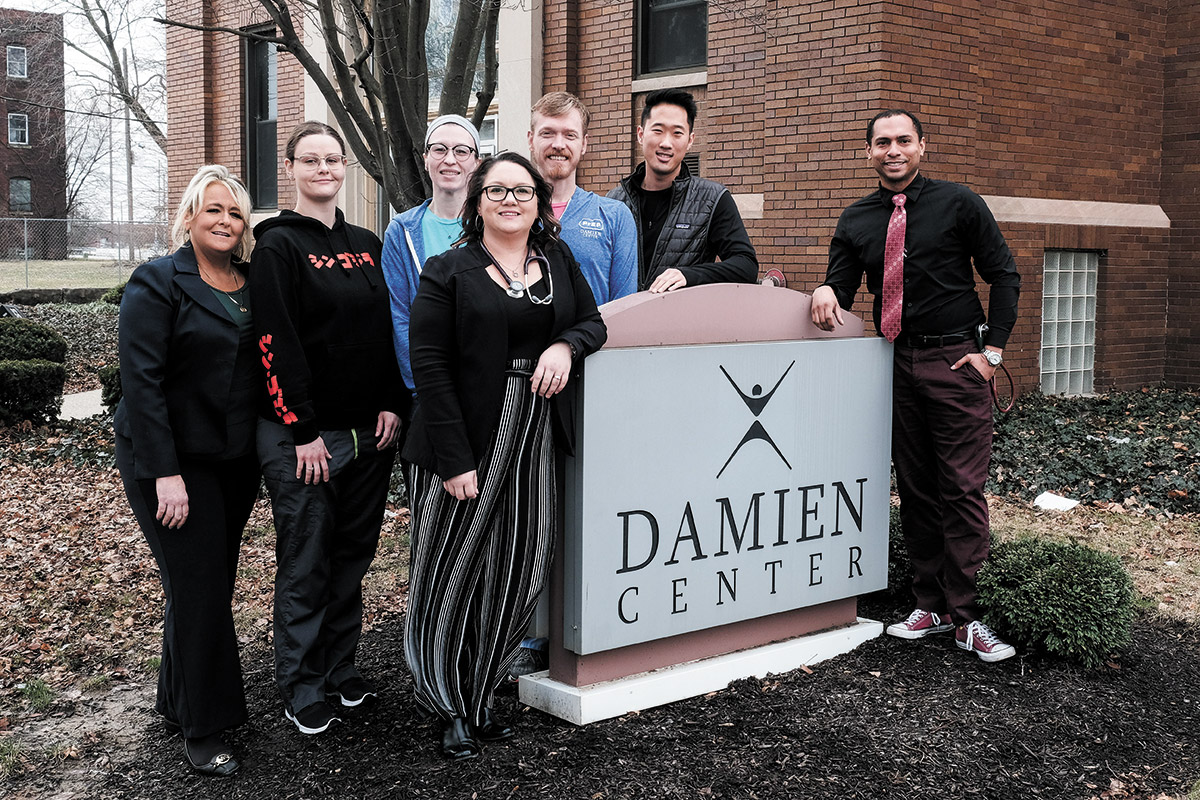 When the Damien Center launched in the midst of the HIV/AIDS crisis in 1987, its mission was grim: Help people with the mysterious disease die with dignity. Most were gay men, many of whom had been disowned by their families and were out of work.
When the crisis hit, the local diocese of the Episcopal Church took up the call and began cobbling together what services it could to those in need. But the work was happening on the streets, so the local Catholic Archdiocese loaned space to house the effort.
Before long, a not-for-profit had been created and named after Father Damien of Molokai, a Roman Catholic priest who tended to lepers on the Hawaiian islands in the 19th century.
Today, the Damien Center is the largest and oldest provider of services to the local HIV/AIDS community. With a budget of $12.5 million and about 70 employees, it's come a long way—and so has its mission. "We used to help people die with dignity. Now, we help them live with dignity," said Alan Witchey, the organization's president and CEO.
But all those people now living with and managing their HIV-positive status instead of dying of AIDS means the Damien Center's caseload is bigger than ever.
The organization serves more than 4,000 clients a year. Its services range from offering free HIV and STD testing to providing housing support to some of its toughest cases. It also provides nutrition assistance, medical and financial assistance, mental health and substance abuse counseling, and transportation to appointments.
Most of those services go to the 57% of its clients who live in poverty. Others are referred by their primary care physicians, many of whom lack experience treating HIV/AIDS patients and make referrals to the Damien Center.
Witchey said one of his organization's biggest challenges now is educating communities that are ill-informed about HIV. People in their 20s are a major source of new infections, he said, because they don't know about the original crisis and the dangers of unprotected sex. Or they throw caution to the wind because they think there's a cure.
Witchey said more than 7,000 people in central Indiana are HIV-positive, which accounts for more than half of the cases statewide. He said the Centers for Disease Control and Prevention estimates another 1,000 people in the area are infected but don't know it. Each year, the Damien Center works with about 250 newly discovered cases.
"The most important thing we promote is to know your status," Witchey said. The Damien Center provides a free, confidential test for HIV that doesn't require an appointment and produces a result in minutes. Those who test negative are counseled to take advantage of another Damien Center service: providing pre-exposure prophylaxis, or PREP meds, to people who are at high risk for exposure.
The majority of the Damien Center's budget is federally funded. It also relies on grants and fundraising through its annual Grand Masquerade gala and Dining Out for Life, an annual event in which participating restaurants donate a portion of their proceeds to the Damien Center.
Now housed in an old school building on the near-east side, the Damien Center is a crowded place where closets and hallways become makeshift offices. To meet the ongoing need for its services, the organization has hired Schmidt Associates architects to assess its space needs. The solution, Witchey said, might be to build on vacant land the Damien Center owns nearby.•
Please enable JavaScript to view this content.