Top Honoree, Volunteer
Bob Baxter
Riley Children's Health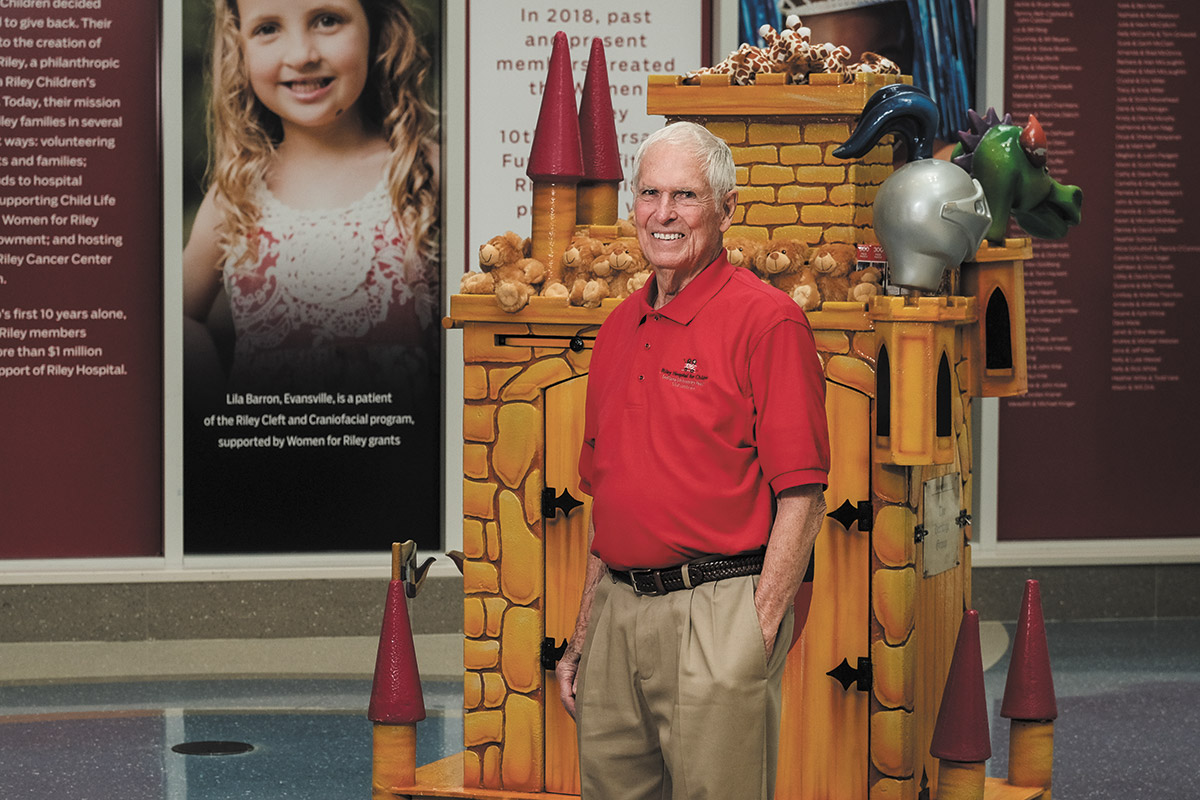 Bob Baxter has a couple of tricks up his sleeve when it comes to maintaining his health as he approaches 90. He has an ice cream sundae for lunch every day and a glass or two of red wine at night.
He wishes things were so simple for the kids he's been visiting at Riley Hospital for Children for almost 25 years, but he knows one thing that helps: smile therapy. "There seems to be total agreement between the nurses and doctors and all of those who care for the kids that a little smile helps," Baxter said.
Baxter has been making weekly rounds at Riley to coax smiles out of kids since he retired as president of the Riley Children's Foundation in 1996. He joined the board in 1971 and became president of the organization in 1991 after spending most of his career in development and construction.
He knew he wanted to maintain his relationship with Riley into retirement and is still involved with the foundation board, continuing a run of almost 50 years that is impressive enough. But Baxter really distinguished himself by creating the Magic Castle Cart, a mobile dispensary of toy flowers, rings, bracelets, stuffed animals, plastic spiders and snakes, and even crossword puzzles for the adult relatives of Riley patients.
Baxter got the idea of a toy cart that could be pushed from room to room from someone who'd seen them at children's hospitals in other cities. He got buy-in from Riley leadership and then asked Riley patients if they'd prefer a circus theme with lions and tigers or a magic castle theme with dragons and jokers.
Images of the two themes appeared on the televisions of Riley patients, who were asked to cast their vote. The magic castle cart won in a landslide, and Baxter got to work raising money for the cart, overseeing its construction and stocking it with toys and trinkets.
Within nine months of his retirement, the Magic Castle Cart was rolling. Today, there are two carts and a group of about 20 volunteers who take turns pushing the carts through Riley four or five nights a week.
"The Magic Castle Cart was always a bright spot in the day for my son, Cameron, during his long inpatient stays," said Carrie Kirk. "On the days Bob was there, it was even more special. It was like having an extra grandpa you never knew you had."
For conceiving of the Magic Castle Cart and keeping it rolling for almost a quarter century, Baxter is the top honoree in the Health Care Heroes volunteer category.
"I believe that the magic of the cart is Bob Baxter," said Riley volunteer coordinator Susan Schwarz.
Baxter plans to continue bringing his magic to Riley kids, but he's in the process
of handing off his administrative role, which includes making sure the two carts
are maintained and scheduling the volunteers.
It takes about $45,000 a year to keep the carts stocked and maintained, an expense funded primarily by proceeds from the annual Ball State University Dance Marathon fundraiser. Baxter's friends also contribute, and the local chapter of Kiwanis Club paid for the very first cart and continues to support the effort.
Raising money is only half the battle. Baxter has learned over the years that some people who say they want to push the Magic Castle Cart figure out quickly that they don't.
He has a few cart pushers who've been at it for 15 or 16 years, but some don't last more than a few nights.
"When they get too close to the kids who are as sick as our kids are, they can't handle it," Baxter said. "Some of the older people are not thrilled with dragging this cart around all night long. I've had several friends my age come up and say they would love to do it. And then they drag the 450-pound cart around and say, 'Baxter, you are out of your mind.'"
Baxter, who is known to enter a child's room wearing a big red nose and oversized clown sunglasses, said he never knows from room to room what he's going to encounter. He compares pushing the cart around and interacting with kids and their families to being on stage. "You are on stage as soon as you go into the room. And between rooms you clean up and relax for a minute and then you are back on stage. Some volunteers don't realize the pressure they will be under."
He relishes that pressure, and the rewards that come with it.
Like the time last year when a woman tapped him on the shoulder at the hospital and said he'd come into her son's room about 20 years before and given him a stuffed giraffe. The son, who'd had a heart transplant back then, was standing next to his mother when they ran into Baxter.
"The kid was about 5'10" and looked as healthy as you or me," said Baxter, amazed that they remembered him. "Twenty years—I think that's
a record."•
Please enable JavaScript to view this content.