Top Honoree, Non-Physician
Kerry Skurka
Cardio-Oncology Nurse Navigator, Franciscan Health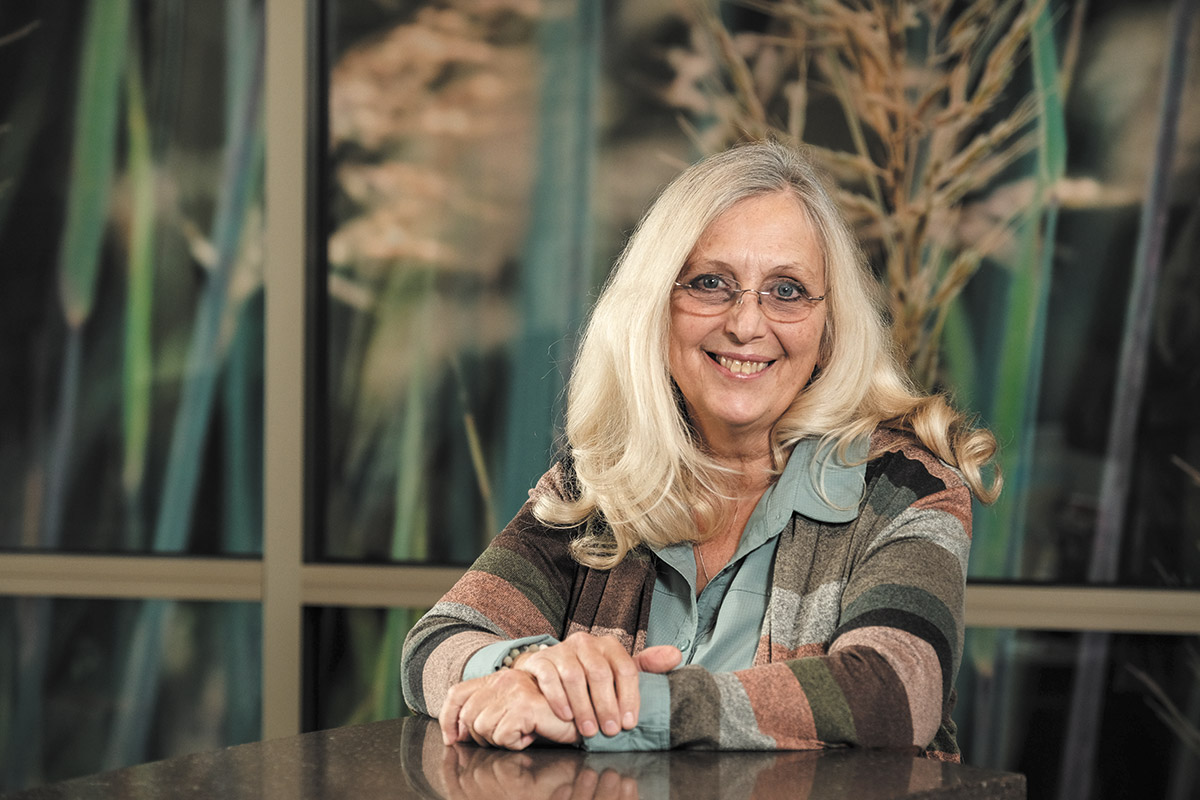 Kerry Skurka's nursing career changed after she'd seen health care through the eyes of a patient.
In 2008—after 30 years as a cardiology nurse in both bedside and leadership roles—she was diagnosed with non-Hodgkins lymphoma. She emerged from seven months of treatment with a new interest in oncology nursing and a renewed desire to work directly with patients.
What didn't change was Skurka's habit of seeing a problem and then proposing—and pursuing—a solution.
Skurka, 62, started her nursing career in her home state of South Dakota before moving within months to Colorado, where she stayed for three years and began her focus on cardiac care.
After moving to Indianapolis, she worked in two health care systems before arriving at what is now Franciscan Health. She stayed there six years, becoming manager of the cardiac care unit, the first of many leadership positions Skurka held as life circumstances took her to hospitals in Columbus and Bloomington and back to Columbus, where she helped the hospital start its open-heart surgery program.
"Identifying a need and going out there to meet it has always been something I do," said Skurka, who feels a pull toward bedside nursing but always seems to find herself in a leadership role.
Her pattern played out again after her treatment for cancer. She returned to her leadership role in cardiac care at Columbus Regional Hospital but couldn't keep her mind off oncology nursing and bedside care.
"Once you've been a patient, you don't see things the same way," she said. "I wanted to give back to oncology."
She left Columbus to become a staff nurse at the Indiana University Health Simon Cancer Center, a job she enjoyed but couldn't sustain because the commute from her home in Brown County became too much. She landed back at Franciscan Health, eventually taking a job in the outpatient infusion lab.
The lab, where cancer patients receive chemotherapy, is where Skurka identified another problem and forged her new path in health care.
"I would be looking at these patients—and mind you I'd been a critical care cardio nurse for a long time—and I'd think to myself, 'This is a cardio problem.'" Her colleagues in the infusion center would remind her that her days in cardiology were behind her, but Skurka couldn't help but notice what she believed were cardiac issues with her chemo patients.
She wasn't the only one making such observations. In fact, an entire subspecialty in cardio-oncology was emerging at about the same time, as providers began to realize how radiation and chemotherapy could damage the heart health of cancer patients.
The American College of Cardiology officially made cardio-oncology a subspecialty in 2016. When the Franciscan Cancer Center began looking for a cardio-oncology nurse navigator that same year, the perfect candidate was right under their noses.
Skurka dove into the role, gaining the trust of Franciscan's oncologists by watching her oncology patients closely and accurately raising red flags when she saw signs of cardiac distress.
"At the time, I had no idea what a gem we had found," said Dr. Vijay Rao, director of Franciscan Health's cardio-oncology program. "Now I call her the glue that keeps our program together.
"From our first days working together, Kerry has pushed our team to excel in every aspect," he said. "She has been instrumental in gaining the trust of our cardiologists and leading education initiatives for our nursing staff."
Skurka's leadership in the field of cardio-oncology earned her the distinction of being the top honoree in the IBJ Health Care Heroes non-physician category.
Her efforts in cardio-oncology have taken her from Franciscan to Capitol Hill, where she has worked on behalf of the American College of Cardiology to educate lawmakers about the field of cardio-oncology and successfully lobbied for better insurance coverage for certain treatments cardio-oncology patients require.
Skurka is especially passionate about making sure cancer survivors are aware of the adverse effect their treatment can have on the heart.
She's working with the Washington, D.C.-based Cancer Support Community on a video about how cancer can affect your heart that she hopes will be used nationally.
When cancer patients finish treatment, they almost always attribute every ache and pain to their cancer, Skurka said. She wants survivors to know that—if they have trouble walking up a flight of stairs, for example—they need to have their heart checked.
Skurka's direct care of oncology patients and her work to spread the word about the field of cardio-oncology have changed how she views her own cancer diagnosis.
"It's been a blessing," she said. "It opened my eyes to something and gave me an opportunity to make a difference in people's lives.
"The reason I'm passionate about it and banging the drum as loud as I can is because this isn't something that's going to happen in the future. I know this is something happening every day to cancer patients all over the world. Just think of all the people we can help."•
Please enable JavaScript to view this content.