Honoree, Physician
Dr. Mark Turrentine
John W. Brown Professor of Cardiothoracic Surgery, Indiana University School of Medicine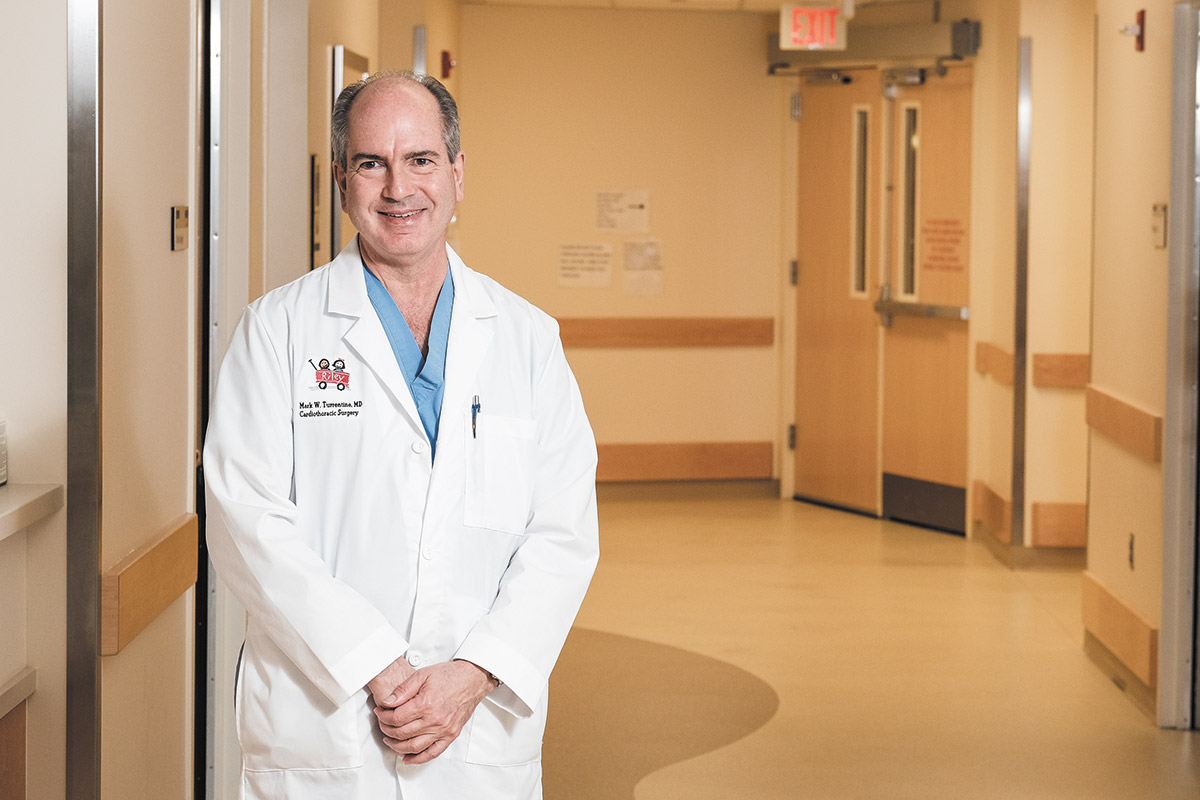 Dr. Mark Turrentine's interest in medicine started in western Kansas, migrated to Indianapolis and now takes him around the world performing heart surgery on children.
The Riley Children's Health pediatric cardiologist remembers when he decided to be a doctor. He was sitting in his fifth-grade classroom in the late 1960s watching a movie about the heart and circulatory system. At about the same time, he heard the 1968 news reports about the first heart transplant performed in the U.S.
Turrentine was hooked. He wanted to do heart transplants, a dream he kept alive throughout high school, his undergraduate studies at Southwestern College and medical school at the University of Kansas, where he completed his general surgery residency in 1988.
He came to the Indiana University School of Medicine for a one-year fellowship in pediatric cardiology transplantation just in time to assist in the first infant heart transplant performed at Riley, in 1989. He joined the faculty of the IU School of Medicine in 1991.
Almost 30 years later, he's done more than 10,000 surgeries on infants and children with congenital heart disease and performed 162 transplants at IU Health. But his work extends way beyond Riley, thanks to his interest in the plight of children in other countries. Turrentine treated his first international patient at Riley in 1999 and regularly heard from Indiana National Guard troops serving in the Middle East about children they'd met who needed care.
In March 2007, Turrentine led his first medical mission, traveling to Amman, Jordan, to evaluate and treat several Iraqi children. More than 10 years later, he's led 42 such trips to Jordan, Lebanon and Uganda. He's also been on several trips to China, where the focus is on training Chinese surgeons.
The trips usually involve up to 12 people, almost all from Riley.  "There's not a better team-building exercise," Turrentine said.
Turrentine, 61, is also proud of Riley's role in the U.S. availability of the Berlin Ventricular Assist Device, a mechanical system that keeps children alive while they wait for a heart transplant. Though there were similar devices designed for adults, there were no Food and Drug Administration-approved devices for children in the U.S.  That started to change in 2003, when Turrentine had a 16-month-old patient who needed one. Against what they thought were long odds, he and his office nurse made an emergency appeal to the FDA and got the OK within hours.
The same situation arose the next year, with the same result. This time, the hospital's potential financial exposure for using a non-approved device was covered by former Indiana Pacers executive Donnie Walsh, whose generosity Turrentine believes set the device on the path to eventual FDA approval.
Colleagues and the families of Turrentine's patients are aligned in their praise for his skills and dedication to patients.
"His technical skills are among the best in the country and the world," said Dr. Timothy Cordes, a professor of clinical pediatrics at the IU School of Medicine. "He is our busiest surgeon, both for pediatric patients and adults with congenital heart disease."
Jonathan and Ashley Jones are among the many parents whose child's life has been in Turrentine's hands. Their son, Jaxson, needed three life-saving open-heart surgeries before the age of 3.
"As a parent, you want nothing more than [for] the person repairing your child's heart to be as passionate and dedicated to their work as Dr. Turrentine," they said.•
Please enable JavaScript to view this content.