Eleven Fifty Academy
chief operating officer/chief information officer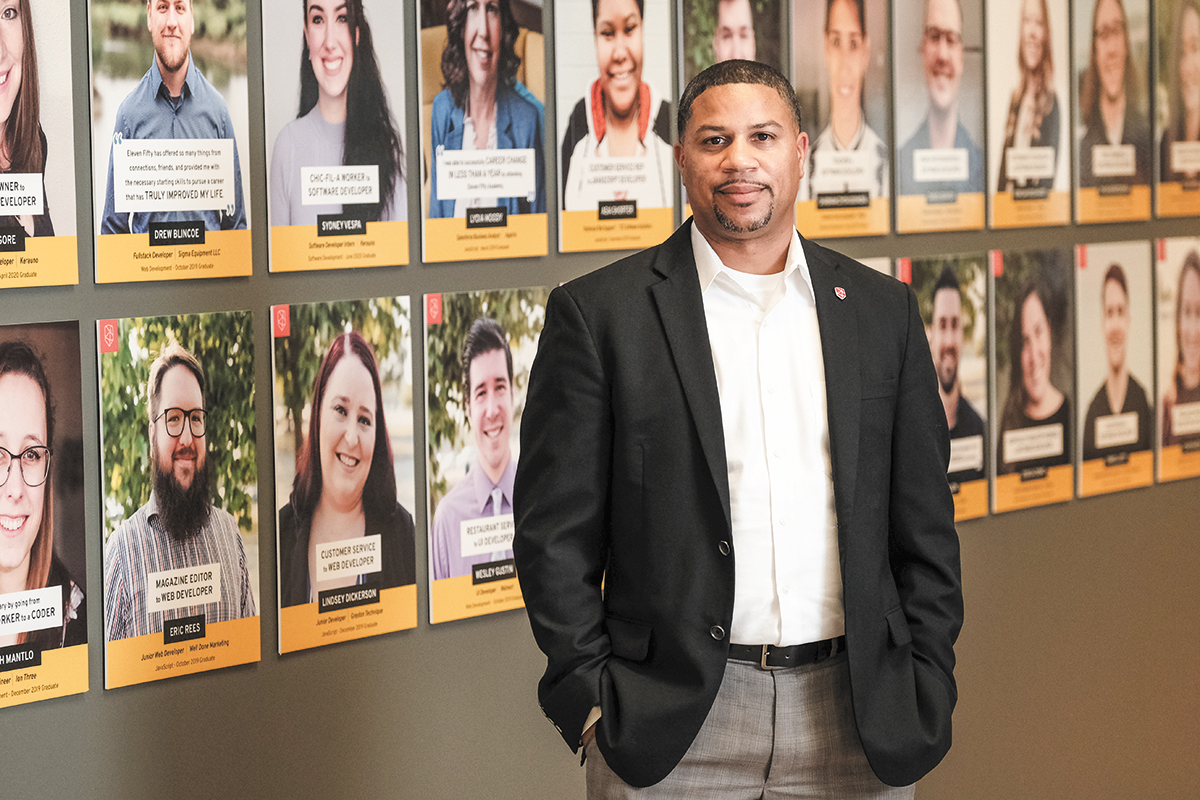 Major company achievements during tenure
Eleven Fifty Academy is a not-for-profit code and cybersecurity academy started by serial entrepreneur Scott Jones. The academy serves students of all ages and backgrounds; its mission is to build an ecosystem of tech talent that financially benefits not only individuals but also their employers and community. Dewand Neely joined Eleven Fifty Academy in 2019 as chief information officer and chief operating officer after working in IT for the state for 15 years.
Since Neely joined Eleven Fifty, the academy has grown more than 500%, Jones said in Neely's nomination. The organization also won its first Lilly Endowment grant—"a big milestone," Neely said. The $5 million grant will be used to build out a tech hub at Martin University and implement Eleven Fifty programming virtually and in-person at the university as well as expand access to tech in the 46218 ZIP code through digital literacy at Eastern Star Church and Rooted School Indianapolis. Eleven Fifty is partnering with Martin, Goodwill Industries' Excel Program, Eastern Star and Innopower on the project. "Dewand sets the gold standard on our leadership team for his thoughtful business acumen, even keel, calmness under the stresses of hyper-growth on all metrics, and on his fairness and respect he shows for others without fail," Jones said. "He brings stability to the chaos of fast growth, which helps the academy continue to achieve excellence as it scales."
Challenge faced that only tech people would understand
"The challenges of implementing [customer relationship management] across multiple business units," Neely said. "No matter how small or how large the organization, the challenge is the same."
First computer
An HP Vectra 486. "I practiced loading Windows 3.1 and Windows 95 over and over on it."
The road
Neely studied technology at Purdue University and came to Indianapolis in 2002, where he did consulting with Brooksource and Haverstick for a brief period. He said he was fortunate to get to help with the state's IT consolidation and stayed for 15 years (working first as a senior systems administrator, then as a support manager before becoming deputy CIO in 2013. In 2015, he was promoted to chief information officer, a role he served in until November 2019, when he joined Eleven Fifty Academy). "[I] was really fortunate to be able to lead the agency that I helped do a lot of the ground infrastructure work for. What an awesome ride."
Go-to websites
"I don't have a go-to website, per se, but the Google app is great at figuring me out and gives me daily reads on Cybersecurity, Bitcoin, Elon Musk and tech mergers."
Favorite gadget
"My iPhone, my carplay unit in my car and my Garmin VivoActive 3 watch."
Preferred work atmosphere
"Controlled chaos makes the day go faster and makes you appreciate getting home or disconnecting at the end of the day. I like to be busy, and I like to work with people that can handle curve balls daily and go with the flow."
My job would be easier if …
"I could consistently wake up earlier and prep physically and mentally for the day each and every day."
Free time?
Spending time with his 4-(soon to be 5)-year-old son. Golfing when time allows.•
Check out more CTO honorees.
Please enable JavaScript to view this content.