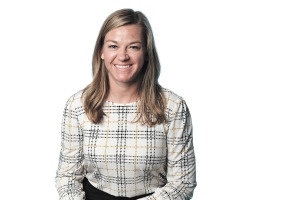 Senior Manager, Corporate Affairs
Citizens Energy Group
Shannon Stahley represents Citizens Energy Group in corporate and public affairs leading companywide public relations efforts such as media, outreach, philanthropy, branding and much more. She led the remediation and redevelopment of Citizens Energy Group's former Indianapolis coke plant site, Pleasant Run Crossing, which is now the site of the city's Community Justice Center.
Getting here: Stahley, who has spent her entire career at Citizens, started in operations in the dispatch office, routing personnel to homes for service calls. From that point, she has served in positions of increasing responsibility with the company, including sales and marketing, corporate strategy, business development, government affairs and, for nearly two years now, corporate affairs. 
First job: "sandwich artist" at Subway

Proud moment: She launched a Neighborhood Ambassador Program "to better understand what the community needs. We want to make sure people know we are here beyond being your utility service provider."  
Influential career moment: Her work on the coke plant, which closed in 2007. When she started working on the project in 2011, she had to help put into place the next steps for demolition, remediation and reuse. "I assembled a team of colleagues who possessed the expertise needed, developed a vision and worked tirelessly to achieve our goals. At the end, we achieved more than we ever expected and greatly positively impacted the community."
Givebacks: Mary Rigg Neighborhood Center board member; Crossroads of America Council board member; Local Initiatives Support Corp. board member; Near North Development Corp. board member; Great Places steering committee member
Downtime: exercising, being outdoors, family time,
volunteering •
Check out more Forty Under 40 honorees.
Correction:  This profile has been corrected to remove duties that were part of Shannon Stahley's previous position at Citizens. You can see more of our corrections and clarifications here.
Please enable JavaScript to view this content.