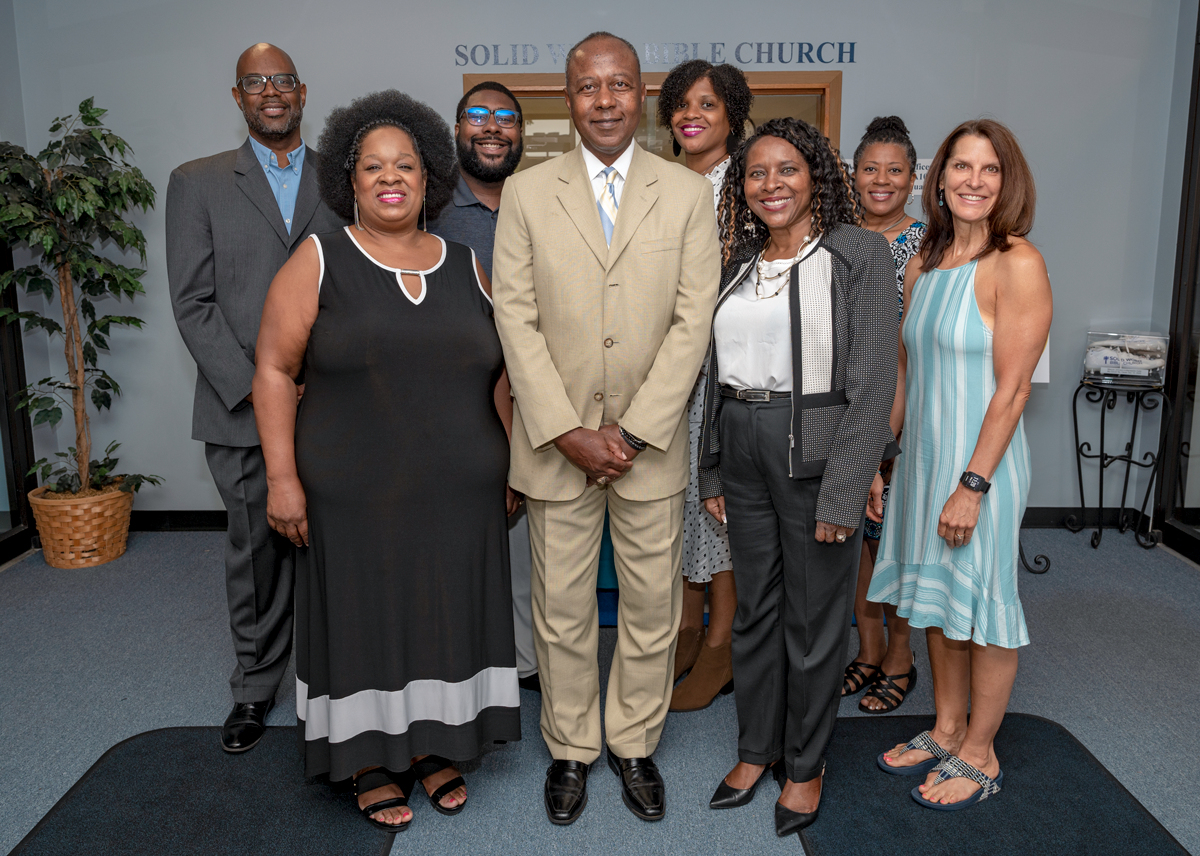 Top honoree, Community Achievement in Health Care 
Rophe Free Clinic
After working for pharmaceutical companies for more than 30 years and directing mission work in Haiti for his church, Curtis McManus recognized a public health need when he saw it.
It was about seven years ago that he saw the need in Pike Township, where poverty and a high percentage of uninsured residents make access to health care a public health concern. McManus and his friends at Solid Word Bible Church not only saw the need in their midst but knew they could do something about it.
"I believed what we'd done in Haiti we could do right here in Pike Township," said McManus, recalling his return from a medical mission trip to Haiti in about 2014. That spark and four years of preparation resulted in Rophe Free Clinic, which began offering free, quality, Christ-centered health care to Pike Township's uninsured and underinsured in 2018.
The clinic, staffed by volunteers, is only open on Saturdays and was seeing 15 to 20 patients a day before the pandemic. Now, it has 10 appointment slots per Saturday and is working on a plan to offer telehealth services.
"We thought we'd just provide acute care," McManus said. "We'd work with [patients] to find insurance and then they would move on." But he and his colleagues have discovered they are filling longer-term needs, helping those who come to the clinic manage chronic ailments, such as pulmonary disease, hypertension and diabetes.
McManus said the clinic's mission is to provide care with Christian love. "We take our time. We make sure they get free medication. Most of them are shocked that they are not rushed and that everything they get is absolutely free. If we don't have it, we go out and buy it for them." That includes toiletries, grocery gift cards, transportation and a host of other items that meet basic needs for Rophe's clients.
Rophe, a Hebrew word for healing from the Old Testament book of Exodus, was inspired by Solid Word's mission work and modeled after a clinic at another Indianapolis-area church: Trinity Free Clinic at Our Lady of Mount Carmel Catholic Church.
McManus and his wife lived just a few blocks from Our Lady of Mount Carmel and were aware of its clinic. Eventually, Trinity became an intellectual partner and gave Rophe documents that were helpful in setting up Rophe. Organizers also worked with the board of Raphael Health Center, another faith-based clinic in Indianapolis, and Indiana University's Fairbanks School of Public Health.
Much of the community outreach that went into planning the clinic was done by Lauren Stokes, a physician assistant who attended church with McManus and joined the effort in 2016. She and her husband, who was Rophe's first board chair, have since moved to Africa, but she will see patients remotely beginning later this year or early 2022.
Kathy Michael, a pharmacist, is one of about 50 volunteers—physicians, nurses, Purdue University pharmacy students and others—who work at the clinic and its pharmacy.
"The services we provide are always wrapped around love, patience and respect," said Michael, who added that empowering patients is a guiding principle of the clinic. That requires education, which Rophe has done quite a bit of in the age of COVID-19.
Lately, that has meant dealing with vaccine hesitancy among Rophe's patient population. In August, the clinic began offering COVID-19 vaccines in partnership with Franciscan Health. McManus is optimistic the effort will succeed, largely because of the diverse group of volunteers involved.
"The staff looks like the community. With that trust, we think many people are going to be willing to get [the vaccine]," he said.
As Rophe and its volunteers contend with the present, McManus and others at the church are looking ahead. A recently completed three-year strategy recommends construction of a stand-alone building for the clinic on the church grounds at 4374 W. 52nd St.•
Please enable JavaScript to view this content.