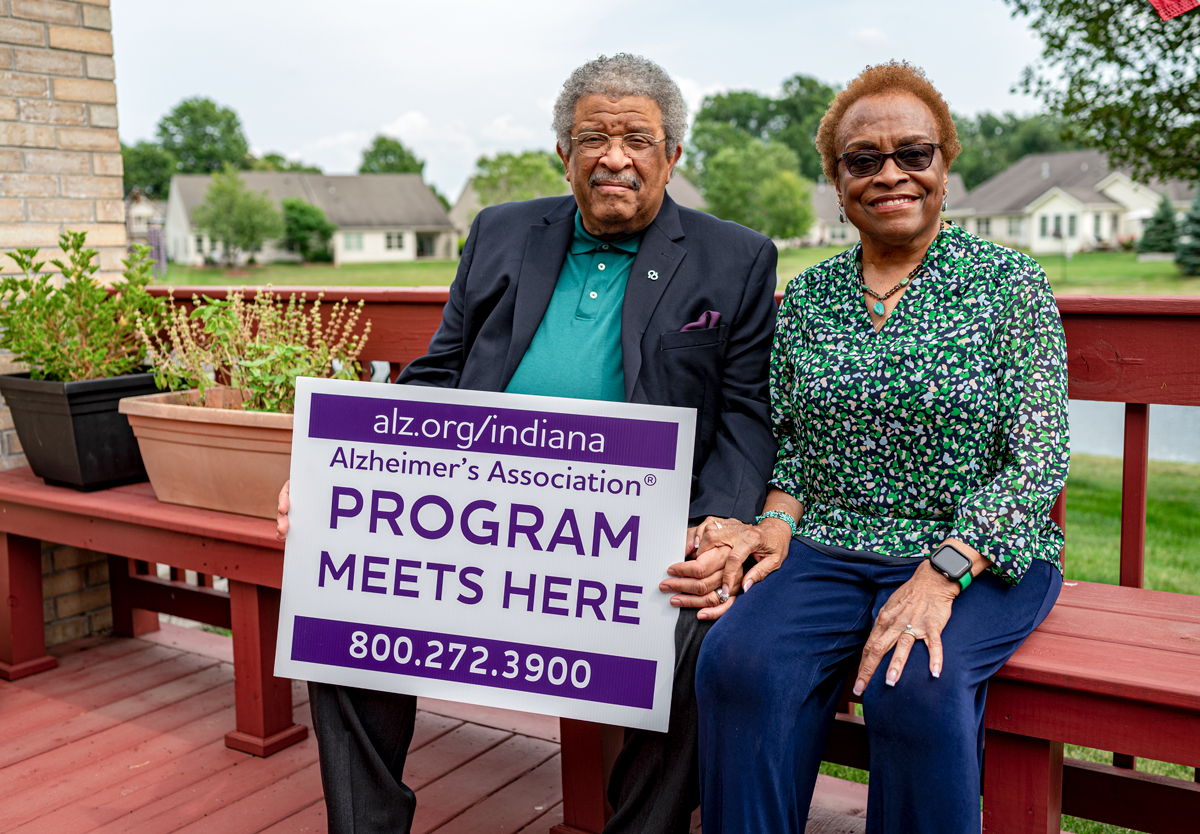 Top honorees, Volunteer 
Ralph and Mollie Richards
Alzheimer's Association of Greater Indianapolis
Community educators
Ralph and Mollie Richards traveled different paths to their dedication to Alzheimer's disease education and research. But the married couple arrived at the same place and have become important players in the fight against Alzheimer's and dementia in central Indiana and beyond.
It's a cause they devote more than 40 hours a week to. "We are constantly thinking about it," Mollie said. "But we enjoy it." "This is what we decided to do in our retirement years," Ralph said.
Mollie was introduced to dementia at the age of 17. Her father was diagnosed with a memory problem not long before she enrolled at Indiana University. Decades later, in 1995, she worked for a rehabilitation services business and was responsible for developing Alzheimer's education materials for the company's facilities in Maryland, Virginia and Washington, D.C.
Ralph knew very little about Alzheimer's until his father's wife developed the disease later in life, and Ralph and his siblings tried, from a distance, to counsel their dad about what to do. Ralph quickly discovered that many people, particularly African Americans, didn't know where to go for help.
He decided to put his experience to work for others and began volunteering for the Alzheimer's Association of Rochester, New York, where he worked for Eastman Kodak. Mollie joined him in the effort, and they broadened their involvement to other dementia organizations in the area. Along the way, they had the idea of starting an Alzheimer's resource office within their church. Almost 20 years later, the office is still there, a reminder of the Richardses' important work even as they continue the mission here.
They moved back to their hometown of Indianapolis in 2014 and immediately got involved with local Alzheimer's organizations, including the Alzheimer's Association's central Indiana chapter.
Through their work with the association and the Indiana Alzheimer's Disease Research Center at Indiana University School of Medicine, the Richardses are working to address the mistrust Black Hoosiers feel toward dementia research. The center credits the Richardses with helping to increase non-white participation in its research 5% over the last five years.
Mollie herself is enrolled in an IU study and goes once a year for testing. Sharing her story is a powerful tool for building trust within the community and convincing others to join studies.
"You can't ask people to do anything without first offering a service to them," Ralph said. That service is the education the Richardses provide through regular speaking engagements at faith-based organizations, businesses, fraternal organizations, the Indianapolis Urban League and other organizations. Much of the outreach became virtual during the pandemic.
Their virtual talks and an internet radio program they do every other Saturday have taken the Richardses' message to audiences across the country.
Even with all they do nationally to raise money and awareness and share what they've learned in more than 20 years as super volunteers, it's the small encounters that make a lasting impression on the couple. Their neighbors know they're a resource and have pulled the Richardses into impromptu meetings on front porches and in garages, kitchens and living rooms when the need arises.
No one here knew—not the neighbors and not the Alzheimer's Association—that when the Richardses came back to Indianapolis, a powerful force had arrived in the fight against Alzheimer's.
"We truly could not do what we do without their dedication," said Alzheimer's Association Program Director Stephanie Laskey.•
Please enable JavaScript to view this content.