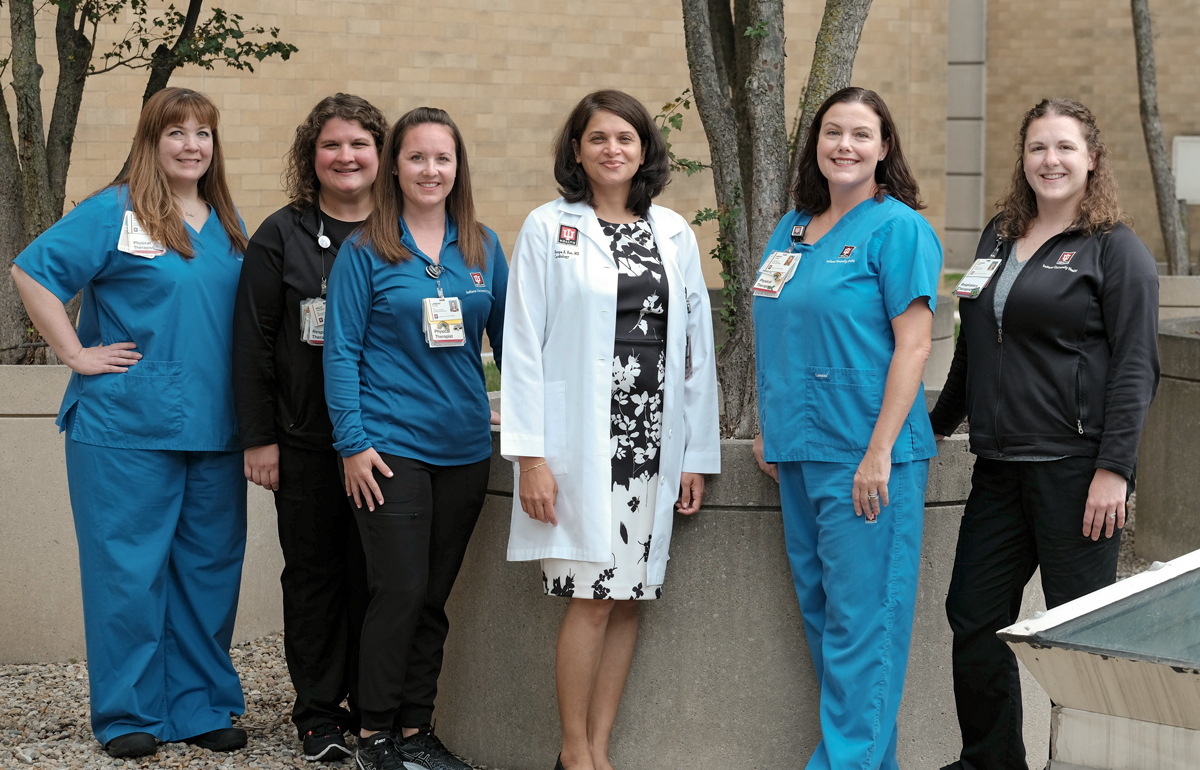 Top honoree, Advancements in Health Care
IU Health Center of Life Thoracic Therapy Group
Patients who've had a heart or lung transplant usually spend about 12 days in the hospital, then rest up at home for another eight weeks before starting rehabilitation therapy.
But IU Health Methodist Hospital is one of about 10 medical centers in the country trailblazing a much quicker and potentially more effective return to full health. Its Center of Life Thoracic Transplant program engages transplant patients in an intense, in-person rehab program that starts the day after hospital discharge.
COLTT was launched in 2016 by Dr. David Roe, the former director of IU Health's lung transplant program, who modeled the program after one he'd seen at Duke University. In 2018, it was expanded to include heart-transplant patients.
Lindsay Tucker, a physical therapist who helped start the program, said she and her colleagues are adding to the limited body of research around intense rehabilitation therapy for transplant patients.
The five-days-per-week program, which typically lasts about four weeks, is reducing hospital readmissions among transplant patients 60% and reducing rehabilitation time about 50%, according to the program's own tracking.
Tucker and the cardiac and pulmonary care team at IU Health Methodist have seen enough to know they're on the right path with their patients.
Christopher Daily, who received a new heart after waiting in the hospital for two months, graduated from the program and into standard rehab last December.
"I would not have made the progress I have made to date without COLTT," Daily said. "It allowed me to jump-start my journey toward full recovery."
The program is optional for heart patients but required for those receiving a lung transplant at the hospital. Methodist does 40 to 50 lung transplants a year and around 25 heart transplants. COLTT is now being offered to pediatric patients (the youngest participant to date was 14) and might be offered to patients who've received other organs.
Dr. Roopa Rao, a heart-failure specialist and heart-transplant cardiologist, strongly encourages her patients to participate in the program because she's seen what it can do.
Patients spend around two hours a day in the COLTT gym. "It's grueling," Rao said. "I see a big difference in their recovery."
She said that, by the end of the program, more than 70% of participants have regained normal function for someone their age. "Without this … they would be sitting at home, losing what they might have gained in the hospital," she said, referring to pre-surgery strength training patients receive.
"We get them through the surgery, but physical therapy is equally important," Rao said.
COLTT has seven physical therapists and five respiratory therapists staffing the center, whose patient count at any given time is dependent on the transplant schedule. Its census has ranged from two to 16. Some patients who live far away find it difficult to make the trip five days a week, so the staff—and even other patients—have been known to raise money to pay for hotel stays and ride-sharing services when someone needs help with logistics.
That speaks to the bond that forms between patients and their physical therapists, who are paired up from the time the patient enters the hospital until they graduate from rehab.
Patients become so engaged in the program that they sometimes don't want to be discharged, Tucker said. A special bond forms between therapists and patients after the lengthy buildup to surgery and the intense rehab. "You develop this relationship that you wouldn't otherwise have." But it's especially rewarding, she said, "when they succeed, when they can walk out of here with a whole new lease on life. It's kind of like a new birthday for them."•
Please enable JavaScript to view this content.