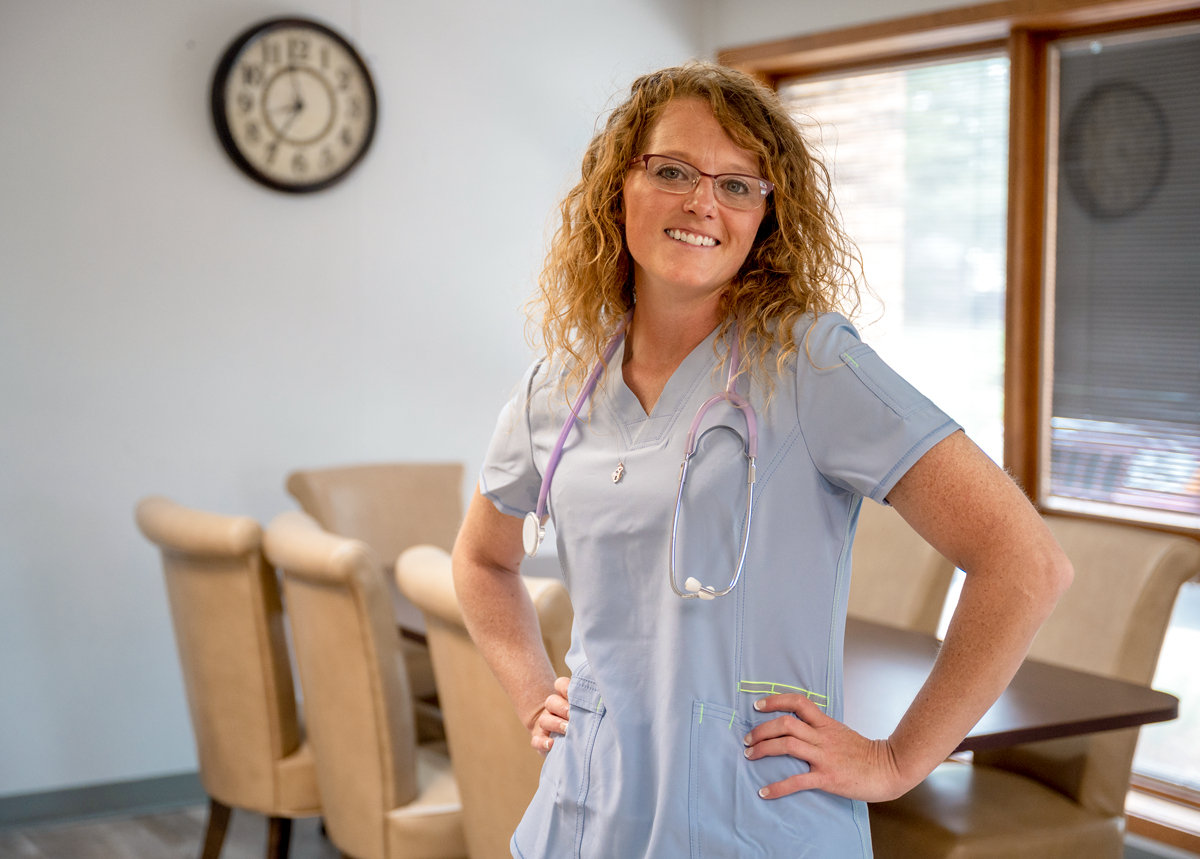 Honoree, Non-physician 
Michelle Ball
Essential Senior Health and Living
Anderson
LTC staffing director
Michelle Ball explains her fearlessness and compassion as a nurse with a burst of self-awareness: "I have a huge need to be needed."
And her willingness to take on almost any project? "I have no ability to say no."
Think what you will of those personality traits, but Ball has put them to work to the benefit of her colleagues and the 160 people who live in three central Indiana facilities owned by Anderson-based Essential Senior Health and Living.
"When others were scared to enter our facilities because of [the pandemic], Michelle went in to work any shift, in any building, at any position," said Penny Stevens, the company's business development coordinator.
Ball, 36, is a licensed practical nurse who regularly takes night shifts so others can spend time with their families and does jobs nurses aren't usually expected to do.
"She is dedicated regardless of where she is working. She loves her residents," said Pam Sipes, a colleague who has worked with Ball for many years.
Ball got her start in health care in 2003, the year she graduated from high school in Muncie, when she joined the staff at a facility for people with mental and physical disabilities. She stuck with that job, supplementing it with part-time work at physician's offices, plasma centers and home health agencies. Ball became a CNA in 2007, got her nursing license in 2008, and joined Essential Senior Health in 2016.
Eventually, she was put in charge of LTC Staffing, a branch of the company responsible for making sure each facility is properly staffed. But when the pandemic caused widespread staff shortages, Ball successfully pushed for permission to broaden LTC's mission. It now serves nearby health care facilities that aren't under the Essential umbrella.
She took on another extra role two days before the start of the 2020-2021 school year, agreeing to teach a new CNA course being offered at Alexandria High School. It wasn't a hard decision to teach the class again this fall.
"I didn't realize the lasting impression I could have on others," she said, describing the eagerness of her students to learn and care for others.
Ball's reputation is built on caring for others and always putting patients first, but she found a new level of compassion early in the pandemic. She held the hands of the dying and tried to reassure them when their family members weren't allowed to be there. Then, almost a year into the pandemic, she gained a deeper appreciation for what those family members were going through when her own father died of COVID in February.
She made it to Arizona to say goodbye, then came right back to work, where saying goodbye, she said, is the hardest part of her job.
Her biggest reward is seeing her patients smile.
She remembers well the day a smiling patient told her, "I can see in your eyes that you genuinely care."
Ball works every day to honor that sentiment. "They will always know that I care."•
Please enable JavaScript to view this content.