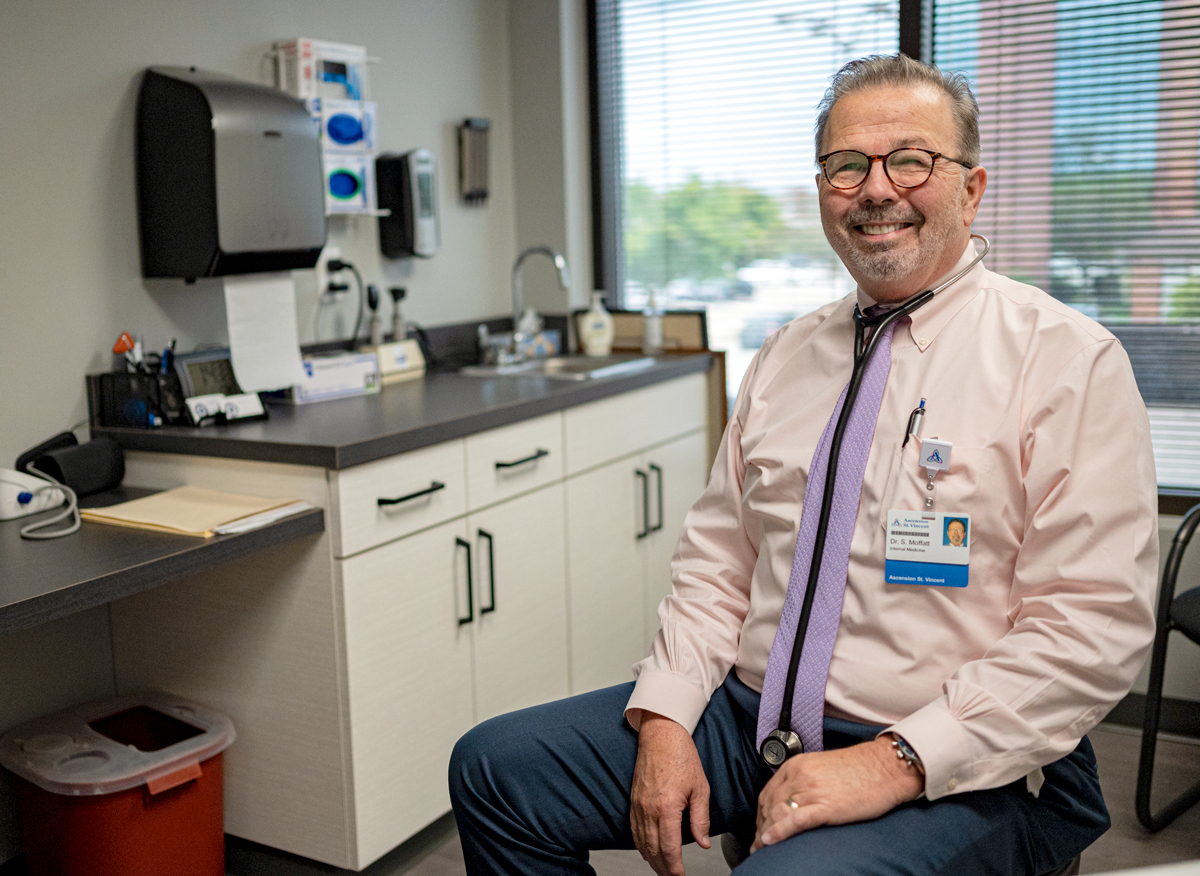 Honoree, Community Achievement in Health Care
Ascension St. Vincent Public Safety Medical
Dr. Steven Moffatt, founder
Dr. Steven Moffatt was prepared for the gruesome situations he witnessed as a resident working in emergency departments back in the 1980s. But he couldn't help but wonder how first responders were coping. How were they dealing with what they saw as they arrived on the scene to help victims of accidents, shootings and fires?
"I gained a lot of respect for these people who intervene on behalf of patients and bring them to the ER."
After his residency and internship, Moffatt went into private practice in internal medicine at what was then St. Vincent Hospital, but he never stopped thinking about the health of first responders.
In 1990, he went to work full time on their behalf, forming Public Safety Medical, a practice that now provides screening and care to firefighters, police officers and other first responders through relationships with more than 300 public safety agencies in Indiana and other states.
"The Chicago Firefighters Union Local 2 has been extremely fortunate to be involved with a company like Public Safety Medical," said union President Thomas Ryan. "They have really made a difference in the lives and wellness of our Local 2 brothers and sisters."
Wellness is a major focus for the company as it tries to bring down the incidence of early disease and death among public safety personnel.
"The general public might think that the health issues of public safety personnel are the same as the general population," Moffatt said. In fact, police officers and firefighters have earlier heart attacks and a higher incidence of cancer, leading to shorter life spans.
The Indianapolis Fire Department, Indianapolis Metropolitan Police Department and Indiana State Police are among the many agencies for which PSM does pre-hire screenings and mandatory wellness checks. Personnel in Indianapolis and surrounding counties are seen at PSM's Castleton-area practice. For others, Moffatt and his team travel, setting up temporary clinics at firehouses around the state.
It was a partnership with Indianapolis firefighter Thomas Miller that led to the creation of PSM. In the 1980s, Miller wanted to establish a medical evaluation specifically for firefighters to address the growing prevalence in their ranks of deaths from heart attacks and other health problems. He partnered with Moffatt, who designed the department's medical surveillance program.
Building on that early work, Moffatt has become a national expert in addressing the health concerns of public safety personnel, serving the International Association of Firefighters and numerous other organizations. In 2015, he founded the National Institute for Public Safety Health, which maintains a large database of information about firefighter health and has been awarded $3 million in grants split between studying cancer and COVID-19 among firefighters.
Moffatt, who is also an adviser to the Centers for Disease Control and National Institute of Occupational Safety and Health, decided in 2018 to sell PSM and chose Ascension St. Vincent to carry on the organization's mission.
It moves PSM closer, he said, to building a first responder specialty network that can treat public safety personnel for any situation that arises.•
Please enable JavaScript to view this content.