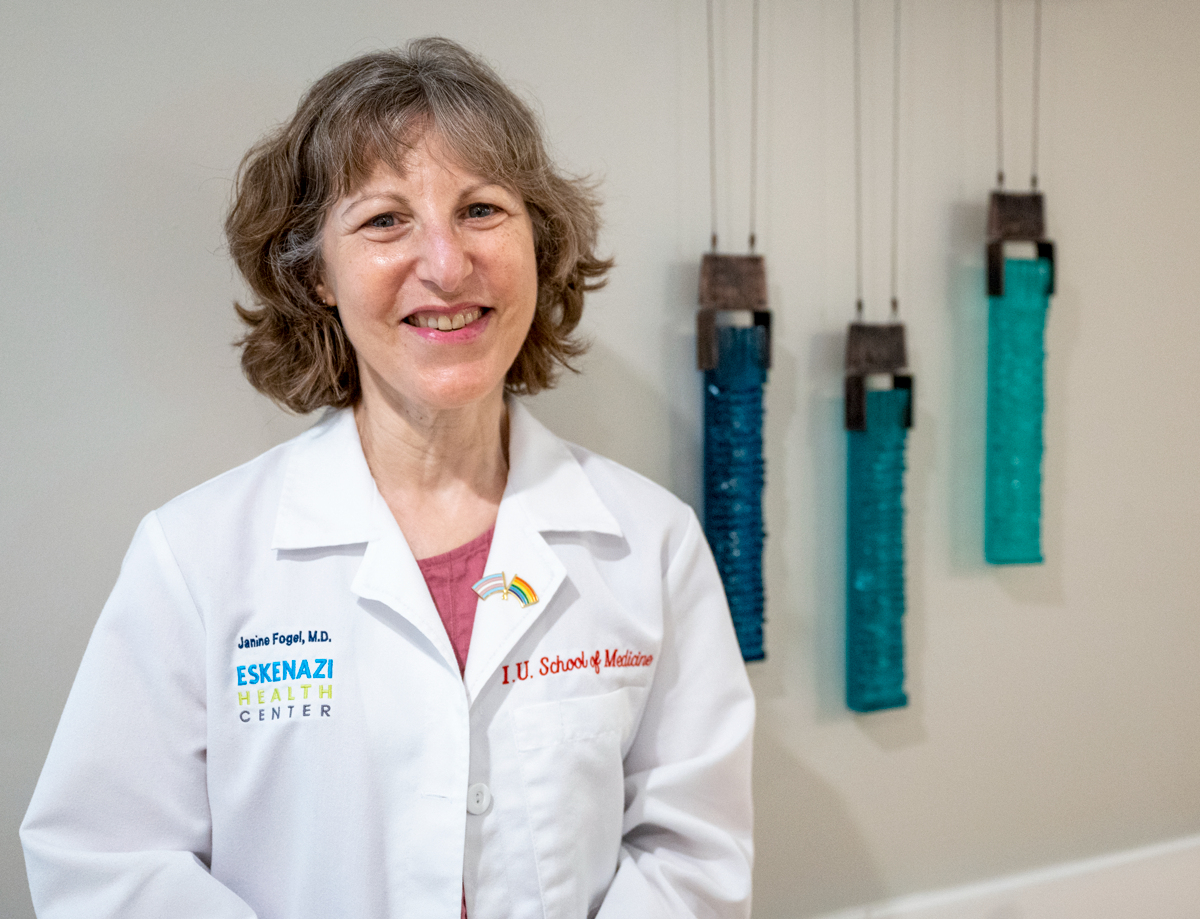 Honoree, Physician 
Dr. Janine Fogel
Eskenazi Health Gender Health Program
Medical director
Dr. Janine Fogel was 25 years into her medical career and on vacation in California when she found what will surely be her legacy.
Fogel saw a story in a local newspaper about a health center in Sacramento for transgender patients. She hadn't realized such programs existed and began reflecting on the lack of anything like it in Indianapolis.
She came home with an idea. After almost 20 years of practicing family medicine at Eskenazi Health, she wanted to start a comprehensive health program for Indiana's transgender population. She shared her vision with Eskenazi CEO Dr. Lisa Harris, who was immediately supportive.
In March 2016, after nine months of planning and training—and an outpouring of support from her colleagues—Fogel launched the Eskenazi Transgender Health and Wellness Program, a multidisciplinary clinic that serves about 2,000 patients a year from across Indiana and surrounding states.
Those patients know better than anyone how needed the program was.
"From the start, Dr. Fogel has been my safe haven," said Sydney Dressler, who came to the center in 2018 at the very beginning of his transition from female to male. "I can say very confidently that she has saved many lives from the depths of depression and gender dysphoria. I know full well she saved mine."
The center offers patients 16 and older a range of medical, surgical and mental health services provided by primary care doctors, psychiatrists, speech pathologists, therapists, a urologist, an attorney, a dietitian and a hospital chaplain. They're supported by a licensed practical nurse, a medical assistant and a patient-care coordinator. The center also offers pre- and post-operative support and connects its clients with various support groups. 
Most research in the field is conducted at well-known centers in San Francisco, Boston and New York, but Eskenazi's program is beginning to do its own research, said Fogel.
Before starting the center, Fogel had only encountered a handful of patients who identified as gender diverse, but they left an impression. "I was struck by what they had to go through to feel like themselves."
Depression stemming from relentless discrimination and being alienated from their families is a common challenge for people who are transgender. "That's heartbreaking to me," Fogel said. "It's a privilege to be able to provide good health care to an underserved population. I've seen enough people transition and just be happy. It's very rewarding."
An outgrowth of her work is the LGBTQ+ residency track she created four years ago within Indiana University's family-medicine residency program. The IU Family Medicine LGBTQ Healthcare Track is one of only a few programs in the United States to offer advanced training in transgender health. Fogel is pleased that other departments at IU, including psychiatry and obstetrics, are following family medicine's lead and starting their own LGBTQ+ residency tracks.
Fogel is an inspiration to her colleagues, among them Dr. Dustin Nowaskie, a psychiatry resident at IU whose dedication to LGBTQ+ health has blossomed under Fogel's guidance.
"She is a constant reminder of the doctor I have always wanted to be," Nowaskie said.•
Please enable JavaScript to view this content.