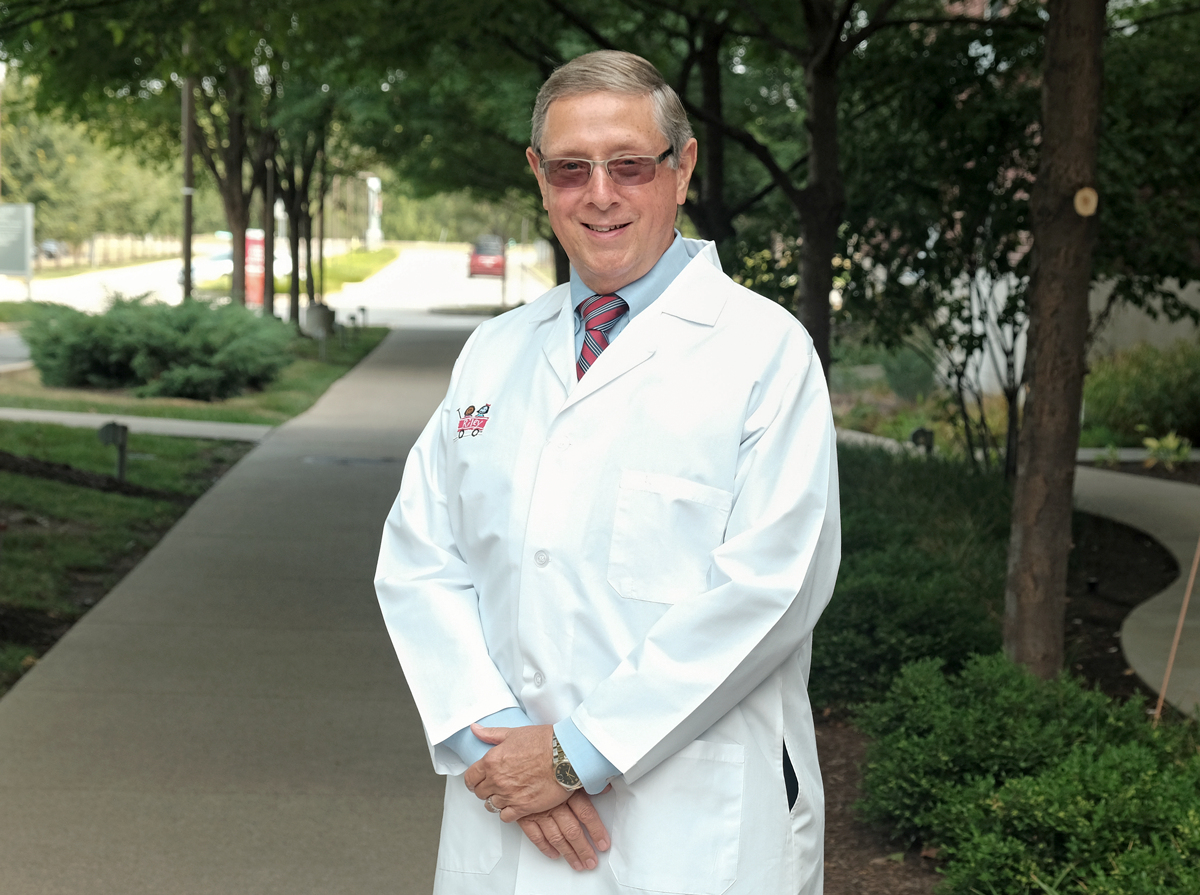 Top honoree, Physician 
Dr. Randall Caldwell
Riley Children's Health
Pediatric cardiologist, retired director of transplant and ECHO cardiogram programs
Dr. Randall Caldwell remembers when he knew he wanted to become a physician. He was in junior high and read "Dear and Glorious Physician," by Taylor Caldwell (no relation), a fictional novel based on real-life Christian evangelist and physician St. Luke.
Caldwell had been exposed to the medical field by his mother, who was a nurse, but the book sealed the deal.
From that point on, Caldwell, now 75, never veered off course. He graduated from Indiana University in three years, started medical school in 1967, and shortly thereafter joined the Navy, where he served the war effort in Vietnam for more than two years, working in domestic naval hospitals.
Back in his native Indianapolis, Caldwell chose a complex and somewhat rare specialty: pediatric cardiology. When he started his career at Riley Children's Health in 1975, he became the third pediatric cardiologist in the entire state. When he retired this January, there were 22 just at Riley.
Among those practicing today is Dr. John J. Parent, a former patient of Caldwell's.
"As my high school years progressed and I pondered what I wanted to do with my life, it became obvious I wanted to be like Dr. Caldwell," Parent said.
Caldwell later served as a mentor to Parent, one of many young cardiologists Caldwell influenced over the course of a career that has been filled with "firsts."
He was the first pediatric cardiology fellow trained at IU, where he worked with Dr. Harvey Feigenbaum, who is recognized as a pioneer in echocardiography, the most widely used cardiac imaging technique in the world. Caldwell was the first to establish a two-dimensional echocardiography program at IU soon after starting at Riley.
He was the first director of the echo laboratory starting in 1978 and was instrumental in starting the pediatric heart transplant program at Riley in 1989. It was the first in the state, and one of the first in the country for infants. The program has helped give new life to more than 170 children.
"The patients and their families are truly part of our family," Caldwell said. "We have laughed and cried together."
Joan and Creager Smith are among those who can't say enough about Caldwell, who was their daughter Leah's cardiologist when she had the first of two heart transplants when she was just 11 days old.
"After such a traumatic time, Dr. Caldwell had to guide our family into a new and unknown way of life. He was always there when we needed him, and he made sure we knew he would always have our backs."
When he wasn't caring for patients, Caldwell was busy as a researcher and educator. He churned out dozens of scientific papers, articles and book chapters that have shaped the practice of pediatric cardiology and pediatric heart transplant medicine.
But when it all came to an end this year, Caldwell quit cold turkey. "I had so many relationships, it would be hard to partially retire," he said. "It's more fair to the people coming after me to make the separation complete."
He and his wife of 52 years have their hands full volunteering and keeping up with their 11 grandchildren.
That doesn't mean he doesn't think about his former colleagues and patients—or the field of medicine. He hopes doctors can retain their personal touch amid the explosion of medical knowledge and the corporatization of the profession.
"There's so much to be gained by having that personal relationship with your health care provider, because you develop a trust and you understand things," he said. "It's not a 9-to-5 job. You always think about your patients."•
Please enable JavaScript to view this content.