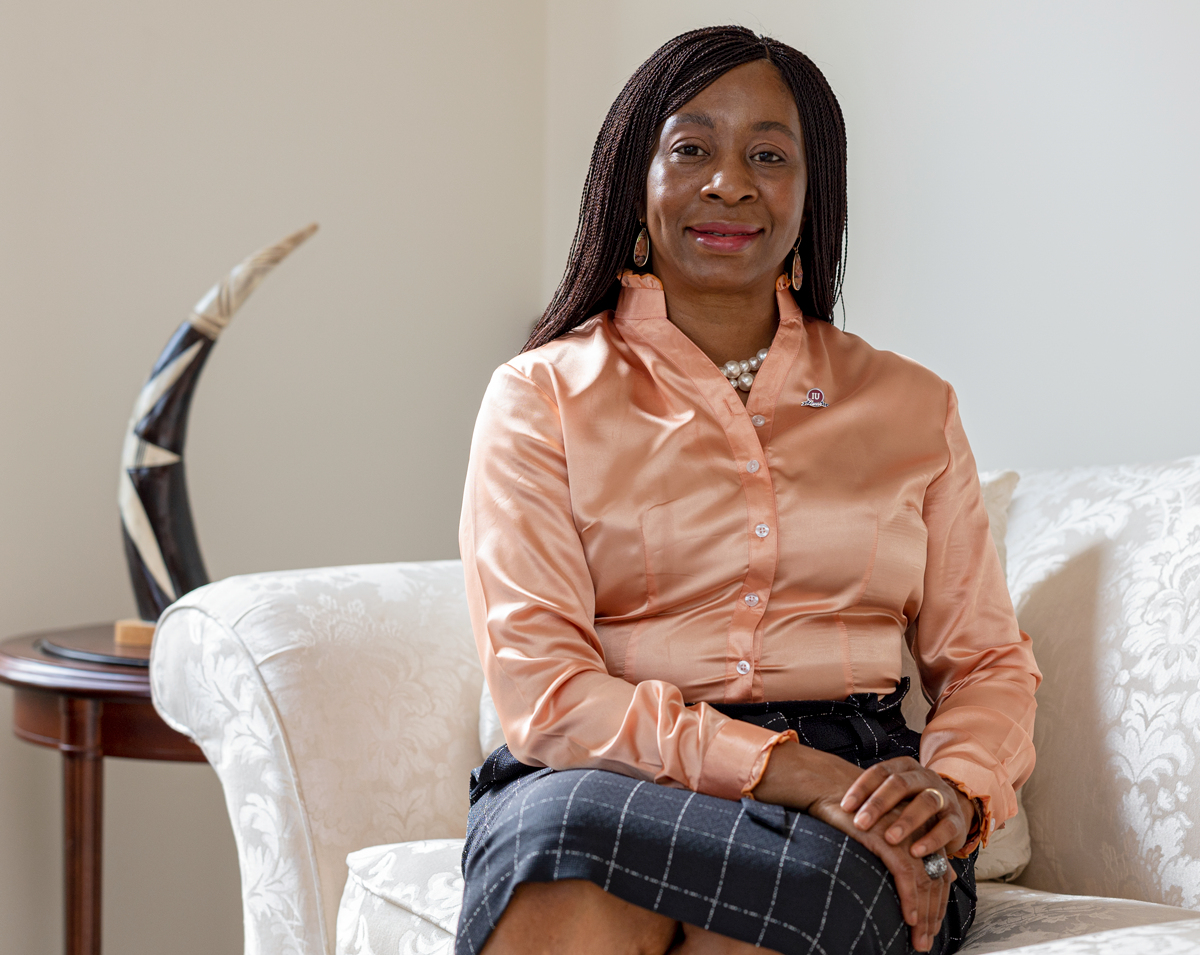 Honoree, Non-physician 
Ukamaka Oruche
Indiana University School of Nursing
Associate professor, registered nurse
Fresh out of nursing school in 1994, Ukamaka Oruche spent a few years as a medical-surgical nurse before deciding to pursue her passion: mental health. An early mentor had guided her in that direction, and a master's in psychiatric nursing would be her ticket to fulfilling that dream.
Equipped with her master's, Oruche treated children and adults on an outpatient basis at the Sandra Eskenazi Mental Health Center. She was following her heart, but working in the center's pop-up school clinics opened Oruche's eyes. She immediately realized the importance of taking services directly to kids.
"These children are already behind academically, and the time to travel to clinic and back home is an additional burden," she said. From then on, her mission was to make it as easy as possible for children to get treatment.
Now, almost 20 years later, she's a recognized expert in access to integrated mental health services and a fierce champion for children she thinks our society too easily gives up on. "I want to be the voice for all children with mental health issues," Oruche said.
She found that voice when Eskenazi extended its on-site work to children at the Marion County Juvenile Detention Center.
"The experience there was very traumatic for me," Oruche said. "I was floored by the number of kids coming in and by the crimes for which they were being detained." But she could see the potential in the children she treated. "The only difference between those kids and my kids is the resources they had been exposed to. They have dreams, too."
Oruche became more committed than ever to prioritizing mental health intervention over punitive measures. But she realized she couldn't do that as a clinician. She needed additional training to make sustainable change.
She got her doctorate in nursing science and has spent the last decade working as not just a clinician but also a research scientist. Working with National Institutes of Health funding, she has focused on leveraging parents and providers to improve outcomes.
Oruche is developing a program to help parents who are cowed by a convoluted health care system to become more involved. "You live with this child 24/7. You have a wealth of expertise by virtue of spending so much time with them. We want you to bring that expertise to us," Oruche said. Likewise, providers need training to become more receptive to that input.
Oruche's work on behalf of children and families extends all the way to her native Nigeria, where a not-for-profit she founded offers screening and treatment for diabetes, hypertension and malaria at weekly clinics.
At the dawn of the pandemic, Oruche quickly pivoted to develop educational resources for parents and children suddenly forced into lockdown and remote learning. She has become a go-to source for information about parenting during the pandemic, assisting Gov. Eric Holcomb in one of his May 2020 COVID press conferences.
Her COVID-related work is consistent with her long devotion to helping kids, especially the most vulnerable.
"Anything that helps these children to achieve their best," she said.•
Please enable JavaScript to view this content.