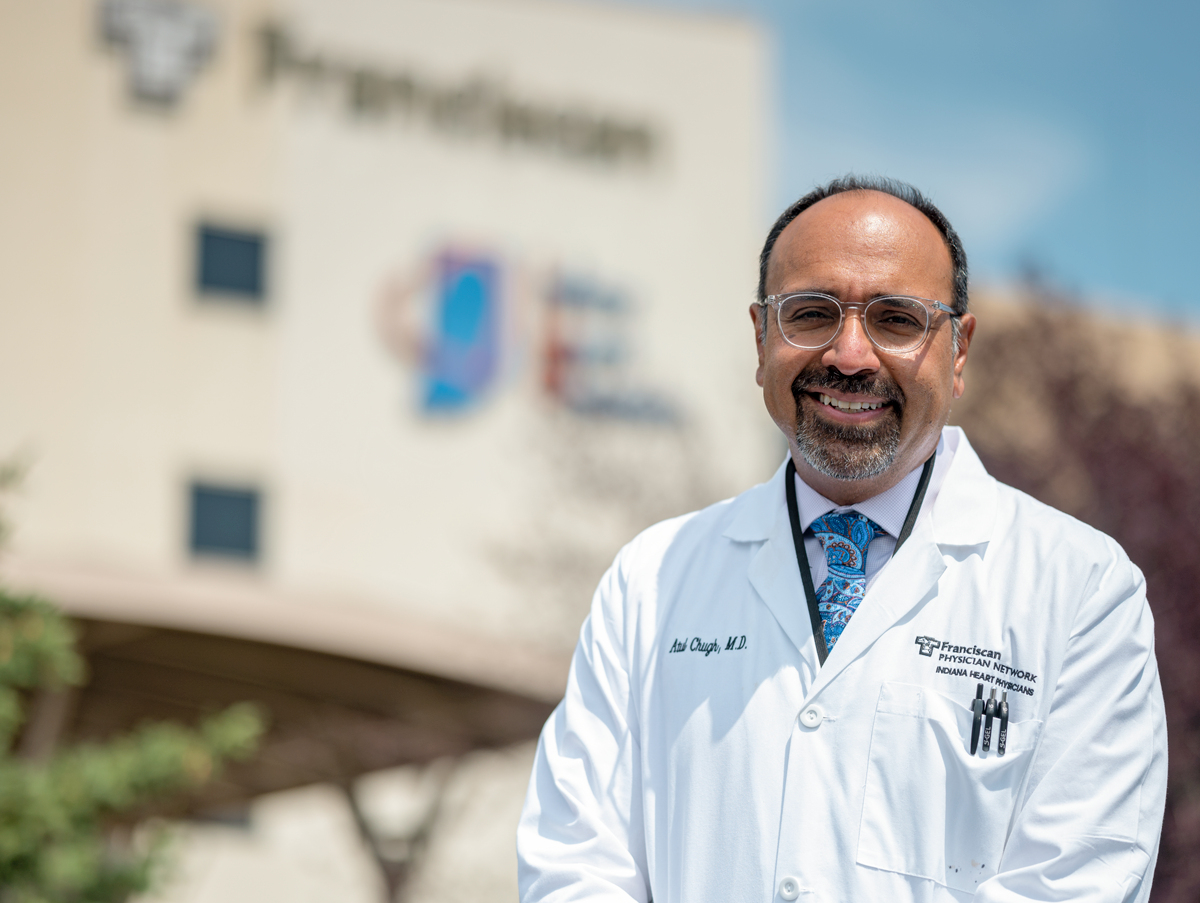 Honoree, Advancements in Health Care 
Dr. Atul Chugh
Indiana Heart Physicians, Franciscan Physician Network
Cardiologist
Dr. Atul Chugh has always had an affinity for telemedicine.
Working in a stroke unit at a Chicago hospital in the early 2000s, he encountered a robot rolling around from room to room. The robot's face was a video screen where patients could see and interact with their doctors. "Everyone thought it was ridiculous, but I thought it was absolutely brilliant," Chugh said.
His comfort level with technology is born of his specialty in cardiology. Chugh is constantly working with the technology that produces sophisticated cardiac imaging. "So much of what we do is computer-driven, algorithmically-driven," he said.
Yet when it came to interacting with patients, technology remained largely in the background until the pandemic lockdown in March 2020.
Franciscan had a telemedicine program in place, but it was rarely used because it was cumbersome, unreliable, and the health system's firewall didn't allow for third-party telemedicine providers, Chugh said.
When the pandemic suddenly made in-person visits impossible, Chugh needed to act fast to keep cardiac patients connected with their physicians. He went to Costco, bought 10 iPads and used Franciscan's guest Wi-Fi to connect to a third-party platform designed for telemedicine.
"At some health systems, you could get fired for doing that," he said. "The fact I wasn't escorted out by security guards made it a really good day." 
Chugh said his bold move would have failed if not for the support of his team and Franciscan administrators. Having the technology is the easy part, he said. The hard part is making it work across a physician practice or an entire health care system. "How do we do this with check-ins? How do we make it work for 90-year-old patients?"
Franciscan Health's embrace of telemedicine won't end with the pandemic. Chugh has shown how it can be especially useful for certain routine visits and when multiple specialists are checking in on a hospital patient throughout the day.
Routine, in-person visits aren't necessary when a physician is relying primarily on data to make treatment decisions.
Telemedicine is also earning accolades for improving the experience of hospital patients being treated by multiple specialists. Traditionally, various doctors trickle into a patient's room separately over the course of a day and make different, sometimes contradictory, treatment decisions. In the pandemic, Chugh organized a way to facilitate virtual collaboration. One doctor is physically present, and the others join virtually, allowing them to confer and agree on one course of action, potentially leading to better outcomes.
Cardiac rehab is also due for a telemedicine boost. Franciscan and an outside vendor are building a platform, expected to go live in the fourth quarter, that will facilitate remote rehab sessions. Chugh predicted that the system will double the number of rehab patients, in part by reducing the incidents of patients abandoning rehab because of the difficulty of regular travel.
Chugh's colleagues aren't surprised by his latest innovations. Nanette Kelley, who directs operations transformation at Franciscan Health, works with him on a regular basis. "At any given time, he is championing countless projects that transform how care is delivered."•
Please enable JavaScript to view this content.