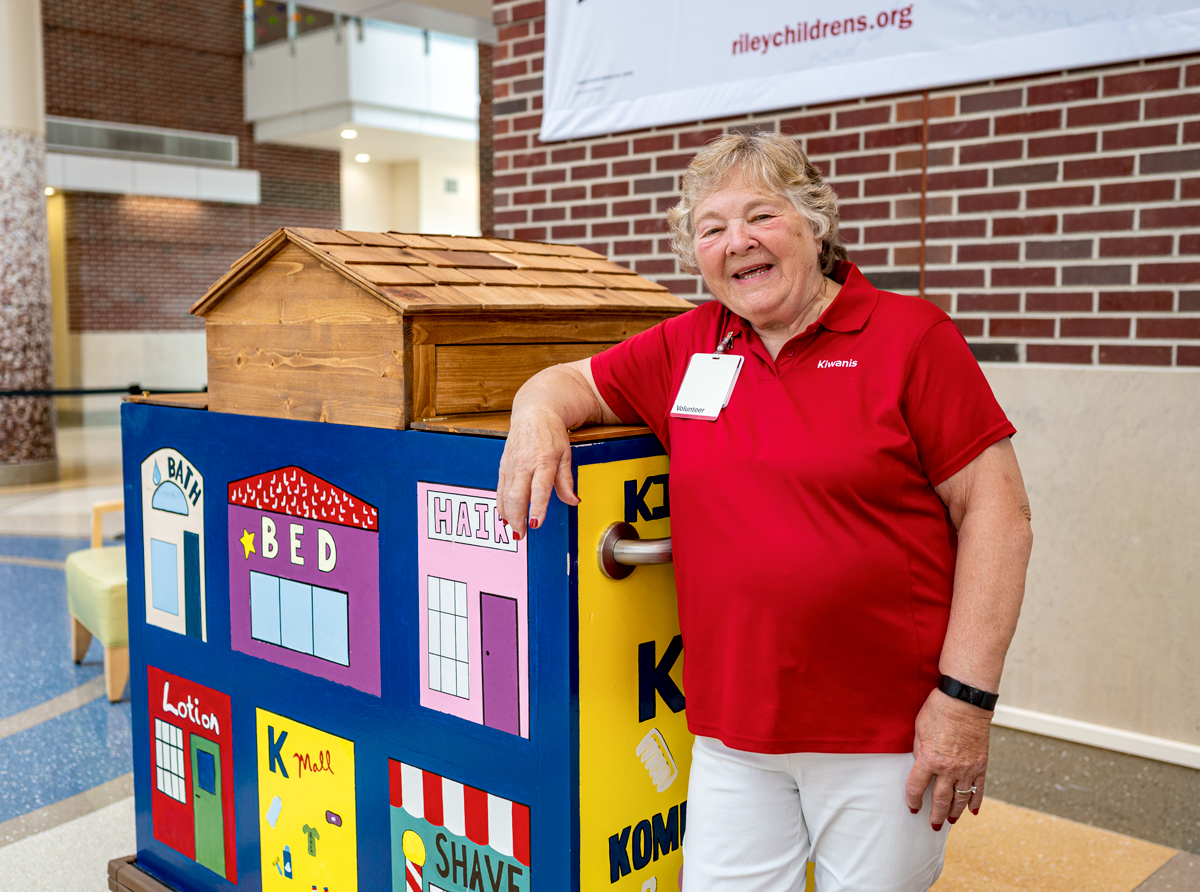 Honoree, Volunteer 
Marge Crouch
Riley Children's Health
As a devoted volunteer, Marge Crouch has masterfully melded the two organizations she cares most about: Riley Children's Health and Kiwanis.
She was already deeply involved in Kiwanis International, the famous service club, when her son became a heart patient at Riley in the 1980s. By 1989, she had a foot planted firmly in both camps.
Crouch resurrected a project whereby Kiwanis volunteers had staffed the front desk of the Riley neonatal intensive care unit and scheduled the volunteers until the program was discontinued because of national health privacy laws. Rather than let the Kiwanis-Riley connection end, Crouch came up with some alternatives, including the one that became her signature project: the Riley Parent Comfort Cart.
The cart, known at Riley as the "convenience store on wheels," has served since 2006 as a lifeline for inpatients and their families, providing snacks, toiletries and other everyday items free of charge so families of Riley patients can focus on their children.
The first comfort cart was built by the woodworking group of the Kiwanis Club of Carmel. As the program grew, new and improved carts were needed. Crouch, the first woman governor of Indiana Kiwanis, knew a previous governor who owned a cabinet shop in Bremen. She persuaded him to build the second and third carts and solicits Kiwanians and friends of Kiwanians from throughout the state to donate items to the cart and push it around the hospital.
Crouch, 73, has favorite stories from the cart's long history. Like the woman from Evansville whose son came up for blood tests but was unexpectedly admitted. "All she had was what was in her purse," Crouch said. The cart provided her with everything she needed.
Another woman whose son was born at Riley didn't leave the hospital for four months. She was a regular at the cart, which provided essential items but also broke the monotony. "Sometimes, it's just good to have someone new to talk to," Crouch said. The common theme, she said, is that people always ask what they owe and are surprised to learn cart items are free.
Among Riley employees, Crouch is known for her empathy and grace.
"Accompanying Marge on a volunteer shift is an adventure," said Susan Schwarz, the hospital's volunteer resources manager. "No one is a stranger—everyone is a friend." But Crouch is reserved if you try to engage her in conversation about her service to Riley. "She is quick and generous in her praise of others," Schwarz said.
The Comfort Cart isn't Crouch's only contribution at Riley. She and her Kiwanis friends also run a bike safety program, which involves giving a safety course and donating about 250 bike helmets a year. One child with special needs got a custom bike made especially for her, thanks to the fundraising efforts of Crouch and her husband. Their generosity didn't end with the bike itself. They arranged a presentation ceremony, complete with a police escort and a mini-parade to the YMCA where the girl received the bike.
"Marge is the epitome of selfless service," Schwarz said. "She's driven by her compassion for the parents and families of Riley Hospital."•
Please enable JavaScript to view this content.