Beatrice Mac Cabe
Vera Bradley
chief creative officer
---
Beatrice Mac Cabe spent her career working in high-end European design houses, including John Galliano and Diane von Furstenberg, before joining Fort Wayne-based Vera Bradley
in 2016.
She started at the company as vice president of design and is now chief creative officer, meaning she oversees the brand's signature product designs and works closely with the product development and technical design teams.
Mac Cabe, 41, majored in fashion design and art history at the National College of Art & Design in Dublin.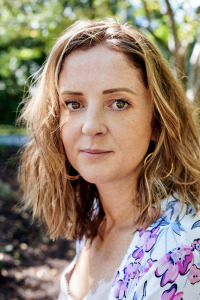 What was it like working in Europe?
Working in Europe was phenomenally creative. I think when you work for high-end design houses, those designers are setting the trends that other people will then interpret down the line.
… When I decided to come to the [United] States, I really wanted to learn the business side. If I could learn that business side and have the artistic side, then would that not be the perfect union?
What are your daily tasks as the chief creative officer at Vera Bradley?
I spend a lot of time with the design and print teams, working on those initial upfront things like the color palettes, overarching stories for the season, customer input. Not so much the micro, like, will it be fleece or will it be crushed fleece? But more like, where is [the customer] moving? Is she traveling? How has her life changed now coming out of COVID? What is she going to want from us?
I don't want to be somebody who's constantly checking in [on the teams] and controlling what they're working on. I want to be there to give them the right inputs and they can move forward and be creative and make those decisions when they have all the right information.
What do you enjoy most about working for Vera Bradley?
I love getting in a room and talking about how we are going to build this. These blue-sky conversations are the most exciting part. I interviewed for a job at Louis Vuitton when I was in Paris, and [the interviewer] said to me, "You'll be responsible for this bag. Just this bag. And every season you will think about, 'How will this bag change? Will you put a longer handle on it?'" And I was like, "Oh, my god." Couldn't be more boring. I love the semi-chaos
of everything.
How do you create new designs while still making products look like they come from Vera Bradley?
One of the things we do is figure out, what are the guardrails for our brand? For example, we understand that our customer appreciates quilting. So, what are those design signifiers that you need to have in your toolbox? And then, which ones do you use—when,
and how?
[It's] understanding what your brand is and that you're not going to suddenly become a stark minimalist, like the Margiela brand. That wouldn't be what the customer is looking for when she's going into the Vera Bradley store.
Then there's the other side of, how do I design something new? I know I have a great tote—my customer loves my tote. How do I give her a new tote? We listen a lot to the voices of customers.
What kind of challenges do you face in your job? How do you overcome them?
We just did a big project where we relooked at our core values and our mission statement. We interviewed internally all our associates, but we also interviewed our customers and got their feedback. And it was interesting to me because it really reflected back to us, "Yes, these are your values." I was really proud to work at a company where the things that we think matter to us internally also matter to our customer.
That's probably the hardest part—making sure that you live those values every day and you uphold them. Because it's hard, right? There are stressful moments, and you want to always be the best version of yourself, and sometimes you're not. And I think it's important to be able to acknowledge that and go back and say to your team, "I'm sorry. I wasn't my best self."•
Check out more of IBJ's ranking of Indy's fastest-growing companies.
Please enable JavaScript to view this content.