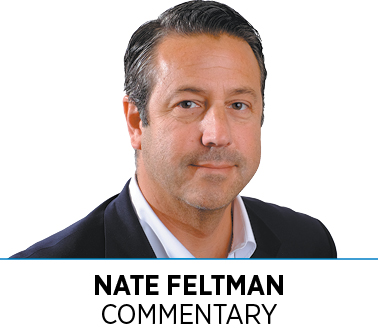 Another eventful year in the books. The biggest news story of the year, in my opinion, is the same as in 2020—the pandemic that has affected everyone and every business. We began this year worried about the pandemic but optimistic the virus would eventually dissipate by year-end. As this year comes to a close, it feels like déjà vu.
We documented many great stories in 2021—most not related to the pandemic. In this issue of IBJ, we highlight the newsmakers of 2021: individuals who had a significant impact in our community as nominated by our readers and IBJ staffers. Profiles of this year's newsmakers can be found in our annual year-end publication, The Book (formerly known as the Book of Lists).
Our Newsmaker of the Year is Ryan Vaughn, Indiana Sports Corp. president. Vaughn led the effort to land the entire NCAA Men's Basketball Tournament in Indiana. He devised the plan and worked with many city and state organizations and hundreds of volunteers to successfully execute the historic first. For a city that has made hosting sporting events a pillar of its growth and economic development, Vaughn's efforts garnered top billing.
Other top newsmakers on the list are Mali Simone Jeffers and Alan Bacon, founders of the not-for-profit GangGang, an Indy startup that invests in Black artists and entrepreneurs with a goal of building more inclusive, healthier and culturally thriving cities. GangGang is administering the Naptown Next Up fellowship that invests $100,000 in the career development of solo musicians and music groups.
Two dealmakers made the list—entrepreneur and investor Bob Laikin and John Kite, CEO and chairman of Kite Realty Group Trust. Laikin launched his second SPAC this year, raising nearly $300 million, and announced plans to merge with Energy Vault, which specializes in the storage of renewable energy. Kite led Kite Realty's $2.8 billion acquisition of Retail Properties of America, which made Kite Realty the fifth-largest shopping center real estate investment trust in the nation.
Darrianne Christian is a top newsmaker due to her leadership through the race controversy that shook Newfields, home of the Indianapolis Museum of Art. Christian became the first Black woman elected chairman of its board and has guided Newfields as it works to implement diversity, equity, inclusion and access training for senior leadership and to support Black artists.
Venture studio High Alpha founders Eric Tobias, Scott Dorsey, Mike Fitzgerald and Kristian Andersen made the list due to their torrid pace of spinning up, funding and nurturing software startups. Their work is strongly contributing to Indiana's tech ecosystem, including retaining and attracting talented individuals to our city and state.
Indiana University's first female president, Pamela Whitten, is a top 2021 newsmaker as she assumed the reins of Indiana's largest university. While Whitten's priorities will become clearer in 2022, no other person is arguably in a stronger position to positively impact the growth and vitality of our state.
While not an official newsmaker of the year, IBJ Media made a little news this year when we acquired Grow Indiana Media Ventures, producers of Inside INdiana Business television, radio and web properties. We are excited for the year ahead as we work to fully integrate the acquisition and innovate with new products and services.
Finally, a special thank you to our subscribers and advertising partners. Our ability to provide top-notch local business news would not be possible without your continued support.
Congratulations to 2021's top newsmakers, and here's to a healthy and prosperous 2022 for all Hoosiers.•
__________
Feltman is publisher of IBJ and CEO of IBJ Media. Send comments to nfeltman@ibj.com.
Please enable JavaScript to view this content.