A family feud broke out among Indiana Republicans this year when Gov. Eric Holcomb sued the Indiana General Assembly's legislative leaders in his own party. He did so to challenge the constitutionality of a new law that weakens his emergency powers and was enacted by fellow Republicans over the governor's veto.
A Marion County judge sided with the Legislature in the dispute in October, following months of disagreements between Holcomb and legislative leaders. At the end of October, Holcomb appealed the ruling. Legal experts anticipate the issue will ultimately be decided by the state Supreme Court.
The dispute started when the Legislature proposed and passed the law during the 2021 session. It grants the Legislature the authority to call itself back into session during a state of emergency and terminate emergency orders issued by the governor.
The action came in the aftermath of emergency measures the governor has imposed during the pandemic. He at times has limited occupancy at some businesses and mandated the wearing of masks.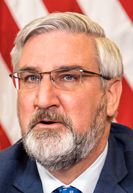 Holcomb first issued a public health emergency order in March 2020 and has continued it every 30 days since.
Holcomb from the start questioned the constitutionality of the legislation, saying the governor reserves the right to call the Legislature back into session. He said he would veto the law if it passed.
"I can answer that in four letters and it's V-E-T-O," Holcomb said during one of his weekly COVID-19 briefings in March when he was asked if he would sign the emergency-powers legislation into law.
The Legislature overrode the veto in May; Holcomb responded by filing a lawsuit against the General Assembly.
House Speaker Todd Huston, R-Fishers, and Senate President Pro Tem Rodric Bray, R-Martinsville, maintained their relationship with Holcomb was not strained, insisting that they simply had a difference of opinion on the law that needed to be worked out in court.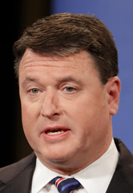 Enter Attorney General Todd Rokita, also a Republican, who extended the family feud once Holcomb filed the lawsuit. Rokita sided with the Legislature, with multiple failed attempts made in court to try to block the governor from suing in the first place.
Rokita unsuccessfully argued that courts shouldn't consider Holcomb's lawsuit, maintaining that the attorney general alone had the legal authority to represent the state in court and could decide whether the law is allowed under the state constitution.
When Marion County Judge Patrick Dietrick sided with the Legislature on the constitutionality dispute in October, he wrote that the governor's constitutional power to call the Legislature into a special session was necessary when lawmakers were limited to meeting every other year for a maximum of 61 days. But constitutional amendments approved by statewide referendums removed those limits, making the new emergency-powers law constitutional, he said.•
Check out more year-in-review stories from 2021.
Please enable JavaScript to view this content.