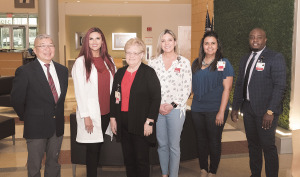 Honoree, Advancements In Health Care
Indiana University Health Hospital at Home
Indiana University Health's Hospital at Home program was in the planning stages in early 2020 when the pandemic hit, ramping up its rollout.
Since early 2018, IU Health teams had been researching a model of care in which patients who are stable but still need care can go home and be cared for remotely. It's an innovative model that reduces costs for patients and payers and conserves hospital resources, like beds.
In some cases, it can even lead to quicker recoveries because patients are in the comfort of their own homes and surrounded by their loved ones, without their care being compromised.
Through the program, patients with serious illnesses, when stable and ready, leave the hospital for home and are monitored from there. The program relies on the latest technologies in medicine—including tiny pulse oximeters and Bluetooth-enabled blood pressure cuffs, used to monitor a patient's stats, and computer video chat systems that connect patients to their nurses and doctors.
The operational heart of the program is a virtual hub staffed around the clock by nurses or other caregivers who are on call to respond to patient questions or emergencies.
A pilot program was already being planned when COVID-19 began to spread and hospitals began filling with severely ill patients.
"COVID forced us to innovate fast because capacity became an issue at all facilities," said Peter Kamwendo, director of home health at IU Health.
IU Health launched the Hospital at Home program and offered it as an option to stabilized COVID-19 patients in order to open beds for sicker patients.
Quickly making the Hospital at Home program widely available around the IU Health system required collaboration among 17 departments. Each week, 50 to 60 experts from those departments met to discuss patient cases, issues and ideas for improving the program.
It has since become one of the largest hospital-at-home programs in the country, serving 1,600 patients through January.
Patients in the program have recovered well, and re-hospitalization rates have remained low, at under 6%.
"I can't think of a time when somebody has not been appreciative of the opportunity to continue to heal from home sooner than they would have if this program didn't exist," Elyse Thorne, team lead nurse practitioner for the hospital-at-home program, told IBJ.
Joan Ferres-Rodriguez, remote-patient-monitoring nurses supervisor, said for patients, there's no place like home. They can be in their own beds, eat foods they enjoy and wear their own clothes rather than a hospital gown. All around, they can be more comfortable, which can allow faster healing to occur, she said.
Now that COVID-19 cases are on the decline, the program is shifting to admit patients with other illnesses, including congestive heart failure, urinary tract infections, pneumonia and cellulitis.•
Please enable JavaScript to view this content.