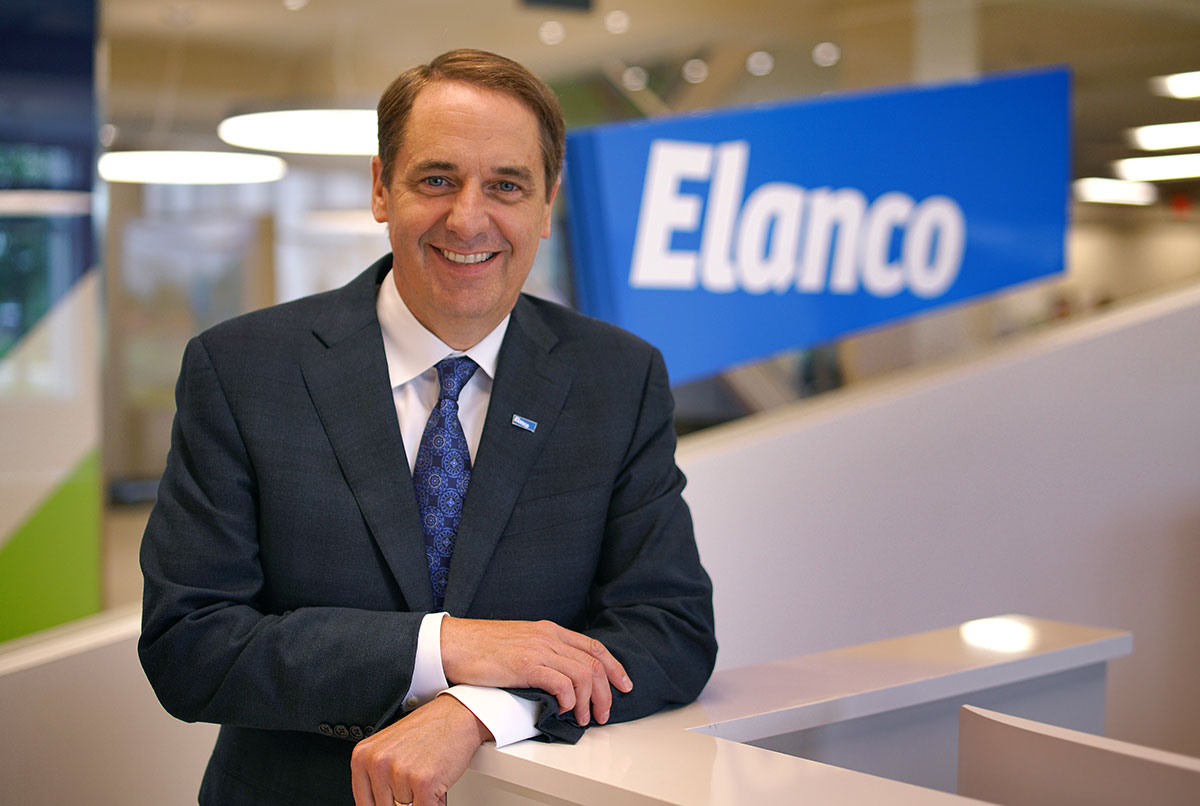 On paper, it's a global headquarters project—a $100 million campus for Elanco Animal Health on the former General Motors stamping plant site just west of downtown.
But Jeff Simmons is hoping it will become much more.
The CEO of the Greenfield-based company said at a groundbreaking in April that he expects the headquarters to make Indianapolis "an epicenter of animal health innovation."
And the renderings and details Elanco unveiled that day hint at how Simmons plans to make that happen.
Elanco is building a six-story, glass-faced office structure on 35 acres, part of a campus that will include an attached laboratory, collaboration buildings, a three-story parking garage, and an outdoor event lawn and courtyard building.
The project will also include a venture studio makerspace and facilities to create "a scientific discovery network and research clearinghouse that will help position Indiana as a hub for animal health invention," Elanco said.
Simmons announced then that the campus is being developed in collaboration with AgriNovus, the state's food and agriculture initiative, and venture studio High Alpha.
"Broad access to the world's animals, coupled with a laser focus on creating pathways for innovation, is what we believe sets Elanco apart as a sought-after partner," Simmons said. "We're building something significant that will make animals, the city and our world better, and we're designing our new headquarters with those partnerships in mind."
Elanco pointed to two such strategic partnerships that had already taken place.
In February, it announced a partnership with High Alpha seed funding to create and launch Athian, which was formed to certify, aggregate and monetize environmental footprint reductions within the food system.
And days before the groundbreaking, Elanco announced the creation of BiomEdit, an animal health microbiome innovation company, in partnership with Boston-based Gingko Bioworks.
BiomEdit was formed to discover and develop engineered medicines for animal health based on the microbial communities in animals and the surrounding environment.
Construction of the headquarters is expected to take two to three years and is billed as the initial phase of a mixed-use development on the 93-acre site. That larger development could include offices, retail, restaurants, a hotel, multifamily dwellings, flex manufacturing and state park use.
The stamping plant site was once a hive of activity, at its peak the workplace of more than 5,500 GM employees who used massive presses and dies to stamp metal. But the plant closed in 2011, and the site had been vacant ever since as city and state officials tried to woo one organization after another to rejuvenate the area.
Elanco, part of drugmaker Eli Lilly and Co. before spinning off as an independent company in 2019, announced in late 2020 that it would make the site its home.•
Check out more 2022 Newsmakers.
Please enable JavaScript to view this content.