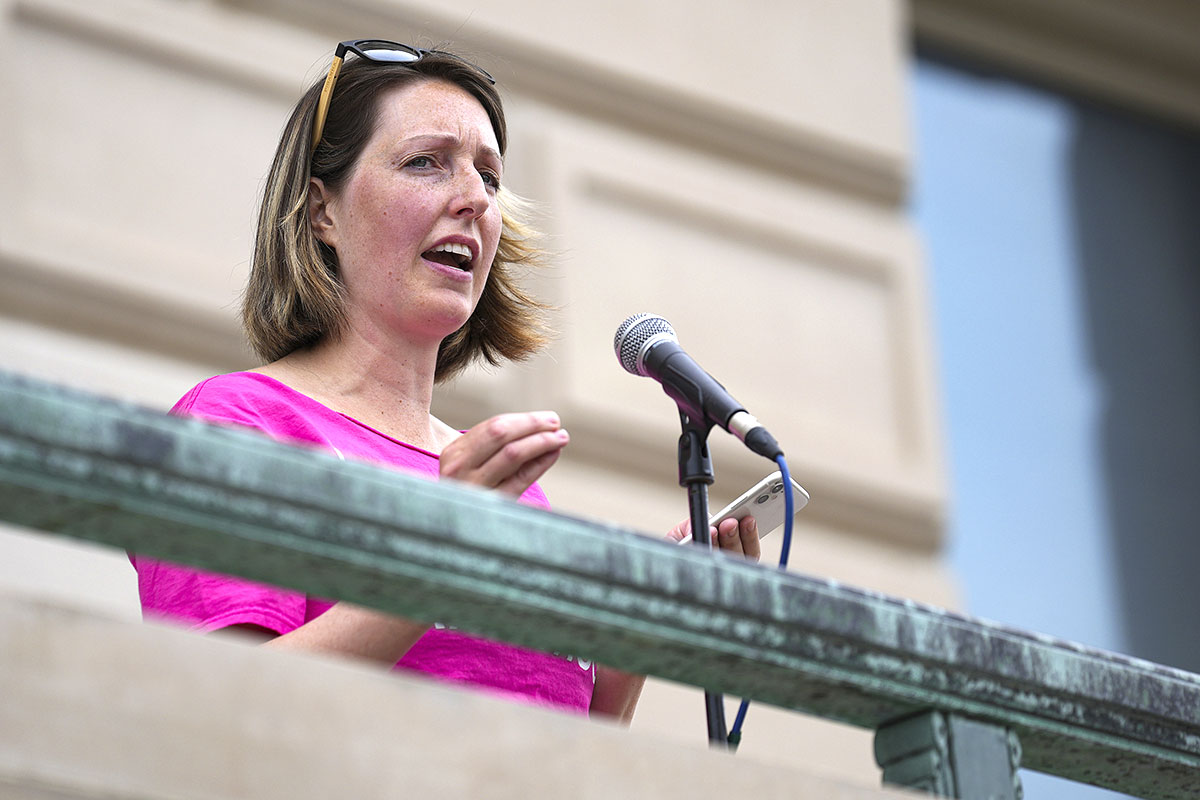 An Indiana doctor was thrust into national headlines in July when she told The Indianapolis Star about a 10-year-old Ohio girl who had been raped, became pregnant and had to travel to Indiana for an abortion.
Dr. Caitlin Bernard, an obstetrician-gynecologist at Indiana University Health, spoke out about the girl following the U.S. Supreme Court's overturning of Roe v. Wade in June. She said the girl traveled to Indiana because, hours after the Supreme Court's decision, Ohio banned abortions after six weeks' gestation. The girl was six weeks and three days pregnant when a doctor in Ohio contacted Bernard.
When the story published July 1, national politicians and media outlets speculated about whether her story—which was later verified following the arrest of a man in Ohio that police say raped the girl—was true. Others, including President Joe Biden, used the story as a talking point when calling for abortion rights.
Back in Indiana, Attorney General Todd Rokita said on Fox News that he'd be investigating whether Bernard followed proper procedures, including whether she reported the abortion to the proper authorities. 
Multiple media outlets confirmed through state documents that Bernard had reported the abortion to the Department of Child Services and the Indiana Department of Health. 
In July, an attorney representing Bernard filed a tort claim notice against Rokita, claiming "ongoing" harm from the "false and misleading" statements he made about her on Fox News. That launched a months-long legal battle between the two. 
Later that month, Rokita's office sent Bernard six consumer-complaint notices. 
In early November, Bernard and her medical partner, Dr. Amy Caldwell, filed a lawsuit asking the Commercial Court to declare that Rokita and the director of the Consumer Protection Division violated state statute, exceeded their authority and breached confidentiality provisions regarding those consumer complaints. 
The lawsuit accuses the attorney general and the Consumer Protection Division director of moving forward with an investigation into Bernard based on "facially invalid" consumer complaints and issuing "sweepingly broad document subpoenas" for the "entire medical file" of the rape victim.
A few days later, Bernard and Caldwell filed an emergency motion to halt Rokita from accessing their patients' medical records. 
"There is a serious risk that patient identities could be disclosed to the public, which could subject them to harassment based on their most sensitive medical information," they said in a statement.
Rokita released his own statement saying, "Patient privacy is the foundation of medical ethics, and although the doctor's newfound concern for her patients' privacy is appreciated, albeit ironic, we will proceed to seek the truth no matter the attempts to push her narrative."•
Check out more 2022 Newsmakers.
Please enable JavaScript to view this content.