How's this for a business strategy? Ask market regulators to make your product available to fewer patients, and you'll
see sales double.
That's essentially what Eli Lilly and Co. has done with its newest and fastest-growing blockbuster, the lung cancer
drug Alimta.
In 2008, the Indianapolis-based company asked drug regulators to change the label on Alimta so Lilly could no longer promote
it as a treatment for all patients suffering from non-small-cell lung cancer, but for only about 70 percent of the patients.
Since then, sales of the drug have accelerated, growing a whopping 48 percent last year. Worldwide Alimta sales topped $1.7
billion in 2009, compared with $854 million two years ago.
Alimta is Lilly's best example to date of what it and the entire pharmaceutical industry see as the future of drug
development: targeting drugs to be more effective among smaller groups of patients.
 
Stuglik
"Our vision is to change the world of cancer care," said Brian Stuglik, Lilly's vice president for global
oncology marketing. "We think the best way to be doing that is through tailoring."
This targeted, or tailored, strategy is a vast change from the pharmaceutical industry's history. The most successful
drugs to date—such as Lipitor, Pfizer Inc.'s $13 billion-a-year cholesterol fighter—are drugs approved to
treat vast swaths of patients.
Lilly's biggest sellers also have fit this mold: Prozac and Cymbalta for depression and pain, Zyprexa for schizophrenia,
insulin for diabetes.
But advances in science are putting the days of broad-based blockbusters to an end.
"This is where the science is going," said Dr. Nasser Hanna, a lung cancer expert at the Indiana University Melvin
and Bren Simon Cancer Center, who has led some of Lilly's clinical trials of Alimta. "If you're still dealing
in the old model of drug development, you may short term do fine. But it's not good science. And ultimately, good science
is what companies have to have."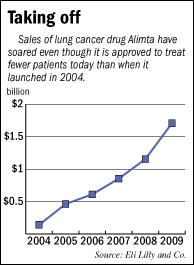 Targeted medicines
The science behind targeted medicines—sometimes called personalized medicine—stems largely from rapid
advances in genetic sequencing and the realization that diseases like cancer are defined less by where they occur in the body
(lung, breast, brain, etc.) and more by each patient's genes.
Genes tell a person's cells to produce certain proteins and enzymes, the presence or absence of which will affect whether
a drug works for that patient.
With Alimta, Lilly scientists do not know whether a genetic factor is at play. But they have noticed that the patients whose
cancer responds best to Alimta tend to have lower levels of an enzyme called TS, or thymidylate synthase.
Lower levels of this enzyme tend to occur in patients who also have cancer cells that are rounder, which are called non-squamous.
Those with higher amounts of the enzyme have flatter cancer cells, which are called squamous. The difference in cells can
be seen under a microscope when a pathologist performs a standard biopsy of a patient's tumor.
The U.S. Food and Drug Administration changed Alimta's label in September 2008 so it is approved only for non-small-cell
lung cancer patients with non-squamous cells.
This discovery came fairly late in Alimta's life as a drug. It hit the market in 2004 to treat any patients with mesothelioma
or non-small-cell lung cancer who had not responded well to earlier forms of chemotherapy.
It was not until 2006 that Stuglik, Lilly's vice president on Alimta, was chatting with Italian physician Giorgio Scagliotti,
the leader of a Lilly-sponsored trial of Alimta.
"Do you have any hypotheses about any patients who might do better with Alimta?" Stuglik recalled asking Scagliotti.
"Because we knew that was where the market was headed," he added.
Scagliotti sent Stuglik a paper detailing a hypothesis about levels of the TS enzyme. Lilly then set up Scagliotti's
clinical trial to verify his hunch. And Lilly statisticians went back and analyzed data from one previous clinical trial of
Alimta. Both showed that Alimta extends survival times longer for patients with non-squamous cells.
Few side effects
Lilly has been able to grow sales of Alimta, in spite of its being approved for fewer patients, because it produces
few side effects compared with other lung cancer drugs and is convenient to take. It requires a 10-minute infusion in a clinic
every three weeks, compared with multiple hours for older lung cancer drugs.
Even more important, Lilly has won regulatory approvals to market Alimta for new uses within that smaller group.
In 2008, Alimta won FDA approval to be a first-round chemotherapy agent used to fight non-small-cell lung cancer, not just
a secondary therapy after a first medicine doesn't work or stops working. That opened it to more patients within the
non-squamous subgroup.
From the first quarter of 2008 to the third quarter of 2009, Alimta's share of this so-called first-line lung cancer
market in the United States soared from 7 percent to 31 percent, according to data from IntrinsiQ released by Lilly in December.
Over the same time frame, Alimta's first-line market share in Europe grew from 3 percent or less to 40 percent in France,
34 percent in Germany, and 26 percent in Spain.
The drug has lagged in Italy and the United Kingdom, with only 10 percent and 2 percent market share, respectively.
In 2009, the FDA OK'd Alimta as a maintenance therapy designed to keep lung cancer in remission. That can mean patients
take Alimta for six to 12 months, instead of the standard three- to four-month duration in chemotherapy rounds, said Hanna,
the IU lung cancer expert.
He is helping Lilly conduct a clinical trial for whether Alimta works well in combination with radiation therapy of lung
cancer. Lilly has five clinical trials under way to test Alimta in new uses, including head and neck cancers.
Some Wall Street analysts expect big things from Alimta. Jami Rubin of Goldman Sachs predicts its sales will approach $3.9
billion by 2015. Several other analysts are less exuberant but still see its annual sales topping $3 billion.
That's key because Lilly could lose more than $10 billion in revenue from 2011 to 2015 as patents expire on five of
its best-selling drugs, which will subject them to competition from cheaper generics.
One challenge for Alimta is Tarceva, a once-daily pill to treat non-small-cell lung cancer, sold by Roche's Genentech
unit. In April, Tarceva won approval as a maintenance therapy, which could help boost its $1.3 billion in annual sales.
Linda Heitzman, a pharmaceutical consultant at Deloitte Consulting in Indianapolis, said pharmaceutical companies still can
produce lucrative drugs by getting approval for a small group of patients initially and then winning approval for other groups
later.
FDA regulations have pushed drug companies that way as the agency has been less tolerant of the adverse reactions at least
some patients inevitably have when a drug is prescribed for large groups of patients.
"It's about targeting very early what is the population most likely to benefit. I think that strategy can win,"
said Heitzman, who has done consulting for Lilly.
She added, "You have to go for more limited indications, just getting your product into the market. But then I think
there is the opportunity to dominate the market."•
Please enable JavaScript to view this content.