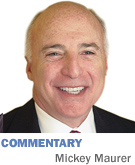 Congratulations to Boning Han.

Han, a May graduate of my alma mater, North Central High School, received the state's third annual Mr. Science award from Gov. Mitch Daniels. He has been accepted to Harvard University and will attend there in the fall, no doubt due to his considerable academic achievements, which include perfect scores on the SAT and advanced placement exams. He was valedictorian. While reading the article in the Indianapolis Star about young Han, one fact did not surprise me. Han's father, Xiaorong Han, is a professor of Asian studies at Butler University. In the home of a high-achieving student, you are likely to find at least one parent who is a professional educator.

Last year, I selected examples from Indiana's abundant supply of accomplished women and showcased their inspirational achievements in a book titled "19 Stars of Indiana." Many of the women profiled live heart-pounding lives. Each has a unique story. But I found a common thread. Approximately half benefited from at least one parent who was a professional educator. This observation led me to consider the proposition that not only is early childhood education essential to supplement and often reverse the effects of a deficient home environment, but a rich preschool home environment is also an important indicator of high achievement.

It is no longer subject to debate that institutionally provided early childhood education benefits at-risk children. For confirmation, visit St. Mary's Child Center at 901 Dr. Martin Luther King Jr. St. The facility has been in existence since 1961 and has been a leader in providing a full range of services for children primarily ages 3-5 who are at risk for learning and emotional problems or have developmental delays.

Children at St. Mary's learn through project work and express themselves and document their learning through the arts, including but not limited to, pottery, photography, sculpting, painting, drama, dance, music and woodworking. St. Mary's has approximately 170 students per term. According to Connie Sherman, executive director, St. Mary's children are less likely to repeat grades, enter special education or be incarcerated.

Sherman cites research revealing that children who do not reach minimal social competence by age 6 are likely to have difficulties in school and throughout life and, conversely, that involvement of a child in high-quality early-childhood programs results in significant lifelong positive outcomes.

In his first term, Daniels proposed fully funded full-day kindergarten, and although he philosophically endorses this benefit, the economy has had its way with this proposal. The governor's initiative is laudable but does not address that critical stage in a child's life: ages 3-5.

A quality preschool education should be available not just for the lucky 170 needy students who attend St. Mary's, but for every one of our children. But consider the other half of the proposition. Boning Han and those over-achievers chronicled in my book may have had the benefit of preschool, but surely enjoyed a home environment with an education component professionally provided by a loving parent.

The mother of U.S. District Court Judge Sarah Evans Barker, an elementary school teacher, was no doubt an essential factor in her daughter's extraordinary achievement. Likewise, parent teachers of entertainer Sylvia McNair, entrepreneur Sharon Rivenbark, nurse Mary Bolk, doctor Mercy Obeime and others profiled in "19 Stars of Indiana" were instrumental in the success of these remarkable women. In addition to providing preschool opportunities for everyone, the parent-training component needs to be emphasized.

Not everyone has the capabilities of Boning Han. Not everyone will gain admission to Harvard, be named Mr. Scientist, or be valedictorian of his high school graduating class. Everyone can, however, benefit from early childhood education both at school and at home. All our young children deserve the full opportunity to achieve at the highest level of which they are capable.•

__________

Maurer is a shareholder in IBJ Corp., which owns Indianapolis Business Journal. His column appears every other week. To comment on this column, send e-mail to mmaurer@ibj.com.