Pity not-for-profit executives as they look to the future of raising money and recruiting volunteers. They might fare better at Twister. Or Tetris.

Studies show the youngest adults want action on global problems and prefer their philanthropy to be casual, electronic and accountable. Millennials also expect personal attention from charity executives.

Generation X believes not-for-profits should focus on improving local communities and work around their busy schedules.

Boomers zero in on the less fortunate and respond to direct mail and phonathons.

The Silent Generation likes paper, social events and writing checks. And they're suckers for a good personal story.

What's a not-for-profit to do? Try to appeal to everyone.
IBJ.COM EXTRA
Click here
for an example of how one not-for-profit is marketing to younger generations.
That's what Indianapolis-area organizations ranging from Noble of Indiana to the University of Indianapolis are attempting, and the process already is consuming a lot of attention.

"Charities are trying to sort this out," said Patrick Rooney, executive director of the Indiana University Center on Philanthropy. "They are looking for ways to have a multi-prong approach to different cohorts and generations in ways that speak to each generation without affecting the others.

"It's going to be a real growth industry."

Distinct preferences

Generational traits are tricky. Three studies by the Center on Philanthropy, along with a study released in April by Indianapolis-based Achieve LLC and Greenwood-based Johnson Grossnickle and Associates Inc., show clear differences.

Yet stereotypes lurk just behind the statistics. Not everyone born toward the end of the last century is more interested in AIDS in Africa than the homeless in Indianapolis, and some people who came of age during the Korean War relish Facebook.

Still, studies conducted in the past few years point to general distinctions.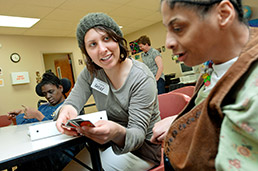 Hayley Sampsel plays a game of Uno with Noble of Indiana resident Delisha Webster. Not-for-profits are reaching out to younger adults like Sampsel. (IBJ Photo/ Perry Reichanadter)
• Millennials, those born roughly between 1983 and 2000, are motivated to change the world. That's good news for Save the Children but not for the Indianapolis Museum of Art. (Experts don't agree on an age category for this group, which also is called Generation Y, among other labels.)

Cause-driven, they attack a problem and move on to the next issue once convinced improvement is under way.

Millennials more than any other living generation demand accountability. They insist on knowing how money will be spent and how results will be measured.

The generation lives and breathes social media. However, ironically, they respond to e-mail requests for help but prefer donation requests made in person.

Indeed, face time with not-for-profit leaders might be expected. Having grown up in households with few children, they're accustomed to lots of personal attention. Millennials may anticipate helping develop the charity's action plan.

• Generation X, born from the mid '60s to late '70s, sees community as the greatest priority. Neighborhood associations and economic development groups win.

• Boomers, the generation born from 1946 to 1964, lean toward helping the less-fortunate and catering to such outreaches as Wheeler Mission and organizations that give scholarships to children from low-income homes. Think redistribution of wealth.

The focus of Boomers' priority on the poor has been local, not international.

• Those of the Silent Generation, who grew up during World War II and the Korean War, prefer getting information on paper, whether that be brochures or formal letters. They also like mixing dinners and other social events with philanthropy.

They've been involved with not-for-profits for so long that they feel they know which methods work and which don't, and which causes need the most attention. Silents thus are as receptive to hearing a success story as they are to other types of marketing.

Broadly speaking, Generation X and Millennials act and think more alike, as do Silents and Boomers.

Socially online

Local not-for-profits are scrambling to adapt and are learning as they go.

The challenge, said IU's Rooney, is to reach all age levels without appearing to deliver conflicting messages.

Noble of Indiana, which serves people with developmental disabilities, is beefing up its website and plunging into social media while keeping another foot firmly planted in time-honored approaches that older donors prefer.

Noble has made donating online easier, and dived into Facebook to broaden and deepen its base of donors and volunteers. Since launching a Facebook page early this year, Noble has accumulated 242 fans, said Director of Community Relations Rita Davis.

The organization asks current staff, volunteers and any other stakeholders in the organization to become fans, and hopes their attention will parlay into other people becoming fans, too.

Costs for moving to social media have been a wash, Davis said. Lower costs of printed materials and other traditional forms of advertising are largely offset by salaries of employees to keep Noble's Internet presence fresh.

"It certainly keeps us on our toes to make sure we are the provider of choice," she said.

Noble also is involving itself with students at Butler and Marian universities through career fairs and building relationships with disabled people.

And the not-for-profit hopes to win the annual competition sponsored by Giving Sum, the local organization of 125 young adults that selects a not-for-profit to receive a $50,000 donation and a secondary group to receive $12,500—as well as concentrated volunteer attention from the members. Noble applied for the first time last year, and will apply again this year, Davis said.

The University of Indianapolis is trying a similar strategy, using the Internet and social media to stay in touch with alumni. Historically, new graduates vanished to start their careers, then reappeared in their 30s as fond memories of college began cropping up.

Now, even the newest alumni are tied in through Facebook, Twitter and Linked In, said Monica Woods, executive director of alumni relations. A University of Indianapolis online social networking community has grown to 1,000 log-ins.

Young alumni account for little giving to the University of Indianapolis, and that hasn't changed with the advent of social media; only about 8 percent of donations come from people age 29 or younger.

However, Woods hopes the early connections will pay dividends later.

Younger alums demand instant, 24/7 access to information. In fact, an online university site for donations typically heats up just before New Year's as donors rush to take advantage of tax deductions for contributions to the university.

Communication with younger alumni also has accelerated dramatically.

By the time Woods returned to campus from a recent lunch meeting with a graduate in Fishers, the alum had tweeted and e-mailed thank-yous and requested to be connected through Linked-In.

Later that same afternoon, Woods received a handwritten note from a man who graduated in '49.

"People want immediate response," Woods said of her interactions with younger graduates. "It used to be, it was great to see you, and a handwritten note."

Playful, not formal

Informality, even playfulness, is standard for many interactions between United Way of Central Indiana and its younger donors and volunteers.

In March, the agency issued a standard news release anticipating the 2009 annual campaign's reaping $38.8 million—a level similar to the 2008 campaign. The release was formal, dry, straightforward.

However, on Facebook and Twitter, United Way blurted, "Thank you, Central Indiana!" and posted a picture of a street-side campaign poster and its trademark red thermometer.

"It's a great way to serve up content in a way people want it," said Sam Perry, director of marketing and communication. "We sort of adapt our community style to something less formal."

United Way also leans informal when it hosts events for its Emerging Leaders group. The group, which has grown to 900 members, caters to young professionals by offering a chance to network and learn about the mission and needs of the not-for-profit.

Luncheon speakers, typically Boomers or older, are urged to create a relaxed, flexible atmosphere marked by question-and-answer sessions.

There's never been a podium.

United Way isn't certain how the efforts are paying off in donations and volunteers because it hasn't tracked ages in the past. However, it plans to begin collecting that information as Boomers move toward retirement and Millennials and Generation X assume more responsibility.

The information will be important to have because, anecdotally, the organization knows Boomers are behind most donations.

Keeping the message straight

Not-for-profits need to be careful not to confuse generations at either end of the spectrum, Rooney said. The stated goals and mission must be consistent while the means of delivery goes electronic.

Boomers and Silents still have a lot of money, and Boomers will be in the work force for several years to come, he said.

Yet, the work force is quickly swelling with Millennials. In just eight years, the two younger generations will account for half the nation's workers, Rooney pointed out. So not-for-profits need to adjust, and quickly.

So far, Millennials and Generation X are giving about the same proportion of their incomes as older generations—an average of about 2 percent, Rooney said. But because their careers are still developing and their incomes aren't as large as Boomers, their total contributions are still relatively small.

Whether younger generations will fill voids left first by Silents and, later, Boomers, remains to be seen, Rooney said.

But if historical patterns hold true, they will.•