The 800-member Women's Committee of the Indianapolis Symphony Orchestra is taking a new, inclusive name in hopes of
attracting more men to its ranks.
 
The group will become the "Indianapolis Symphony Orchestra Association" on June 18 at a black-tie event that
will feature ballroom dancing.
The group, which formed in 1937, never excluded men, but the membership continues to be almost all women, ISO spokeswoman
Jessica DiSanto said.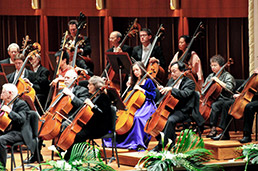 Volunteers
support the Indianapolis Symphony Orchestra. (Photo/Banayote Photography)
"A 21st century version of a support group is what they were after," she said.
The women's committee originally provided general support for the ISO. These days, it focuses on music-education programs,
including "Young People's Discovery Concerts," "Side-by-Side," the "Young Musicians Contest"
for high school students and "Symphony in Color" for children.
Please enable JavaScript to view this content.