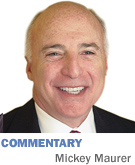 If you have the nerve of a Mississippi riverboat gambler, I have an idea for you—otherwise, move on.
OK, you're still with me. Do you remember the stocks touted in this column a couple of years ago? Those of you who
followed my logic and advice on Finish Line and Steak n Shake were rewarded handsomely. Maybe we were just lucky.
Here's the new plan. Purchase Brightpoint Inc. between $7.25 and $7.50 a share, its current trading range, and hope
to realize a 15-percent to 20-percent gain in the short term with—and here's the key—little downside risk.
Brightpoint (CELL on NASDAQ) is a global leader in the distribution of wireless devices and in providing customized logistic
services to the wireless industry. In 2009, Brightpoint handled 84 million wireless devices globally. Brightpoint's
services include distribution, channel development, fulfillment, product customization, e-business solutions, and other outsourced
services that integrate with its customers.
The time to buy a stock or a business, for that matter, is when one has a reasonable prospect of an upside gain with a limited
downside risk. Today, that stock is Brightpoint.
There is a reasonable prospect of an upside gain. Please refer to the analysis by Credit Suisse and ValuEngine, who cover
the stock and target the price at $9 and $10.56, respectively. I am impressed with the Brightpoint leadership team headed
by CEO Bob Laikin that includes Executive Vice President Steven Fivel, CFO Tony Boor and regional presidents Mark Howell,
Anurag Gupta and Bruce Thomlinson. A sharper bunch I have rarely seen. The company is fundamentally sound.
There is a limited downside risk. According to press releases, the company is in the midst of a buyback plan with a remaining
war chest of $28.7 million as of late February. I infer from the lack of further public pronouncements that it still has most
of that money in its wallet.
If one knew at what price Brightpoint was purchasing, one could invest in the stock just ahead of that price and speculate
knowing that, up to $28.7 million, the stock price floor would be supported. Perhaps that is why the announcements about the
repurchase plan do not mention price. But what if the price were known?
In January, the company announced a repurchase of 12.4 million shares at a weighted average of $5.95. Just a couple of months
ago, the company announced it had repurchased in total 12.7 million shares at a weighted average of $5.98. It is easy to calculate
the average purchase price Brightpoint recently paid and infer its current purchase price target. Follow this simple arithmetic: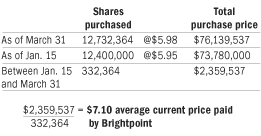 Cross your fingers and jump—I just did—but remember, the safety net disappears if the stock trades at $7.10 or
if, unbeknown to the public, Brightpoint exhausts its war chest at a higher target price. I give no advice as to how long
to hold 'em and when to fold 'em. Good luck.•
__________
Maurer is a shareholder in IBJ Media Corp., which owns Indianapolis Business Journal. To comment on this column, send
e-mail to mmaurer@ibj.com.

Please enable JavaScript to view this content.