While the announcement of opening-week events for Carmel's Center for the Performing Arts seems to have been greeted
with a resounding "and…?", let's celebrate what the center's artistic director, Michael Feinstein,
has already achieved.
I'm talking about his talent-seeking creation, The Great American Songbook High School Academy and Competition.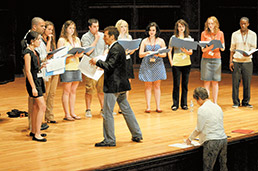 Teens
from five states made the top 10 for the Great American Songbook High School Academy and Competition. The winner: Annie Yokom,
7th from left. (Photo Courtesy Mark Lee)
This year, the second for the GAS battle, more than 100 teens sent in tapes of tunes from the vaguely defined Great American
Songbook—songs from roughly the '20s through the '60s, when singers and the songwriters were separate and
distinct things. During that period—encompassing Tin Pan Alley, Broadway's golden years, and the big-band era—interpretation
was key. Rare was the definitive version of a song. Sure, "Fly Me to the Moon" is identified with Frank Sinatra,
but Kaye Ballard, Johnny Mathis and Nat King Cole had at it first. And even after the Chairman of the Board set his vocal
chords to it, Tony Bennett, Connie Francis and others took a shot. Nobody called them derivative for doing it.
In other words … songs from the Great American Songbook don't exclusively belong to anyone the way the Beatles
owned "Twist and Shout."
The 10 finalists this year were chosen to come to Indy to participate in workshops with Feinstein and his fellow judges (including
Grammy-winning opera star Sylvia McNair and jazz singer Catherine Russell). These led to the impeccably produced finals program
June 5 at the Christel DeHaan Fine Arts Center.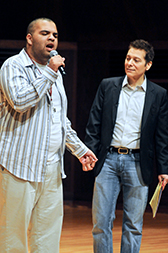 Andrew Johnston
of Bourbonnars, Ill., gets coaching from Cabaret star Michael Feinstein. (Photo Courtesy Mark Lee)
Feinstein himself proved the ideal host, sharing a song in each act but stepping back and letting others appropriately take
the spotlight. Best of all, he's a great storyteller and a font of fun, telling anecdotes and providing audience-pleasing
insight into just about every one of the 20 songs being performed. (Alan Jay Lerner, who wrote the lyrics for "If Ever
I Should Leave You," was married seven times. Feinstein suggested the song should have been titled, "Get Ready
for When I Leave You.")
But the song, not the intro, is the thing and Crofton Coleman of Champaign, Ill., sang "If Ever I Should Leave You"
with wisdom and tenderness and an open soul well beyond his 15 years. His rendition would have stopped the show if he weren't
in the talented company of Madeline Raube (of Glen Ellyn, Ill.), who proved that sweet doesn't equal saccharine with
her take on the Johnny Mercer/Jerome Kern standard "I'm Old Fashioned." Annie Yokom (Naperville, Ill.),
brought a compelling confusion to the lesser-known "What Did I Have That I Don't Have?" from "On a
Clear Day You Can See Forever."
And that was just the cream of Act I, where being just "very good" put you at the bottom of the pack.
After intermission, Crawfordsville's Tyler Huckstep offered one of the performances of the night in a melancholy take
on "It's Only a Paper Moon." Bethany Perkins (Brighton, Mich.) gave a stunning close-your-eyes-and-soak-in-the-sound
"Mona Lisa" and Crofton Coleman (when can I get a CD of songs by this guy?) returned to nail "All The Things
You Are," which, according to Feinstein's intro, was Oscar Hammerstein's favorite self-penned lyric.
Among my own favorite Hammerstein lyrics is "Bill," from "Showboat," and Annie Yokom did no showboating
in her stellar read on that great song. She soared while staying grounded and, in the process, earned a well-deserved trip
to Feinstein's club in New York. She'll be performing there June 16.
Wish I could be there. More importantly, though, I'm glad Feinstein's competition is here.•
__________
This column appears weekly. Send information on upcoming arts and entertainment events to lharry@ibj.com.
Please enable JavaScript to view this content.