IBJ.COM EXTRA
For a list of the 100 largest Indiana companies,
click here.
With few exceptions, the recession stung Indiana companies in 2009. Of the 50 largest public companies, only eight reported more revenue than in the previous year. Forty saw revenue drop and two were flat.

Among the state's 25 largest public companies, total revenue declined from $150.4 billion in 2008 to $137.6 billion in 2009.

Of the next 25 largest, only two—property and trucking insurer Baldwin & Lyons Inc., and software developer Interactive Intelligence Inc.—saw greater revenue.
Baldwin & Lyons (IBJ File photo)
Education and insurance did well last year. ITT Educational Services Inc., the Carmel-based system of private technical colleges, saw revenue climb 38 percent, from $1 billion to $1.4 billion.

Health insurance giant WellPoint Inc., the largest company in the state, held steady at $61.2 billion, but Carmel-based Conseco Inc., the No. 5 company on the list, saw a 4-percent increase, to $4.3 billion.
Conseco, which changed its name to CNO Financial Group Inc. in March this year, experienced gains at both the holding-company level and its operating businesses. That included strong performance at Bankers Life and Casualty, which increased 12 percent, to $278 million, although Colonial Penn was down 16 percent, to $42 million.
And Baldwin & Lyons enjoyed the biggest percentage increase in revenue among the top 50 public companies—48 percent, from $156.9 million to $232.7 million. The Indianapolis-based company reported that premiums written by its insurance subsidiaries increased 13 percent for the year. The premium volume was concentrated in new products and private passenger automobile.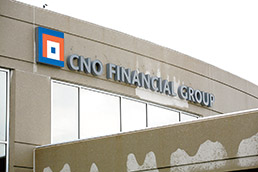 CNO Financial Group (IBJ File Photo)
The remaining companies experiencing growth last year were electronics retailer HHGregg Inc. (14 percent), regional airline Republic Airways Holdings Inc. (9 percent), Interactive Intelligence (8 percent), and pharmaceutical stalwart Eli Lilly and Co. (up 7 percent)—all headquartered in Indianapolis; Evansville-based shoe retailer Shoe Carnival Inc. was up 5 percent.

Interactive Intelligence, which saw revenue jump from $121.4 million to $131.4 million, noted optimism from customers and prospects, especially in the fourth quarter, when it closed 19 transactions of more than $250,000 and two of more than $1 million.

Lilly reported that combined revenue of its products launched since 2000—Alimta, Byetta, Cialis, Cymbalta, Effient, Erbitux, Forteo, Strattera, Symbyax, Xigris and Yentreve—increased 21 percent over 2008.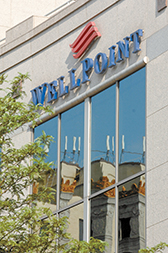 Wellpoint (IBJ File Photo)
Analyst Jack Plunkett, CEO of Plunkett Research Ltd., said the drugmaker did well in an environment that included both "astronomical costs" for bringing new drugs to market and pricing pressure from the government.

"Lilly has taken intelligent steps to try to position itself for the future," Plunkett said. "Lilly and its peers are doing smart steps like partnering with university research departments to try to get new ideas developed on somebody else's budget. They're partnering with smaller biotech companies to try to get new bio drugs into the pipeline—again, on somebody else's budget."

Gregg's growth in its fiscal year ended in March 2010 was driven by opening 21 stores as part of its long-term expansion plan.

Sales at its locations open at least a year fell 6.6 percent—no surprise for an appliance and electronics retailer during a slow economy.

Like Gregg, Republic Airways benefited from expansion in 2009. The airline acquired Frontier Airlines of Denver and Wisconsin-based Midwest Airlines, and the result was flying more passengers and more miles than ever before. Although the company reported a $36.5 million loss in the first quarter of 2010, spokesman Carlo Bertolini said Republic expects to turn a profit this year.

ITT also reached thousands more new customers: Total student enrollment increased 30.3 percent, to 80,766, as of Dec. 31, 2009, from 61,983 a year earlier.

Consumers looking for bargains helped boost Evansville-based Shoe Carnival's revenue. The company said its merchandise margin increased 2.8 percent "primarily as a result of improved inventory management resulting in less promotional selling along with strong sales of boots and athletic footwear."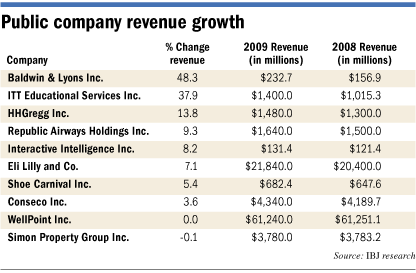 Some companies that experienced decreases in revenue saw a silver lining. Cummins Inc.'s revenue fell 25 percent in 2009—from $14.3 billion in 2008 to $10.8 billion in 2009. Mark Land, spokesman for the Columbus diesel-engine maker, said the recession certainly hurt, but that it would have been difficult to repeat the record sales of 2008.

"Like everybody else, we started to get hit late in 2008—and the first half of last year was really difficult," Land said. "We were down across the board in all of our businesses. The second half of the year, things started to pick back up a little bit and we had some one-time situations in some of our markets that led to really strong sales in the U.S., especially in the fourth quarter."•