var win = null; function NewWindow(mypage,myname,w,h){ LeftPosition = (screen.width) ? (screen.width-w)/2 : 0; TopPosition = (screen.height) ? (screen.height-h)/2 : 0; settings = 'height='+h+',width='+w+',top='+TopPosition+',left='+LeftPosition+',scrollbars='+scroll+',resizable' win = window.open(mypage,myname,settings) }
IBJ.COM EXTRA
For a list of the 100 largest Indiana companies,
click here.
Last year wasn't so great for most of Indiana's biggest public companies. Twenty-eight of the 50 largest reported
profit declines from 2008, and 19 of the 50 lost money.
The few that made more money often benefited from unusual circumstances.
WellPoint Inc. logged the most profit, $4.7 billion, up from $2.5 billion in 2008 due almost entirely to the $4.7 billion
sale of pharmacy benefits manager NextRx to Express Scripts Inc. The Indianapolis-based health insurance giant also attributed
its success to controlling administrative costs and implementing capital management initiatives.
Merrillville-based NiSource Inc. had the highest percentage increase in profit, 176 percent, netting $217.7 million in 2009
compared with $79 million the year before. However, 2008 profit was hurt by losses from discontinued operations; those operations
in 2008 actually generated more profit than in 2009.
Shrinking profit
Companies reporting less profit included shopping mall giant Simon Property Group Inc., which dropped 33 percent,
to $283.1 million, from $422.5 million. In a report to shareholders, CEO David Simon said the company did well in weathering
"one of the most difficult economic crises on record" and had "the highest operating margin in our retail
real estate peer group in 2009."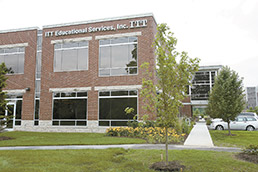 ITT Technical Institute (IBJ Photo/ Perry Reichanadter)
Other real estate companies also had a difficult 2009. Indianapolis-based developer Duke Realty Corp. finished the year with
a $271.5 million loss after earning $114 million in 2008.
Kite Realty Group Trust suffered a $1.8 million loss after reaping $6.1 million in profit in 2008. The Indianapolis-based
developer attributed the loss to a $4.4 million write-off connected to the bankruptcy of electronics retailer Circuit City
Stores Inc. and its share of a $2.7 million loss from the sale of a property.
Republic Airways Holdings Inc. profit dropped 53 percent, from $84.6 million to $39.7 million. Spokesman Carlo Bertolini
noted that Republic invested heavily to begin flying airplanes under its own brand instead of operating only on behalf of
such carriers as United Air Lines Inc. and Delta Air Lines Inc.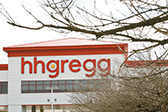 HHGregg (IBJ File Photo)
Republic acquired Midwest Airlines, headquartered in the Milwaukee suburb of Oak Creek, and Denver-based Frontier Airlines
during the summer and folded Midwest into Frontier.
"You have all the added costs of the brand acquisitions upfront immediately when you close, but it takes a while to
get the synergies and cost savings in place," Bertolini said. "We're still working on that."
Among other Indianapolis companies, Finishmaster Inc., which distributes automotive paints and coatings, earned $10.9 million,
down from $18.1 million as the recession sapped demand for repairs. Media firm Emmis Communications Corp. continued to lose
money—$275 million in 2008 and another $300.3 million in 2009 due to continued sluggishness in radio advertising.
Improved fortunes
A number of companies reversed fortunes in 2009.
Eli Lilly and Co., which registered a $2.1 billion loss in 2008, finished 2009 with a $4.3 billion profit. Much of Lilly's
2008 loss traces to the $4.7 billion it spent to acquire ImClone Systems Inc., the Seattle-based maker of erectile dysfunction
drug Cialis, and settling federal and state investigations related to schizophrenia drug Zyprexa for $1.5 billion.
Conseco Inc., which lost $1.1 billion in 2008, made an $85.7 million profit in 2009. The Carmel-based insurer pointed to
a recapitalization, cutting debt and to operational initiatives across the company as reasons for the turnaround.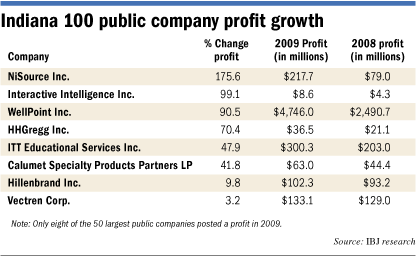 The Finish Line Inc. swung to a $3.8 million profit in 2009 from a $60.8 million
loss in 2008 caused largely by a $40 million payment to Genesco Inc. to extract itself from a deal to buy the Tennessee-based
parent of Hat World and Journeys. The Indianapolis-based shoe retailer also cited aggressive cost containment, improved inventory
management and maintaining a premium assortment of merchandise.
Profit for appliance and electronics retailer HHGregg Inc. was up 70 percent in 2009, to $36.5 million from $21.4 million,
partly due to taking a $22 million charge in 2008 to pay down debt early.
"When we did our refinancing in '07 when we went public, we stripped away a lot of costs on the balance sheet
and took a charge for them," CFO Jeremy Aguilar said.
A big bright spot was Indianapolis-based software developer Interactive Intelligence Inc., which nearly doubled profit, from
$4.3 million to $8.6 million, mainly by selling new call center systems to companies wanting to update obsolete systems.
Another winner was ITT Educational Services Inc., the Carmel-based operator of private technical colleges; profit shot to
$300.3 million from $203 million in 2008.
"Logically, it makes sense that ITT and other for-profit educators thrive when unemployment is high as enrollment surges,"
Ockham Research said in its analysis of the company. "ITT also has the advantage of being heavily geared towards teaching
students about technology and related fields, which is obviously in demand for the job openings that do come available."•
Please enable JavaScript to view this content.