IBJ.COM EXTRA
For a list of the 100 largest Indiana companies,
click here.
Even in the toughest economic times, companies in the right line of work can make money. In 2009, the right lines of work included computers, health care, technology, home security and shampoo. Yes, shampoo.

Creative SolutionsConsulting Inc.

When Creative Solutions Consulting Inc. founder Michele Meyer started working in information technology, she observed companies big and small and noticed that "a lot of them did things in ways I didn't necessarily think was right."

"It created an opportunity," Meyer said. "You know: 'I think I can do it better.'"

Judging by the results, she was right. Creative Solutions, which she founded in 2002, was the fastest-growing private company in the Indianapolis area in its first time on the list.

Creative Solutions develops software for government and business, and its growth from 2007 to 2009—411 percent—was thanks largely to contracts it won last year to do work for the U.S. Department of Defense and state of Indiana.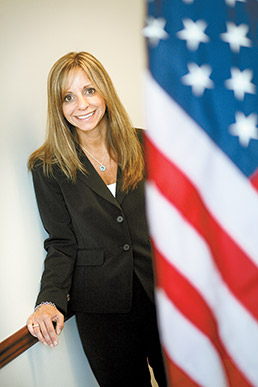 Michele Meyer built a string of military contracts to ramrod her technology firm, Creative Solutions Consulting Inc., to top the list of fastest-growing private companies. (IBJ Photo/ Perry Reichanadter)
The military contract is part of the Defense Agency Initiative, an effort to modernize defense agencies' financial management capabilities. The state contract—Creative Solutions' first ever—is to work with InterAct Public Safety Systems Inc., a Winston-Salem, N.C.-based safety and security software firm, on an initiative to develop a coordinated and integrated response program for all Indiana public safety agencies, including the Indiana State Police.

All this—88 employees and $7.5 million in revenue in 2009—started with Meyer working as a one-woman shop. She began her career with heating and air-conditioning giant Trane Inc., where, she said, she learned a lot about professionalism, customer service and marketing. She took what she learned to public accounting firm KPMG, where she worked as a contractor.

In 2002, she launched Creative Solutions as a subcontractor at the Defense Department's Defense Finance and Accounting Service in Lawrence.

"You try to partner with other companies and build a relationship with government clients and understanding their needs," she said. "Early on, as a one-person show, I didn't have a lot to offer. After the first couple of contracts, it became a funnel effect."

Even after winning trust—and contracts—growing was tough. In July 2008, Creative Solutions hired 15 people, and Meyer said it's difficult to make payroll when she works mostly for the federal government, which takes 60 days to pay contractors. Getting capital was a challenge made easier by her bank's coming through when needed.

The future looks bright, Meyer said. Creative Solutions has submitted a number of proposals, including several for state contracts and other federal agencies. The company also has ramped up its sales staff.

But the key sign of success may be this: Previously, since most Creative Solutions associates work at the client's offices, and the company's support staff was small, the company never had an office. Last year, it opened one.

Phoenix Data Corp.

Nine-year-old Phoenix Data Corp. has divisions to serve government, commercial, health care and military customers with information technology needs. Revenue has shot up 318 percent since 2007, from $1.2 million to $5.2 million.

"I'm fortunate to have been on this list," said President and CEO Carol L. Curran. Curran had started a similar data processing/document management company, Curran Data Technologies, earlier in her career, which she eventually took public and sold.

Her current company, named for the saying "like a phoenix rising from the ashes," operates at a much higher level of service than the earlier company.

"We went after segments of business that they hadn't obtained at that point," she said.

Indeed, Phoenix has government and military contracts, and handles all things technological—from government agency data and IT systems to engineering support and electronic warfare systems for military operations.

In addition, Curran's company has commercial IT and data processing services, and sets up systems to convert paper-based medical records to electronic record-keeping systems.

Phoenix has offices in Marion, Merrillville, Crown Point and Crane, as well as such far-flung cities as Tampa, Fla.; Alexandria, Va.; and Washington, D.C.

When Curran was launching Phoenix Data Corp., she couldn't get a bank loan, so she used personal assets to finance the company.

"We do not owe a bank anything and we have no debt," she said. She also has no plans to take the company public.

That "I'll show them" attitude has paid off.

In December, Indiana Lt. Gov. Becky Skillman presented Curran with the 2009 Woman Business Owner of the Year award on behalf of the Indianapolis Chapter of the National Association of Women Business Owners.

Also, DiversityBusiness.com has ranked the company 11th nationally for diversity employment and opportunities.

In fact, operating as a small, woman-owned business with a diverse work force has not hurt Phoenix Data Corp.'s chances as it pursues government and military contracts.

All the diversity wouldn't matter, of course, if the company didn't deliver a superior service.

"We're very innovative," Curran said.

Health SystemsInternational LLC

It's little surprise to find Health Systems International back on the list of fastest-growing private companies in the Indianapolis area. Health Systems provides services to help businesses and government entities—anyone responsible for paying providers for health care—lower the cost of their medical bills. Who couldn't use that service?

"Spiraling medical costs is one of the pressing issues of our time," said CEO and co-founder Russell Sherlock. "Our sole purpose in life is to reduce the cost of that bill you receive from your physicians or your hospitals. The more we can save people money, the better off we are as a company."

In about 24 months, Health Systems International has grown from 40 employees to 213 and $10 million in revenue to $40 million as businesses looked for ways to save money on health care costs, Sherlock said. Most of Health System's expansion came through adding clients, though the company also acquired Breckinridge, Colo.-based @global Inc., a technology business that gave Health Systems added software services and capabilities.

Before co-founding Health Systems in 2004, Sherlock had a long history with insurance. He came to Indianapolis after college to work for Golden Rule Insurance Co.

"I moved in the same day the Colts did, but they got all the headlines," he joked. "They had Mayflower; I had a U-Haul."

He went on to work for local insurers Anthem Inc. and Acordia Inc. His first entrepreneurial venture was Outsourced Administrative Systems Inc., a company he purchased from Anthem. He ran that for 3-1/2 years, then sold it and bought Intercontinental Corp. of Rockford, Ill., which merged with Health Data Services to form Health Systems International.

Health Systems allows him "to satisfy the cravings of an entrepreneur" through acquisitions and organic growth.

"We're enjoying the growth," he said, "and it doesn't show any signs of stopping."

AIT Laboratories

When it came to running a business, Dr. Michael A. Evans learned the hard way. After years of academic success at several medical schools, including Indiana University, Evans caught the entrepreneurial spirit and started AIT Laboratories in 1990.

The company grew rapidly thanks to a major customer that accounted for 85 percent of its business. Anyone who has studied business can guess what happened next: The customer decided to take its laboratory needs in-house, and Evans saw his young company on the verge of going under.

Evans, AIT's CEO and president, realized he needed to start thinking like a businessman, not a toxicologist.

"It's not good to have most of your business in one client, but I allowed that to happen," he recalled. "We were not a good company; we were a good laboratory."

Today, AIT is both, perfecting a formula for success: delivering specialized laboratory testing and research in a workplace culture that emphasizes learning, respect and reward.

Revenue at AIT—short for American Institute of Toxicology Inc.—has grown 244 percent since 2007, from $15.9 million to $54.8 million, and the work force has jumped from 120 to 335 All laboratory work is done at its Indianapolis headquarters, on the west side near Interstate 465.

The company this year launched a new division, AIT Bioscience, to conduct contract research for the pharmaceutical industry. It seemed like a no-brainer in a region that includes Eli Lilly and Co. as well as smaller life sciences companies.

Named one of the Best Places to Work in Indiana by the Indiana Chamber of Commerce for three years running, AIT offers incentives and perks that include time off for volunteer work and $5,000 tuition reimbursement annually.

Evans believes the work culture keeps morale high and turnover low among employees. In July 2009, he transferred ownership of the company to his employees through an employee stock ownership plan, or ESOP.

"The employees now own the company. I'm just one more employee," said Evans, explaining that workers receive shares of stock they can cash in when they retire or leave the company.

"They deserve the recognition because they're the ones who make it work," he said. "It makes for a very positive workplace."

Mansfield-King LLC

You could say Mansfield-King cleaned up in 2009. The east-side contract manufacturer, which makes and packages shampoos, conditioners, hair sprays and more for brand-name companies, grew from $1.1 million to $3.9 million over the past two years.

"Personal care products tend to be immune to recession," said John Cleary, who owns the company with business partner Charles Haywood. "People's habits tend not to change, even in economic downturn."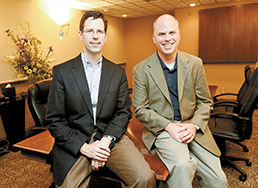 Mansfield-King LLC's Charles Haywood and John McCleary bought Signature Brands Group, and then managed frugally and emphasized service. (IBJ Photo/ Perry Reichanadter)
Cleary, who's from Beech Grove, and Haywood, a West Lafayette native, both graduated from Indiana University in 1990 but didn't meet until they started working for a Chicago law firm. They moved from mergers and acquisitions there to management jobs with Indianapolis companies to acquiring the assets of Signature Brands Group, a local personal-care manufacturer, in 2005.

They christened their new company Mansfield-King, using names from their maternal grandparents, and built, Cleary said, through a combination of disciplined spending and stellar service to companies whose names they can't divulge because of confidentiality agreements.

For the first 18 months, they took no salaries, and during the second 18 months paid themselves only a "modest amount" as they put earnings back into the company.

"We believed in the business, so we were willing to bet the farm on it," Cleary said.

To keep costs low, they tend to buy equipment at auction, and in 2008 they purchased an existing manufacturing facility with the help of a bank loan.

Later this year, Mansfield-King will expand into another area of the business—the partners aren't ready to divulge the plan—and Cleary and Haywood plan to stay around long term to build the business.

"Ten years from now, I might have a different answer," Cleary said, "but right now Charles and I are very happy and our present intentions are to keep running and growing this business. The sky's almost the limit in terms of growth."

Archway TechnologyPartners Inc.

The days when Archway Technology Partners Inc. could keep a low profile may be numbered. The specialized software company has boosted its revenue 239 percent, to $3.8 million, in the past three years.

The 8-year-old company, which offers software and related services for the private investment industry, deliberately stayed below the radar, according to its president and CEO, Jason Brown.

Started with $50,000 in personal funds, Archway built its growth and reputation from client referrals as it fine-tuned its bread-and-butter software, ATWeb, which allows investment companies to manage their operations efficiently.

"We purposely kept the company small the first two years," Brown said, "to give us enough time to evolve the technology for the demands of the marketplace."

Even without a marketing campaign, the business doubled in size the first couple of years, he said. This year, it expects to grow as much as 80 percent.

The key? A culture of service.

"We have great technology, but really the special sauce is the way we service our clients," said Brown, whose expertise in technology includes roles at Indianapolis-based software firm Powerway Inc. and, earlier, public accounting firm Arthur Andersen.

As the company's growth began taking off four to five years ago, three of his former colleagues from Arthur Andersen joined him.

"We've never taken capital, never used debt," Brown noted. "Every person we hired, every investment we made in the growth of the software was all funded out of our prior sales."

Brown and his partners seem to be having too much fun to consider selling their company. But they are extending an ownership stake to their 30 employees.

"The exciting part of running a business is the flexibility to do fun, creative things," said Brown, indicating he and his partners are not interested in joining forces with a larger company.

In the market it serves, Archway Technology is regarded as a Bentley, said Brown. "They're not as large as General Motors, but the product is a lot more fun to drive."

Defender Direct Inc.

Defender Direct President and CEO David Lindsey said they have a joke at his company, which sells ADT home security and Dish Network satellite TV systems: "In 2009, everybody stayed at home feeling insecure. So we sold them a security system and a TV to watch."

Looking at the company's revenue, that appears to be true. Defender Direct revenue nearly doubled from 2008 to 2009, from $141.8 million to $254.8 million, and has more than tripled since 2007. Lindsey said the company benefited from the financial downturn in another important way: It was able to add talented employees "who probably wouldn't have been available a year or two before that."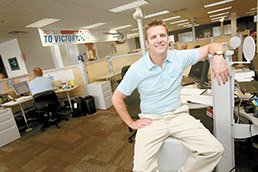 Dave Lindsey's Defender Direct Inc. sold piles of satellite TV and security systems to "insecure" customers. (IBJ Photo/ Perry Reichanadter)
Defender Direct now has 1,643 employees, which is 1,642 more than it had when Lindsey opened in 1998. Before that, he'd been working in Virginia for a manufacturer of deadbolts and other kinds of locks.

After losing out on a promotion he thought he deserved, he and his wife, both IU graduates, decided to move back to Indiana. He started by himself selling locks, then branched into security systems and, later, satellite TV. Lately, the company has added water softeners and conditioning systems, and Lindsey said he's looking for other products to sell.

But Lindsey said he has goals beyond units sold and revenue. He promotes an internal program called The Defender Leadership Advantage, with 20 experiences—everything from volunteering at Junior Achievement to going to Mexico to build homes for the poor—that all employees complete in their first four years with the company. The idea, he said, "pays dividends in building culture, loyalty and teamwork."

Last year, Lindsey said, the company sent more than 600 people—employees and their families—to Mexico and built 33 homes.

"Businesses don't grow; people do," he said. "We feel we've been able to grow faster than our competitors because we've grown our people faster. That's been our secret sauce—trying to invest in the personal growth of our people. They, in turn, turn around and grow our business."

Lindsey said he knows he can't expect triple-digit growth every year. This year, he anticipates another 10 percent to 40 percent.

"We're fairly recession-resistant," he said. "But who knows?"

Home Health Depot Inc.

Indianapolis-based Home Health Depot Inc. has grown like gangbusters since 2004, when current CEO David Hartley purchased the company with personal savings. Its revenue of $6.7 million in 2009 was up 157 percent in three years.

"Most of our growth has been through our willingness to diversify," not just with medical products, but also with clients, said Hartley, whose company now has 12 branches in Indiana areas including Bloomington, Muncie and Lafayette, as well as Chicago.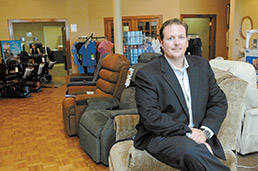 David Hartley navigates Home Health Depot Inc. around insurers by doing as much business as possible with customers who pay cash. (IBJ Photo/ Perry Reichanadter)
Because Hartley had been in the home medical supply business before, he had established relationships with vendors, which has helped.

One point that sets his home medical supply business apart from the competition is his clientele. About 35 percent of his revenue is from cash-paying customers, not insurance.

"Our industry has not embraced cash at all," Hartley said. Typically, nearly all revenue comes from insurance coverage, whether it's Medicaid, Medicare or private companies such as Anthem.

A recent achievement was winning a contract to supply four Veterans Administration hospitals in Indiana and Illinois.

"We actually took it away from a national company based in Florida," he said.

While the business is growing smoothly, Hartley is braced for a bumpier ride when health care reform begins taking effect in January. For example, a $4,000 motorized wheelchair that the company now would receive full payment for up front will soon be paid for at a rate of $400 a month for 10 months. Sort of an interest-free, rent-to-own program.

His goal is to grow the company to the $30 million to $50 million range.

"We're not too small [that] we'd have economies of scale to weather the Medicare storm that surely is to come," but not so big that they lose touch with their patients and referral sources, he said.

"We serve the elderly and the disabled, and it's a very rewarding thing that we do," he said, noting that while the business developments can be exciting, "at the end of the day, you're helping people lead more productive lives."

JSL Archival Services Inc. d/b/a office360

What was once called NowRecords Services Inc., a company specializing in document-management services like storage, shredding and imaging, is now office360, a name designed to better reflect that brothers Steve, Scott and Lenny Nahmias got back into business-to-business sales of office products and furniture in 2008.

Adding the office products fueled the company's growth from $4.2 million in 2008 to $7.9 million last year.

The Nahmiases got their start running Atlas Office Supplies and Equipment Co., one of the largest independent office products dealers in the country, before selling in 1998 to Boise Cascade Office Products. At the time, the Office Depots, Office Maxes and Staples of the world were beginning to crowd the market, and Boise Cascade was "throwing a lot of money at us, too," Steve Nahmias said. "So that was good motivation to sell."

Steve said it was enough money that they didn't need to work again, but he and his brothers were too young to retire. (He was 41 at the time.) So they got into document management in 2001, providing services for companies such as OneAmerica Financial Partners Inc., Duke Realty Corp. and others that generate a lot of paper.

Returning to office products created a synergy and enabled them to offer incentives to customers to use them for multiple services. They've used their personal wealth to secure bank loans to help grow the business, which hasn't been as easy as it might seem.

After they decided to return to office supplies, they assembled what Steve calls an "all-star office products team," which came at a cost. A combination of reducing expenses and increasing sales bolstered the bottom line.

The plan now is to continue to grow, "build this company for a long time and perhaps present it to the next generation," Steve said.

Iasta.com Inc.

Ten years ago, four technology professionals discovered a niche with potential: providing software for companies to bid and negotiate with vendors. Ever since, it's been profit and growth for Iasta.com; revenue of $8.5 million in 2009 boosted its three-year growth rate 134 percent.

Located in Carmel, iasta.com has a global reach, making it possible for customers to quickly analyze bid information, saving time and money.

"We've established a lot of credibility and there's a lot of growth yet to be had," said CEO David Bush, who founded the company with Todd Epple, Jason Treida and Jason's father, Michael Treida, who has since retired.

Bush and Epple had sold an Internet data company in 1999 and were looking around for the next big thing when a third partner brought them the idea for procurement software.

After checking out the competition, they decided it was something they could do better.

Iasta.com's early growth was rapid, 80 percent to 90 percent annually, and it still grows 30 percent to 40 percent a year, Bush said, attributing the company's success to flexibility and high quality in both software and service.

Today, Iasta.com has just shy of 50 employees and is poised for more growth.

"We're fiscally conservative, so we're not taking gigantic risks with our future financial stability," he said.

The company believes it has potential to grow to $25 million in annual revenue; for now, it's a question of how fast that can be accomplished, and by what means.

"We're definitely looking for growth opportunities," Bush said. "We're assessing right now if that means going out and getting outside money or to align with [another] company."

Until that opportunity presents itself, Iasta.com will forge ahead at its usual pace.

"We're relatively young," he said. "There's a lot of sweat equity in this company. We'll be doing this for quite a while."•