Just because it's summer, don't expect tree and shrub pests to go on vacation. Beware of these potential pest
problems.
Most people are familiar with Japanese beetles. The adults begin to cause damage in June and continue in July. They feed
on the leaves of a wide variety of plants. However, the beetles do not kill healthy, established trees and shrubs, so control
is needed only for aesthetic reasons.
Bagworms are serious pests of arborvitae, juniper, and other needle evergreens. They feed on the foliage and can cause permanent
damage. They are typically controlled after egg hatch in June. However, plants should be checked weekly through July. Initially
the bags are the size of the tip of a pencil but grow to 2 inches long.
Mimosa webworm produces webbing and brown leaves in the foliage of honeylocust and mimosa trees. If control is desired to
help prevent the unsightly webbing and/or defoliation, apply a labeled insecticide in mid- to late June and again in late
July to early August.
If you go on vacation to the north and east of Indiana during July or August, check to make sure you do not bring back egg
masses of the gypsy moth, a serious foliage-feeding pest of many trees and shrubs. Egg masses appear as tan, velvety masses.
They are laid on branches, firewood, vehicles, yard tools left outside, and many other objects.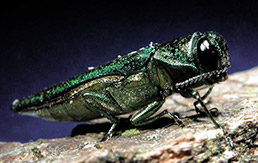 Emerald ash borer
Continue to watch for symptoms of emerald ash borer damage on ash trees throughout the summer. Infested trees usually have
combinations of the following six symptoms: 1/8-inch wide D-shaped exit holes in the bark, S-shaped channels under the tree's
bark, water sprouts at the base of the tree, dieback starting in the upper third of the tree, vertical splits in the bark,
and increased woodpecker activity.
Emerald ash borer commonly moves to new areas on infested firewood so do not transport firewood from one area to another.
Keep recently planted maple, oak and flowering fruit trees growing vigorously to prevent damage by flatheaded tree borers.
Water during dry periods and keep trees mulched.
Check mugo pine and other conifers for the 1/8-inch long white structures of pine needle scale. Treat after egg hatch during
the crawler stage. This may occur in May, June and July.
Tiny white and tan structures on the stems of wintercreeper (Euonymus) are forms of Euonymus scale. Control of this insect
is still possible during the crawler stage of the second generation (late July to August).
More information on these pests and other plant and pest problems is found at: http://IndyHorticulture.org.•
—Steve Mayer
Please enable JavaScript to view this content.