It currently takes three years and many thousands of dollars to get a patent approved. And even then, it can require an expensive legal defense to maintain.

That's why Indiana companies that thrive on innovation—including Eli Lilly and Co., Zimmer Inc. and Cummins Inc.—are all pulling for Congress to pass its latest version of patent reform.

The Patent Reform Act of 2010, which exists as an amendment to Senate Bill 515, is currently stuck in a Senate committee—the same committee that will first have to consider the appointment of Elena Kagan to the U.S. Supreme Court.

But with support from Republicans, Democrats and President Obama, proponents of the amended bill like their chances of passage.

"We're down on the five-yard line. Once we get to the floor, we believe there will be wide bipartisan support," said Bruce Artim, a federal lobbyist for Lilly.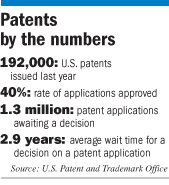 Lilly and 20 other major employers in Indiana sent letters last month to Indiana's senators, Republican Richard Lugar and Democrat Evan Bayh, urging them to support the amended bill. Those organizations included Indiana and Purdue universities, Columbus-based Cummins, Warsaw-based Zimmer and Batesville-based Hill-Rom Holdings Inc.

"We need a patent system that is simpler, more predictable, and that actually can issue patents quickly and resolve disputes over patent rights," said Bob Armitage, Lilly's general counsel.

The major change in the patent-reform amendment would grant patents to whichever inventor is the first to file an application, not whichever inventor can prove to have made the invention first, as under current law.

Proving who is the first inventor sometimes leads to litigation—typically after the person issued a patent starts to make money from it.

Such uncertainty can undermine business and investment decisions, which is why all developed countries other than the United States shifted to a first-inventor-to-file system decades ago.

"The first-to-file provisions would give the larger companies a little bit more security—a little bit—in the patent process. Because it's easy enough to verify who was the first to file," said John Brannon, CEO of Brannon & Sowers PC, an Indianapolis law firm that specializes in intellectual property.

But small inventors might be at a disadvantage under the patent reform amendment, because they often like to examine the market potential of their invention before shelling out the $5,000 to $15,000 it can cost just to apply for a patent.
Armitage
Under current law, an inventor can wait as much as one year after disclosing his or her invention before applying for a patent, and still have exclusive rights to it. The new law tries to preserve that one-year grace period for "first disclosers."

But the way Brannon and his fellow attorney David Novak read the reform amendment, the grace period would still be trumped if another inventor had made the same invention simultaneously and got to the patent office before the first discloser.

"Smaller inventors would have one of their options taken away from them," Novak said. For that reason, the Professional Inventors Alliance opposes the first-to-file provision.

The reform amendment also aims to beef up funding for the U.S. Patent & Trademark Office, which currently has a backlog of 750,000 patents, by allowing the office (instead of Congress) to set its fees. The Patent Office wants to give larger discounts to small- and medium-size companies to make it easier for them to secure patents and allow express processing to companies willing to pay higher fees.

Also, the reform amendment would institute a streamlined review process that promises to resolve patent disputes within one year after they are granted.

Lilly's Armitage hopes that provision helps his company avoid expensive litigation, such as the eight-year court battle with Ariad Pharmaceuticals Inc., which ended in March. Massachusetts-based Ariad sued Lilly in 2002—the same day Lilly won a patent that lies behind its drugs Xigris and Evista.

"We'd have knocked seven years off that [under the reform amendment]," Armitage said.

But Brannon and Novak aren't holding their breath that wait times will wane.

"We've been hearing that from the Patent Office for some time, that they're hiring more examiners to speed up the process," Brannon said. "But things haven't gotten any faster."•