Pressure is building on Duke Energy to contain costs of its controversial Edwardsport generating plant in southwestern Indiana,
following the company's recent disclosure that the price tag will soar by $530 million.
The world's largest coal gasification plant under construction is now projected to cost $2.9 billion. That's
53 percent higher than the $1.9 billion price tag when the plant was announced four years ago. It's 23 percent above
a $2.4 billion upward revision last year.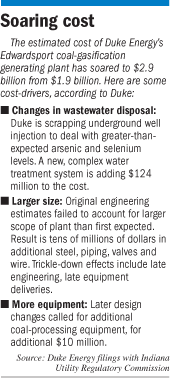 Duke is the largest electric utility in the state, with more than 788,000 customers
in 69 of Indiana's 92 counties. The $530 million overrun would boost average customer rates in Indiana 3 percent. For
the average Duke residential customer, that's an extra $2.78 a month.
But the plant's spiraling costs also have implications for other utilities that purchase power from Duke, such as Wabash
Valley Power Association, whose members include rural electric cooperatives statewide.
Documents North Carolina-based Duke filed with the Indiana Regulatory Commission show the 618-megawatt plant's infrastructure
has evolved in scale far beyond what Duke originally expected.
Coal gasification converts coal to a synthetic gas, cleans the gas of pollutants such as sulfur dioxide, then burns it. In
contrast, traditional coal-fired power plants burn coal directly, then scrub the exhaust gases.
"The Edwardsport project, the first of its kind at this scale, has the eyes of the world on it because of its potential
to demonstrate how cleanly coal can be used as a generating resource, potentially even [including] the capture of carbon dioxide,"
James Turner, president of the U.S. Franchised Electric and Gas at Duke Energy, told the commission.
Construction began in 2008, and the plant is scheduled to begin service in August 2012.
Duke said studies it conducted early on with vendor General Electric and contractor Bechtel looked at existing, smaller gasification
plants, such as one in Tampa, Fla. Edwardsport was engineered essentially as a supersized version of those, with technological
advancements of recent years baked into the Indiana power station's design.
"Although we believed that the proper estimated adjustments had been made to account for the differences between Tampa
Electric and Edwardsport, GE and Bechtel adjustments were not adequate to account for the final design growth," Duke
told the Indiana Utility Regulatory Commission
"In other words, the plant is just a bigger plant than we expected," Richard Haviland, senior vice president
of construction and major projects, told the commission.
As a result, Duke needed more steel, piping, concrete, valves, wire and cable.
The growing scope also translated to other costs such as increased engineering, late deliveries of equipment, and labor costs,
the company said.
Other surprises have come up along the way. For example, Duke discovered it needed to grind coal to a finer texture than
it originally expected. So it added coal-crushing devices ahead of a line of coal grinders, for an additional $10 million.
Duke also plans to spend an additional $124 million to dispose of so-called gray water produced during the process.
Originally, it planned to inject the water into deep underground saline formations. But Duke said GE later changed its predicted
gray water characteristics—projecting higher levels of arsenic and selenium in the water. Duke unsuccessfully sought
an exemption from the Environmental Protection Agency for the hazardous materials.
'A mess'
The Indianapolis-based Citizens Action Coalition, a key opponent of the Edwardsport project from the start, called
the project "a mess."
"They should just immediately cancel this thing," said Kerwin Olson, program director at CAC.
"Basically, they've been engineering and designing this thing on the go and that's pretty much the issue
here. Like we've been saying all along, this plant is a science project, and ratepayers shouldn't be on the hook
for it."
If the commission approves the projected $530 million cost increase, the average customer, across all of Duke's rate
classes, would see a 19-percent increase in rates to build and complete the Edwardsport project. The increase would be 16.8
percent for the average residential customer.
Costs would peak for an average residential customer at $15.82 a month on a bill of $94.08, said Duke spokeswoman Angeline
Protogere. She said the costs would be phased into rates by 2013, lessening the effect on customers and reducing financing
costs.
Duke's regulatory filings show the utility is examining alternatives to completing the plant. One scenario would be
to convert it to burn natural gas. The utility notes the option has risks, with natural gas prices infamously volatile.
The utility also has studied abandoning the project entirely and selling its components for scrap. It doesn't appear
Duke is serious about canceling the project or converting it to burn gas, however.
"We studied alternatives because we felt an obligation to do so, and the analysis we did shows the plant remains a
sound choice," Protogere said.
Haviland, citing further analysis conducted by the utility and an analysis by Ernst & Young, said the new, $2.9 billion
estimate "is representative of an 85-percent-degree level of confidence."
Construction of the generating station is more than 60 percent complete. Aerial photos show massive structures such as heat
recovery steam generators that resemble Aztec pyramids. The framework of gasification towers rise several stories tall, akin
to a launch pad at Cape Canaveral. Some of the technology is not far removed—with liquid nitrogen and liquid oxygen
tanks as part of a cryogenic process used in gasification.
Whether such complexity results in additional problems down the line is yet to be seen. Citizens Action Coalition said the
current costs don't even include the possible underground sequestration of carbon dioxide that Duke originally envisioned
for Edwardsport and is still studying.
The plant also is a potential political liability for Gov. Mitch Daniels, who embraced so-called clean coal as part of his
energy and economic development platform.
Earlier this month, Daniels' appointment as commissioner of the Indiana Department of Transportation, Mike Reed, resigned
to become head of Duke's Plainfield-based Indiana operations.
Painful comparison
The soaring costs have some critics likening the project to the failed Marble Hill nuclear plant canceled by Duke's
Indiana predecessor, PSI Energy. Expenditures on the nuclear plant near Madison had risen nearly 80 percent, to around $2.5
billion, when PSI pulled the plug on the half-built facility in 1984.
Duke shrugs off such ominous comparisons.
"These were the same groups that opposed Marble Hill, and traditionally they oppose any large power plant, whether
it be nuclear or cleaner coal," Protogere said.
"This plant will be one of the cleanest coal-fired plants in the world. It will produce 10 times the power of the [old
Edwardsport coal plant] facility, yet it will have less environmental impact."
The IURC has given intervening groups, including CAC and the Office of Utility Consumer Counselor, more time to file responses
to Duke's latest overrun. Hearings will be held this summer.•
Please enable JavaScript to view this content.