One of the Indianapolis area's most formidable homebuilders has received a $10 million investment to help it weather
the severe housing downturn.
The infusion into The Estridge Cos. is unusual on two fronts. Few companies in the out-of-favor homebuilding industry are
able to raise capital these days. And the source of the Estridge funds wasn't traditional investors—it was subcontractors
that have a long-standing relationship with the custom builder.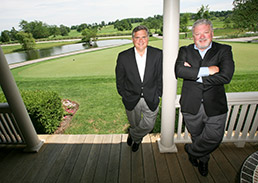 Matt Cohoat, Estridge chief operating officer, left, and CEO Paul Estridge Jr. are planning the Symphony project, which already
features the Wood Wind Golf Club. (IBJ Photo/ Perry Reichanadter)
Owner Paul Estridge, 52, said the company is in no danger of becoming the latest casualty of the meltdown. Yet he acknowledged
the difficulties of securing traditional bank financing at a time many have restricted lending.
"How are you going to raise capital?" he asked. "We're not a public company; the banks are shut down.
What do you do? You go to the people you've done business with."
About 25 investors agreed to chip in from $25,000 to $500,000 in exchange for ownership stakes. Collectively, the subcontractors
will own 35 percent of the company.
Estridge, the area's largest custom builder based on homes constructed, expects to build 250 homes this year ranging
in price from $300,000 to more than $1 million.
The launch of its most ambitious project, the proposed Symphony development in Westfield, hinged
on the investment, Estridge said.
The public got its chance June 21 to weigh in on the builder's plans for the nearly $1 billion mixed-use development,
which could include a 5,000-seat multipurpose stadium, as well as 3,000 homes, condominiums and apartments. The builder is
asking the city to put $70 million into the project to fund roads and sewers, as well as the stadium.
Estridge said that after his company survived last summer, which he called the worst part of the downturn, the need for additional
capital became evident, in part to advance the Symphony project.
Shrinking with times
Estridge Cos. expects revenue of $75 million this year from its homebuilding, financing and land development businesses.
The figure is about half its revenue in 2004, before the crisis hit.
Home sales are off 60 percent and the work force is down 50 percent, to about 125.
"It's been very, very challenging," Estridge said. "It's tested us beyond ways we could have
never imagined."
The company completed its first round of funding in December, followed by another that closed earlier this month. Estridge
said the response was so overwhelming, it "blew us away."
Chris Kaiser, general manager of the locally owned T.A. Kaiser Heating & Air Inc., said jumping aboard was an easy decision.
"Paul's a man of his word," he said. "I don't think I would do this with anyone but Estridge.
I would do it 100 times."
The funding will allow Estridge to pursue more projects, which should translate into additional work for subcontractors at
a time business is slow.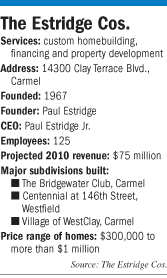 "I've helped a few builders on a smaller scale, but nothing like this,"
said Jesse Tremain Jr., president of Indianapolis-based Tremain Tile Marble & Granite. "You've got to go with
your gut [feeling] more than anything, because it's got to do with your livelihood."
Tremain has worked for Estridge for more than 30 years. Estridge's father, also named Paul, founded the company in
1967. The younger Estridge started the development arm in 1983 and bought his father out in 1992.
The company gained attention in the spring of 2009 when it volunteered to build a home in the Martindale-Brightwood neighborhood
for the popular ABC-TV show "Extreme Makeover: Home Edition."
No quick turnaround
The boost from investors helps assure Estridge won't suffer the same fate of other residential builders that
have failed or exited the market in recent years.
Indianapolis-based Hansen & Horn Group Inc. ceased operations and fell into bankruptcy early this year, and locally based
builders Davis Homes and CP Morgan went out of business in 2009. National player KB Home left in 2007.
The local housing market this year began showing signs of improvement. But a Butler University economics professor is skeptical
a true turnaround is imminent.
"With unemployment being high, it's tough to be optimistic this year," said William J. Rieber of Butler's
College of Business. "All that uncertainty weighs on the bigger purchases."
Indiana's unemployment rate hit 10 percent in April—marking a return to double-digit joblessness for the first
time since September—and held steady in May.
Meanwhile, homebuilders are feeling the effects of the April 30 expiration of the homebuyer tax credit, which provided $8,000
for first-time homebuyers and $6,500 for existing homeowners.
F.C. Tucker Co. reported that, through the first five months of this year, pending home sales in central Indiana rose 9.3
percent. But they fell off a cliff in May, tumbling 32 percent.
According to the U.S. Commerce Department, national sales dropped 33 percent from April to May, to a seasonally adjusted
annual sales pace of 300,000—the lowest figure since at least 1963.
Still, builders are gearing up for better times. Through May, building-permit filings in the Indianapolis area were up 35
percent from the same period a year earlier, according to the Builders Association of Greater Indianapolis. But the momentum
is slowing. Permits were flat in April and increased just 2 percent in May.
A handful of homebuilders sees enough potential in the Indianapolis market to expand here.
Cincinnati builders Potterhill Homes and Fischer Homes, in addition to Ryan Homes of Reston, Va., have entered Indianapolis
since last fall. The latest entry, Potterhill, is building with Estridge and Kentucky-based Drees Homes in the Heritage Hill
subdivision straddling Avon and Brownsburg.
Estridge realizes a rebound will be slow to take hold, but he's encouraged by activity from a recent weekend in which
the company sold eight homes.
"It's not turning around quickly," he said, "but it's starting to build back up."•
Please enable JavaScript to view this content.