Shortly after taking office, Mayor Greg Ballard, a former Marine lieutenant colonel and a Gulf War veteran, took a stand
for his ex-military brethren.
He announced that his administration would purchase 3 percent of all city goods and services from veteran-owned businesses.
Ballard, a Republican, signed the executive order for his veterans' business initiative in June 2008. He has made some
progress in the two years since, but remains far from his goal.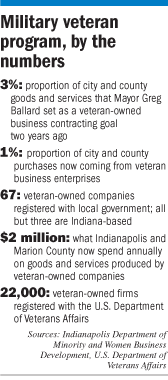 So far, 67 firms have registered with the city as being veteran-owned. All but three are Indiana-based. As a group,
they're now earning 1 percent of Indianapolis' and Marion County's business through contracts collectively
worth $2 million annually.
"It's a new program, you've got to remember," said Gregory Wilson, director of the Indianapolis Department
of Minority and Women Business Development, which oversees the initiative. "Many businesses haven't established
themselves as veteran-owned businesses. Now they know it's a possibility. Next year, you'll say, 'Wow.'"
Ballard's contracting initiative is modeled after a similar policy the federal government has maintained for its agencies
since 1999. Indianapolis is one of the first cities in the country to follow suit. The types of businesses that have most
frequently leveraged Ballard's veterans' policy are those that offer what the city already frequently buys. Many
purchase orders originate from the Indianapolis Department of Public Works for needs such as landscaping, engineering, surveying
and construction.
Wilson is an Army veteran himself, having served from 1977 to 1985 as a purchasing sergeant in the motor pool. His department
regularly schedules events geared specifically toward registering veteran-owned companies and raising awareness of local government-contracting
opportunities. Workshops also focus on building relationships between veterans' businesses, bank lenders and the U.S.
Small Business Administration.
Wilson said his office, which has a staff of six, is on the cusp of hiring a veterans' business liaison who will be
responsible for ramping up assistance.
"We can't build your company for you," Wilson said. "But we can assist you in development and growth
in other ways."
Putting military skills to work
Some veteran business owners can trace their entrepreneurship path directly back to their military careers. Take
Danny Portee, owner of locally based human resources firm Professional Management Enterprises. Portee said his family couldn't
afford to send him to college. So he enlisted in the Army in 1983 and ended up staying 20 years, earning both an undergraduate
degree and an MBA along the way.
"It taught me as a young man coming out of South Carolina and poverty the grass can be greener on the other side—with
preparation, attitude, ability and great mentorships, which I was fortunate to have," Portee said.
Portee spent the last 10 years of his service as a recruiter, seven of them in Indianapolis. He said he liked the Army's
camaraderie, its merit-based advancement and its travel opportunities, which took him to Korea and Germany. He learned how
to sell himself, how to be an "outstanding listener," and how to train others. As a civilian, he had jobs as regional
director for a truck-driving school and as a consultant for a pair of staffing firms before founding PME in 2006.
The firm has grown quickly. It now has 87 employees and $3.9 million in annual revenue. This month, PME was awarded a slice
of Ballard's $16 million PeopleSoft software installation project as a subcontractor to New York-based Zanett Inc. PME
earned that job, thanks to similar work it had done previously with Zanett for the state of Indiana, Portee said.
Like the other veteran-owned business owners IBJ interviewed for this story, Portee stressed that his company is
just as qualified as any other firm in the market. Ballard's initiative isn't about awarding work to firms that
otherwise couldn't earn it, he said.
"Look at our capabilities and past performance. At the end, if we're qualified, you might get that diversity
capture, whether women- or veteran- or minority-business enterprise," he said. "Look at us first, at what we can
bring to the table. You'd be shocked to find you can meet some diversity goals."
Loose connections
For some veteran entrepreneurs, military service has only a loose connection to their current companies.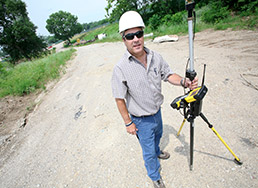 Barry
Hepburn, co-owner of IndySurv, registered the surveying company as veteran-owned. He served in the Army as a senior gunner
from 1983 to 1986.(IBJ Photo/ Perry Reichanadter)
Barry Hepburn, co-owner of Danville-based surveying and inspection firm IndySurv LLC, served in the Army from 1983 to 1986
as a senior gunner. The military lessons he now applies to his business are indirect.
"To tell you the truth, the Gatling gun and short-range air defense don't really coincide with anything civilians
do," Hepburn said. "But it did give me discipline, which I needed. Every young man needs discipline, which helps
out for the rest of his life."
Hepburn said the process to register IndySurv as veteran-owned was simple, although it took three to six months for the certification
to come through. His company is now starting to pick up work as a result, and he expects to see more in the days to come.
Recently, Hepburn saw Ballard walking down the street downtown, so he approached the mayor and thanked him for the veterans'
contracting initiative.
"It has helped, directly helped, I know it has, with the few jobs we're going to be doing," Hepburn said.
"He's done a really good job. I appreciate somebody's looking out for vets."
The U.S. Department of Veterans Affairs in Washington, D.C., has 22,000 veteran-owned firms across the country registered
in its database, but there are undoubtedly more, said Wayne Berry, a small-business specialist with the VA. Federal contracting
is a huge opportunity for them, he said. The VA breaks its operations into 11 geographic divisions. The division that includes
Indiana alone awarded $55.6 million in contracts to veteran-owned businesses last year.
"I can say from my experience in working with veteran-business enterprises they can perform the job as well as anyone
else. They just need a chance to get their foot in the door," Berry said. "The goals are not a handout. It's
an opportunity."
Life lessons
Bill Shrewsberry, CEO of locally based engineering consultancy Shrewsberry and Associates LLC, served in the Navy for four
years in the mid-1960s. But his job as a dental technician there is today a distant memory. Since then, Shrewsberry had an
18-year career with Indiana Bell, then another decade as a key aide to Indiana governors and to former Indianapolis Mayor
Bart Peterson.
He also served as executive director of White River State Park before founding his firm in 2001. He has registered his 37-employee
company as a veteran-owned business with the city. The designation helps, he said, although his firm already regularly worked
on city projects, such as asbestos removal from public buildings, engineering to remediate combined sewer overflows, and soil
testing for the airport expansion.
Some of the life lessons Shrewsberry learned in the Navy resonate today.
"Discipline was one of the things I learned very, very quickly," he said. "Respecting authority, staying
focused. A lot of stuff you don't get in textbooks."•
Please enable JavaScript to view this content.