It didn't occur to me on the drive down Interstate 65 for a Brown County getaway that I'd be returning with praise
for an Elvis impersonator.
Appealing landscape painting, some candy-shop indulgences, hearty Brown County State Park scenery, and perhaps another fun
show at Brown County Playhouse? Sure. But Elvis Presley?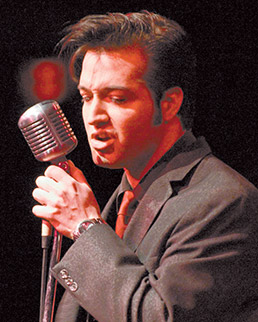 Robert Shaw, top, plays the young Elvis at Nashville's Red Barn Jamboree. (Photo Courtesy Lonely Street Productions)
That's what I found at the Red Barn Jamboree (71 Parkview Road, (812) 988-2429). Housed in, yes, a converted barn and
smelling of fresh popcorn rather than farm animals, the theater is, through November, home to alternating performances of
"Heartbreak Hotel: A Salute to Young Elvis," and "Man in Black: The Music of Johnny Cash."
Both of which star the same guy, Southern Indiana native Robert Shaw.
It's understandable that thoughts of Elvis bring up the bloated, jump-suited Vegas performer. That's the easy
road for tribute acts. But playing the young Elvis requires a different kind of passion. It requires tapping into a time when
Elvis seemed to be on a quest of musical discovery, still excited by the road ahead and without an ounce of cynicism.
Shaw, who recently understudied both Presley and Cash in the Chicago production of "Million Dollar Quartet,"
has the hungry look of the young Presley down pat. He's got the smoldering eyes (and knows when to close
them), the wiggle (which he knows not to overplay) and the mix of modesty and awe that typified the King's early days.
From the very beginning of the first set—a full-bore "Good Rockin' Tonight"—the gestures and
inflections don't seem to come from a budding superstar's attempt to find a gimmick or from an impersonator's
playbook. They seem to come, instead, from genuine joy—Presley's and Shaw's— for the music.
After "Good Rockin' Tonight" segued into "Baby Let's Play House," I was a bit taken aback
when Shaw broke character, speaking as Shaw instead of Elvis.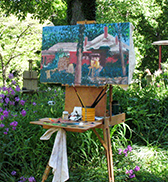 Above, the T.C. Steele State Historic Site still attracts working artists. (Photo Courtesy Brown County CVB)
Ultimately, though, the Jekyll and Hyde-ing worked and fun stories led into "That's Alright, Mama," "Heartbreak
Hotel" and more, each treated not like a museum piece but as a vital piece of new music. "Let's Have a Party,"
from Elvis' 1957 film "Loving You," was an unexpected way to end the act and demonstrated Shaw's consistently
generous attitude toward his band mates, accomplished musicians who seemed to be having a blast.
It's the songs, not the performer, that begin to lose their fire in the second act. By the time he's cutting
"Trouble" (for "King Creole") or offering the ersatz "Oh Solo Mio" of "It's
Now or Never" (1960) we can see the Vegas writing on the wall. Luckily, the show ends before sequins become part of
the package.
Shaw seems to sense that turning point, too, revving the show back up with Little Richard's "Long Tall Sally"
(which Elvis covered in 1956). After the obligatory "Can't Help Falling in Love with You," he and the band
nailed 1958's "Big Hunk O' Love."
Long live Shaw and his show.
——–
My evening with Elvis capped a two-day trip that coincided with the annual Brown County Studio and Garden Tour (June 25-27),
in which art spaces are opened to the public.
I didn't make it to any of the working studios, but I did find time to go to the T.C. Steele State Historic Site (4220
T.C. Steele Road, Nashville, (812) 988-2785), dedicated to the pioneering parent of The Hoosier Group, who purchased the property
in 1917. Inside, Steele's large studio is a selection of his work (including unexpected portraits). Outside, a brochure
makes it easy to match Steele's landscapes to the spots that inspired them. The 211-acre site also features modest hiking
trails through the grounds and around the neighboring Selma N. Steel State Nature Preserve.
I also paid a visit to the Historical Brown County Art Gallery (Main Street and Artist Drive, (812) 988-4609), whose combined
mission is celebrating early Indiana art while fostering new talent. I was drawn to a room devoted to Glen Cooper Henshaw,
who was born in Windfall, was an early student of the John Herron Art School, and returned to Brown County in the early '40s
after stints in Europe, New York and Baltimore. Later, in Lyn Letsinger-Miller's book "The Artists of Brown County,"
I learned of Henshaw's fascination with Edgar Allen Poe. That insight helped make sense of his haunted creations, including
a recently acquired, gloom-enshrouded self-portrait from 1943. Alas, most of Henshaw's works were consumed in a fire
at the gallery in 1966. The work that survives is well worth visiting.
———
I've been to Brown County Playhouse (70 S. Van Buren, Nashville, (812) 988-2123) only five times in the last 15 years,
but I can happily say its productions have never disappointed.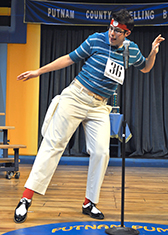 William Barfée (Matthew Martin) uses his unique "magic foot" technique in "Putnam County
Spelling Bee." (Photo Courtesy Brown County Playhouse)
Offering a unique opportunity for talented Indiana University theater students to work with established professionals, the
Playhouse kicked off its three-play summer season with the recent Broadway musical "The 25th Annual Putnam County Spelling
Bee" (through July 4).
Here, the students held their own in the company of Susan Owen, on a break from Broadway's "Phantom of the Opera,"
and Erick Pinnick, from the national tour of "Jesus Christ Superstar." Henry A. McDaniel III, a third-year M.F.A.
actor, hilariously provided answers to the "can you use that in a sentence questions," senior B.F.A. student Russell
Stout and Matthew Martin played endearingly awkward contestants, and recent B.F.A. grad Lovlee Carroll seamlessly and heartbreakingly
joined with Owen and Pinnick on the deceptively simple "I Love You Song."
In all, another Brown County Playhouse winner, reminding me that I really need to make the mere 90-minute trek more often.•
__________
This column appears weekly. Send information on upcoming A&E events to lharry@ibj.com. Visit www.ibj.com/arts for
more reviews, previews and blog posts. Twitter: IBJarts
Please enable JavaScript to view this content.