Actress and former Indiana Repertory Theatre staff member Megan McKinney has joined Civic Theatre of Indianapolis as director
of development, helping prepare for a three-year capital campaign.
Civic Theatre is gearing up for the campaign, to be announced this fall, and its move to Carmel in time for the 2011-2012
season. The professional-amateur company will be the resident group at the Center for the Performing Arts, where it will have
use of a 500-seat proscenium theater and 200-seat black box space.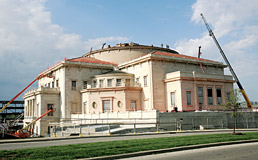 Civic will be the resident group at the Center for the Performing Arts in Carmel. (IBJ File Photo)
Civic will leave its current home, the campus of Marian University in Indianapolis. The deal in Carmel includes a 100-year
term for $10 million. Civic may take as long as 20 years to make the $10 million payment, plus interest, and no payments are
due in 2011.
Civic employs a professional support staff of 17 people but uses local amateur talent on stage. The company had $1.58 million
in revenue for the fiscal year ended June 30, 2009, and a shortfall of $74,500, according to the latest filing with the Internal
Revenue Service.
McKinney said she could not divulge the campaign's target. The purpose is to support Civic's operations, educational
programs and endowment.
Executive Director Cheri Dick could not be reached for comment. In a prepared statement, she said, "Megan has been
an active supporter of the arts in Indianapolis for years. Her experience combined with the strong relationships she has built
over the years will be invaluable as we work to grow and expand Civic's offerings for the communities of central Indiana."
McKinney was executive director of the Fine Arts Society, which supports the University of Indianapolis' classical
FM station, WICR 88.7. Before her two-year stint at FAS, McKinney was marketing director at the IRT, where she started out
as an actress.
Please enable JavaScript to view this content.