In 2004, Home Health Depot Inc.'s revenue was stagnant, but David Hartley thought the home medical equipment supplier was a diamond in the rough.

So Harley, then working as a representative for medical equipment manufacturers, pulled $85,000 from his savings and bought the 5-year-old firm. Nearly six years later, Hartley has reinvented the Indianapolis-based company, growing from a single office in Greenwood to 12 locations in Indiana and Illinois—and increasing annual revenue from $300,000 to more than $6.7 million.

And Home Health Depot's potential client base is getting larger as baby boomers get older, setting the firm up for continued success.

"It's a tsunami of business coming our way," said Hartley, 40.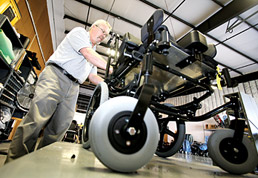 Jeff Herbig, a Home Health Depot rehabilitation specialist, adjusts a wheelchair for a client. The company is growing as Baby Boomers age. (IBJ Photo/ Perry Reichanadter)
Indeed, the 65-and-older age group is the fastest-growing demographic in the United States, accounting for more than 12 percent of the population in 2000. By 2050, that should climb to more than 20 percent, according to Congressional Research Service projections.

Adding to the wave of demand for Home Health Depot's services: More elderly Americans are eschewing long-term-care facilities and choosing to remain at home.

"Health care spending has been growing tremendously over the last couple decades," said Anthony Cox, an Indiana University Kelley School of Business-Indianapolis professor of marketing who specializes in medical products and services. "And one of the fastest-growing industries is in-home medical care."

Home Health Depot nearly doubled annual revenue last year, from $3.8 million in 2008, as it added seven new locations. Since 2007, sales have increased 157 percent, earning it a spot on IBJ's June list of the region's fastest-growing companies.

In October, the company signed a contract with Veterans Affairs hospitals in Indianapolis, Fort Wayne, Marion and Danville, Ill., becoming their sole home medical equipment provider.

The firm also has attracted outside funders, including local businessmen Michael S. Maurer and Bob Schloss, who invested an undisclosed amount in Home Health Depot in February. The pair co-owns IBJ Media, parent of the Indianapolis Business Journal.

Hartley expects to finalize an agreement with another investment partner this summer, although he declined to provide details.

Although about two-thirds of its customers are elderly, Hartley said that's not the only reason for the firm's growth. He also credits its diverse product line.

Typically, suppliers specialize in a specific kind of home medical equipment—respiratory devices, for example, or mobility tools like wheelchairs and scooters. Home Health Depot works with 150 manufacturers to offer it all, setting the firm apart from its mostly national competitors.

Another difference that bodes well for the company: Only about a third of Home Health Depot's revenue comes from government programs like Medicare, Hartley said. The rest comes from customers paying cash.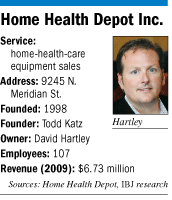 Given the turbulence of the health care industry in the wake of federal reform, it is hard for companies dependent on government funding to project profits past the next few years, said Paula Koenig, president of the Association of Indiana Home Medical Equipment Services.

"There's increased pressure from all sides, and huge government insolence," Koenig said, citing tighter Medicaid funding and more required documentation and auditing. "[The government] is asking us to do a lot more for less."

Even so, efforts are being made to improve long-term-care options, said Orion Bell, CEO of CICOA In-Home Solutions, a local not-for-profit overseeing a state program that provides in-home support services to the elderly and disabled.

"Government cuts … are more about budget constraints of the state, and should have a short-term effect," he said. "It shows fiscal constraint, not a policy change."

For example, a state waiver program that allows participants to use Medicaid payments for in-home care will be offered to 12,000 people in 2010—36 percent more than in 2008.

And staying at home means saving money. Hartley said home care costs 30 percent to 50 percent less than institutional care.

A private room in a nursing home costs more than $75,600 a year in Indiana, according to Genworth Financial's 2010 Cost of Care Survey, and long-term-care expenses are expected to increase 6 percent a year.

"The preventative savings are there," Bell said. "It's becoming a rebalancing of long-term care."

Moreover, where former generations held an attitude of "doctor knows best," explained IU's Cox, baby boomers lean toward medical autonomy. Consumers want to call their own shots, a mind-set to which marketers must be sensitive, he said.

Enter Hartley, who aims to give clients everything they need to stay at home. That's quite a different perspective than he had in his first career—in the RV industry. Hartley, who grew up in Elkhart and attended IU, started working for Katz at Home Health Depot after deciding the recreational vehicle business was too cyclical.

Now that Home Health Depot has expanded its geographic reach, its owner and CEO wants to build business around each location. By next year, Hartley hopes to provide coverage to 85 percent of Indiana residents. He's also eyeing locations in Detroit as well as major cities in Ohio.

Eventually, Home Health Depot should bring in $40 million to $50 million a year, Hartley said, giving the company "economies of scale to buy more and be more efficient … but not too big to keep an ear close to patients."

"There are two schools to expansion," Hartley said. "One is wide, the other is deep. At first, we're going to set our flags in the ground, wide, and then we're really going to focus on going deep in each market."•