They call it a "re-refinery." Elgin, Ill.-based Heritage Crystal Clean will build one in Speedway, state and
city officials announced July 12. The $40 million project along West 10th Street could create 75 jobs by 2013.
Among Heritage Crystal Clean's specialties is collecting used oil for customers in the automotive service and manufacturing
industries. The company, which actually was founded in Indianapolis 20 years ago before moving, has more than 500 employees
at 62 locations in the Midwest and along the East Coast.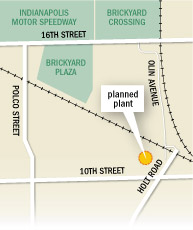 The Indiana Economic Development Corp. has pledged up to $500,000 in performance-based
tax credits and another $100,000 that can be used for infrastructure improvement. The city of Indianapolis has offered $2.3
million in tax abatement and up to $150,000 in infrastructure help.
"We chose Indiana because it is centrally located with good infrastructure and supports the recycling of used oil,"
said Joe Chalhoub, president and CEO of Heritage.
Please enable JavaScript to view this content.