Shelbyville—Millions of dollars in tax revenue that flows from the Indiana Live casino to local government coffers will be set aside for economic development.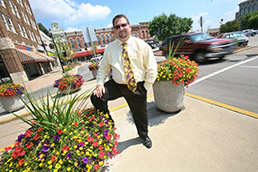 Shelbyville Mayor Scott Furgeson at the town square, where $50,000 in gambling revenue was used to kick off a beautification project. (IBJ Photo/ Perry Reichanadter)
Word of the designated funds is already circulating, and Shelbyville Mayor Scott Furgeson said he hopes to present new projects to the city council in the next month or two.

"They've been knocking down the door," Furgeson said of the city's industrial suitors.

Shelbyville is sitting on more than $1.6 million for economic development, and the fund could grow to $2.4 million by the end of the year, Furgeson said.

Likewise, the Shelby County Council is sitting on $2 million in gambling tax revenue and has voted to spend the majority of it on economic development.

The cash would be on top of traditional incentives like tax abatement, and uses for it are open-ended.

"Having a fund like that is a definite advantage," said Tim Monger, senior vice president at Cassidy Turley's location advisory group.

Communities that host riverboat casinos have been swimming in gambling-related revenue for years, but it's a fairly recent windfall for central Indiana.



The Indiana General Assembly allowed Hoosier Park in Anderson and Indiana Downs in Shelbyville to add slot machines in 2008, but required 3 percent of revenue to go to Madison and Shelby counties. The money is further divided among local government entities according to their populations.

Shelby County and its municipalities, where the entire population is less than 45,000, received $12.2 million since July 2008.

The money has been spent or earmarked for a variety of purposes. Shelbyville and Shelby County together committed $2.3 million for a horse hospital that Purdue University's School of Veterinary Medicine would like to build.

Until last year, most of Shelbyville's revenue went to the general fund. Shelby County has spent $800,000 to clear homes and build a new parking lot and set aside $220,000 for sewer district improvements. The county also has sent money to the local schools for computers and has upgraded computer systems in its own offices.

Other local governments, including Madison County and the city of Anderson, use the revenue to cover general fund operations.

Shelbyville adopted a resolution in March that sets aside 60 percent for economic development. Soon after, the Shelby County Council earmarked 65 percent for the same purpose.

John Ketzenberger, president of the Indiana Fiscal Policy Institute, said local governments are wise to use gambling-tax revenue for one-time purchases, such as street upgrades, or economic development.

"This money is not steady, stable revenue," he said. "To dedicate it to ongoing expenses is foolish."

The new tax dollars started arriving just as looming property tax caps threatened to pinch local budgets.

Shelbyville Councilor Jeff Sponsel said he didn't want the city to become dependent on gambling revenue to deliver basic services. The city created a separate "racino fund" last July. At the time, Sponsel said he thought to himself, "We need to trick ourselves into being wise by locking this money up for what we really need it for."

Sponsel said he talked to members of the Shelby County Council about doing the same. While stockpiling cash, city council members took several months to decide how to spend gambling revenue in the future.

In the midst of the recession, Sponsel said, the council faced pressure to give more money to local charities.

"Economic development in this climate is the only way out," he said.

Luring industry

Shelbyville's industrial base includes Knauf Insulation and several auto-parts makers. The city has attempted to attract high-tech industries to its Intelliplex business park, but those efforts stalled with the recession.

If the new economic development fund does net multiple proposals, the Shelbyville council might face yet another dilemma in how to spend the money.

"The good news is, they have a lot of flexibility," said Monger, former executive director of the Indiana Department of Commerce. "The bad news is, you could quickly use up a fund like that on one or a handful of projects."

Monger, who represents companies looking for sites across the country, said elected officials tend to narrow down open-ended funds over time. Whether by industry, or wage, there are endless ways to evaluate proposals, he said.

The other question is how to make the cash available to companies. One tool that the city of St. Louis uses is a five-year forgivable loan for job creation, Monger said. At the state level, flexible funds often are used for whatever it takes to close a highly competitive deal.

Dan Theobald, executive director of the Shelby County Economic Development Corp., said he doesn't want the city or county councils to box themselves in with pre-determined criteria.

"I think they have to be very flexible with each prospect that comes in," he said. "Shelbyville and Shelby County is and always has been conservative. Any money they have will not be tossed out the window."

Theobald said economic development could easily include new infrastructure, such as roads or sewers that would benefit multiple companies.

Shelby County, for example, directed $900,000 to the highway fund, "which as far as I'm concerned is great because they needed it," Theobald said.

Adding to Intelliplex

Furgeson, who doesn't have a vote on the council, said he plans to propose using some of the economic development fund to finance construction of a flexible-use building at Intelliplex.

The 141-acre development off State Road 9 is one of 18 high-tech parks designated by the Indiana Economic Development Corp. The parks are allowed to capture state sales and income tax to use as incentives for new business, but they must meet certain criteria.

One of those requirements is putting up a spec building equipped for high-tech companies. The IEDC in February gave Intelliplex two more years to meet standards under the tech park program.

"A lot of these companies that we've been talking to are looking for space where there would be a low rent," Furgeson said. Based on space requirements of 5,000 to 10,000 square feet, he said he'd like to build a 50,000-square-foot building for $4 million to $5 million.

The construction would be financed through future slot tax revenue.

Ketzenberger said the Shelbyville City Council should designate an economic advisory board and lay out specific objectives for the economic development fund.

"Given the problems they had at the tech park, they need to err on the side of transparency to a fault," he said. "They need to let everybody know what they're thinking and what they're going to do with the money and follow through on it."•