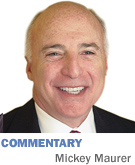 Like most veterans of the entrepreneurial wars, I have made mistakes. That propensity is magnified by the higher risk profile I have chosen—startups and turnarounds.
Based primarily upon hard lessons learned, I evolved "The Ten Essential Principles of Entrepreneurship that You Didn't Learn in School"—at least I didn't learn them in school. Over the course of 10 columns, I will feature each of these essential principles. This is the second installment.
Barriers to entry
(Competition is the essence of capitalism. Enjoy it, don't suffer from it.)
In business school, students are supposed to acquire the tools necessary to make investment decisions. We probably all learned to prepare, analyze and evaluate financial statements, projections and business plans. But never in a single class was I informed that an important factor in business investment analysis is barriers to entry. As a consequence, I made an investment mistake.
One day years ago, like many people my age, I became enamored with the sport of racquetball. Racquetball is easy to learn. You don't have to use your off hand like handball and, unlike tennis where errant shots need to be run down, your racquetball mistakes roll back for you to begin again.
To reserve court time at the YMCA or the Jewish Community Center (two of the few places with racquetball facilities), I had to wake up at 6 a.m. and be one of the lucky first callers. (Janie dialed for me for a while—that got old fast.) Out of frustration more than anything else, some partners and I developed the first racquetball facility in the city of Indianapolis, Racquetball West, at 38th Street and High School Road. That success was followed by two more racquetball clubs in the city. We then built additional racquetball clubs throughout the country. In fact, we had the second-largest chain stretching from Buffalo, N.Y., to Houston and points in between.
The mistake—we failed to analyze the vulnerability to competition of the racquetball industry. There were few barriers to entry. It was not difficult to construct the necessary block building and apparently it was easy to obtain funding. Within one year after we established the second racquetball club in Houston, there were three clubs within a mile of our facility. In Buffalo, we built a club at the major mall and enjoyed a robust but short-lived profit until a tennis club that went bankrupt about one mile from our site was converted into racquetball courts.
We sold our racquetball clubs as rapidly as we could by packaging our losers with profitable operations. For example, we sold the beleaguered Youngstown, Buffalo and Niagara Falls clubs with one in Hartford, Conn., that had not yet felt the onslaught of competition that was sure to materialize. I spent so much time trying to extricate us from the racquetball business that I no longer had time to play.
Subsequent to that experience, I have invested in difficult-entry industries including radio broadcasting, cable TV and banking. Because of the limited radio station licenses available—all issued by the federal government—there is always someone willing to pay for your right to play in this quasi-monopoly industry. Cable television is another industry with barriers to entry. Generally, there is only one cable franchise per city. I did exit the radio and cable TV industries, but that is the subject of a later column. Barriers to entry in the banking business are set by federal and state governments and they are formidable.
I learned from my racquetball club experience to, when evaluating a business opportunity, also investigate the barriers to entry in that industry.
Barriers to entry—did you learn that in school?•
__________
Maurer is a shareholder in IBJ Corp., which owns Indianapolis Business Journal. His column appears every other week. To comment on this column, send e-mail to mmaurer@ibj.com.
Please enable JavaScript to view this content.