Indianapolis City Ballet will mount a second all-star spectacle in September at the Murat Theatre, but its founders are moving
slowly on plans to form a troupe.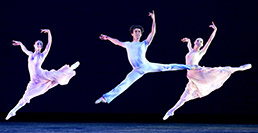 Indianapolis
City Ballet will stage "Evening with the Stars" this fall. (Photo courtesy Indianapolis City Ballet)
Local arts patrons Jane Fortune and her longtime partner Robert Hesse started City Ballet in the spring of 2009, but it was
more of a pitch than a reality. The idea was to fill the gap left by Ballet Internationale, the professional company that
folded in late 2005 after more than 30 years.
Hesse, a former executive director of the Joffrey Ballet, believed the art form could succeed with a different business model:
Use fewer dancers and sets, and take shows on the road, rather than stage a full season in one city.
First, Hesse and Fortune wanted to test Indianapolis' appetite by staging a gala event. "Evening with the Stars,"
held in September 2009, featured guest dancers from around the world and drew about 1,850 people. Putting it on cost about
$260,000, though that figure included some organizational startup costs.
Close to a year later, City Ballet's leaders are still not sure when they will hire their own dancers.
"I think it may be very, very difficult to put a full-time company in Indianapolis," said Executive Director
Kevin Hesse, who is Robert Hesse's son. "I don't see that happening very quickly. We've got a lot
of challenges ahead."
City Ballet is shaping up as a production company with plans to stage a series of events.
"Indianapolis City Ballet was created to be a ballet program, not just a company, to increase interest in the community
in ballet and produce the highest-quality ballet we can manage," Kevin Hesse said.
The inaugural event drew an influential audience, including some board members of the Allen Whitehill Clowes Charitable Foundation.
They were so impressed that they recommended approving a $15,000 grant for general operating expenses, foundation President
William Marshall said.
"We thought it was worth seeing how they develop," Marshall said.
Marshall doesn't think the lack of a regular company will hinder City Ballet's ability to raise money in Indianapolis.
Several not-for-profits, such as the Ensemble Music Society, exist solely to produce a series of events with guest performers,
he said.
"Evening with the Stars" prompted rave reviews, and Hesse said its expenses were covered through a combination
of ticket sales and donations, but City Ballet is moving forward with caution. Hesse said he hopes that by next summer, he
can mount a five-week "residency" program.
City Ballet would hire 16 to 20 dancers from around the country for two or three performances in Indianapolis, followed by
two or three shows elsewhere in Indiana. The primary obstacle is finding a venue that's available for more than one
night, Hesse said.
In the meantime, Hesse is planning a second all-star performance, Sept. 11 at the Murat, as well as an event next spring.
He declined to talk about the latter in detail.
City Ballet also has sponsored a series of master classes, taught in local dance schools by top-level instructors from around
the country. The fee to students is $25 per class.
Hesse said a new schedule for the series will be announced soon.
City Ballet isn't the first group to pick up Ballet Internationale's old pointe shoes. Alyona Yakovleva, who
had taught at Ballet Internationale's dance school, tried to continue the tradition with a professional company whose
dancers split their time between teaching and performing.
The Russian Ballet Academy of Indiana and the affiliated Indiana Ballet Co., where Yakovleva was artistic director and her
husband, Russ Smith, was executive director, closed its doors March 31. A May Chapter 7 bankruptcy filing listed assets of
$15,500 and liabilities of $159,000, mostly unpaid taxes.
Ballet Internationale fell much harder. The company, which employed more than 20 dancers and had an annual budget of $3.5
million, faced $1 million in liabilities when it slid into bankruptcy court in 2006.
Patrick Burley, the last chairman of Ballet Internationale, said he wouldn't recommend starting another company without
several years of operating expenses in the bank.
Of City Ballet's plans he said, "If they're not going to have a full-blown ballet, I still think they have
to have a lot of capital in there."
Touring makes sense for high-cost performing arts such as opera and dance, Marshall said. Taking shows to other cities in
the region is a way to spread out that expense.
City Ballet is still small. The budget for the year ended June 30 was about $280,000, with more than 90 percent of that going
to startup costs and staging last year's "Evening with the Stars." Ticket sales covered about 40 percent
of the show's costs.
The budget will grow to about $550,000 in 2011 because of the addition of the spring event, Hesse said.
The leadership remains tightly knit. The board of directors consists of four people: Chairman Robert Hesse, vice chairwoman
Fortune and two independent members.
Kevin Hesse, a consultant with experience producing ballet, lives in New York but travels to Indianapolis.
Dance patrons haven't forgotten Ballet Internationale's financial failure, Hesse said.
"There are a lot of people who are willing to be supportive, but do not want to be on the board," he said. "It's
a difficult environment because people are worried about liability."
After watching video of Ballet Internationale's performances, Hesse said a lack of talent was not among the classical
Russian company's problems. "They were good dancers. They were really well-trained," he said.
Hesse said he realizes there are no easy answers for keeping professional ballet alive.
"There's a sense in dance, not in Indianapolis—it's everywhere—nobody's really building
audience," he said.•
Please enable JavaScript to view this content.