A Lake Clearwater mansion formerly owned by Premier Properties USA Inc. founder Christopher P. White is up for sale with
an asking price of $1.48 million.
White was sentenced in November 2009 to one year of home detention and three years of probation in connection with a $500,000
bad check he wrote as he unsuccessfully tried to save his real estate development company.
The 1987 home sits on 1.2 acres and features four bedrooms and seven bathrooms, vaulted ceilings, a custom kitchen, entertainment
room with wet bar, dock on Lake Clearwater, and a large patio with an in-ground pool and gazebo.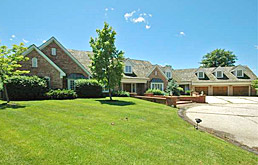 Chris White's former Lake Clearwater home is for sale with a $1.48M asking price.
(Submitted photo)
The home's main floor is about 5,800 square feet, and a partially completed second floor adds another 5,100 square feet,
the listing notes. The home is being sold as-is.
J.P. Morgan Chase, which owns the property, has listed it with Chris Price of Keller Williams Realty.
Premier, which developed dozens of projects, including Plainfield's Metropolis mall, imploded at the peak of the credit
crunch two years ago, leaving its high-flying founder with little to show for years of successful development.
White took on daring projects with little margin for error, often in unproven retail markets like Plainfield. He also developed
ambitious projects in Ohio, Pennsylvania and Nevada. But when credit markets tightened, his luck ran out.
Premier filed for Chapter 11 bankruptcy in April 2008. A month later, a judge converted the case to Chapter 7 and ordered
the company liquidated.
Many of White's belongings, which had been put up as collateral for loans gone bad, also were liquidated, at an auction
in August 2008. More than 1,000 people bid on the developer's belongings, including several Vespa scooters, flat-panel
TVs, a 22-foot pontoon boat and a baby grand piano.
Price, the real estate agent on the Lake Clearwater mansion, said the property was vacant when he got the listing in June.
He said he did not know where White lives now.
Please enable JavaScript to view this content.