Every Friday as she was growing up in Fort Wayne, Elizabeth Schlueter tagged along while her mother visited their Summit
Bank branch. At first, Lois the teller gave Schlueter lollipops. Later, Lois set up Schlueter's first checking account
and taught her how to balance a register. After law school, Lois suggested Schlueter apply for an open job in the bank's
trust department.
Summit Bank was acquired by NBD, then First Chicago, then Bank One and finally JPMorgan Chase. But Schlueter still holds
that same checking account. And on March 30, after a 17-year career with the financial institution, she was named managing
director and national practice leader for New York-based JPMorgan's entire U.S. private wealth advisory group.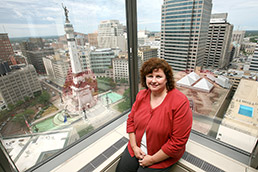 Schlueter learned to connect with wealthy people as she rose through ranks at several banks and ultimately was
recruited to Indianapolis. (IBJ Photo/ Perry Reichanadter)
From Indianapolis, Schlueter leads a team of 30 who serve clients with $2 million to $30 million in assets. It's an
important part of the Wall Street giant's domestic private banking practice, a $450 billion business in 80 markets.
But Schlueter approaches the task of money management just like Lois once did.
"You can talk about money all you want," Schlueter said. "But all money is is a way for people to decide
what's important to them, andto support the people and causes that are important to them. And Lois taught me that at
a very early age."
The daughter of a one-time Navy urologist, Schlueter, 45, grew up the eldest of four children. Military service moved the
family regularly until her father established his private practice in Fort Wayne. Schlueter's three younger brothers—two
also became physicians, one a real estate broker—now all live in Indianapolis. So does her father, a widower who remarried.
An attorney with two Indiana University degrees, Schlueter fell in love with the technical side of wealth management in an
intense summer estate tax class during law school. She was captivated by professor Lawrence Jegen's lessons about how
careful management could maximize a family's ability to protect money from Uncle Sam and pass it along to children or
a favorite charity.
"It was fascinating to me how things work together, and how you can really utilize a strategy in this particular area
of the law and tax code so one plus one doesn't equal two," she said. "It can equal three, four or five.
I always appreciated how you can get additional value."
Jegen, who these days appears at banking seminars on Schlueter's request, said it wasn't much of a stretch for
her to apply classroom lessons to the real world of estate planning, business ownership succession arrangements and charitable
trusts.
"She was the kind that, if she didn't understand, would keep pushing and come up after class to make sure she
did," Jegen said. "She'll 'research
very thoroughly any point she has before communicating with clients."
In her early days as a trust officer, Schlueter said she expected all her clients to be "old, and very wealthy, and
kind of stodgy." Instead, Schlueter said, she soon discovered they came from all walks of life.
She vividly remembers meeting one of her first customers outside a bank branch in Columbia City. His name was Whitey, and
the meeting began in the parking lot. Whitey climbed down from his truck, pulled his false teeth from his pocket, put them
in his mouth, then shook her hand. Whitey handed Schlueter a loaf of rye bread, explaining he'd been perfecting the
recipe since Christmas, and said, "Welcome to Columbia City."
"I never thought I'd get to meet anyone like Whitey," Schlueter said with a smile. "He ended up being
a really good friend."
Turning a business relationship into a trusted friendship is a key part of high-end wealth management.
Chip Snively, director of IU's Investment Management Academy, said it requires people like Schlueter to start by learning
their technical chops. But to excel, they must also be able to connect with clients on a personal level, learn their needs
and how they change over time. That kind of understanding isn't gleaned from across a mahogany desk. It means going
to clients' kids' soccer games and weddings.
"As a wealth adviser, you're not just managing money. You're entrusted with this person or family's
livelihood, their blood, sweat and tears," Snively said. "Wealth advisers have to establish and maintain a level
of trust with clients. If they don't have it, the relationship will not last."
Schlueter's ability to cultivate that connection helped her thrive as a trust officer. After law school, Schlueter
held a couple of jobs with law firms, but balked at the limitations of billable hours. Schlueter said no boss in her banking
career has complained that she'd spent too much time with a client.
Every successful high-end wealth adviser has to follow that approach. The clients can't ever feel like they're
getting cookie-cutter advice. Jonathan Klausner, who manages $725 million locally as a vice president of UBS' Klausner
and Duffy Investment Group, said all the top money management firms have by-and-large the same planning software and the same
leather couches. They also have similar fees and equivalent products.
What ultimately sets them apart is their people, and the confidence they instill.
It takes years to develop the trust necessary to serve extremely wealthy people, Klausner said. It takes time to learn that
a parent is estranged from one of her children, or that a business owner cares more about who ends up with his company than
how much he makes from the sale.
And when push comes to shove, a good wealth adviser has to know when to defer to other experts, much like a doctor would.
"Part of this is knowing your limitations. You go to your general practitioner, your trusted physician, but you have
an issue that requires a specialist," Klausner said. "That family doctor is your best friend and confidant. But
when it's time, [he brings] in the expert, the brain surgeon."
Rising cream
In 2002, veteran Indianapolis banker Al Smith recruited Schlueter to Indianapolis from Fort Wayne to join what was
then Bank One's growing wealth advisory team. Schlueter did well there, and Smith said she "welcomed the opportunity
to practice in a little bigger fishbowl."
In the last two years, Schlueter really caught the attention of JPMorgan's higher management when her client portfolio
was the top revenue producer in its class for the bank two years running. Schlueter's promotion followed.
"Cream rises to the top," Smith said.
Banking gave Schlueter more than her career. She was married late in life, just four years ago. Schlueter met her husband,
Stephen Fortunato, on a business trip to New York, where he was working as a bartender at the Waldorf Astoria hotel.
Walking home after drinks at the Rainbow Room atop Rockefeller Center, he sang, "Fly Me to the Moon."
"And that was pretty much it for me," Schlueter said.
Fortunato has since moved here and brought along his four daughters. As you'd expect, Schlueter has set up a trust
for them. But she's spent more of her time trying to teach them to think about money as a tool, not an end goal.
"I didn't know [until I married Fortunato] how important it is to talk to your children about financial values.
Not about money, but what's important for it to do," she said. "A lot of people go through life and feel
like money drags them along.
"When you don't have enough of it, it's really hard to put yourself in a place where you feel like you
control it, instead of it controls you."•
Please enable JavaScript to view this content.