Deflecto LLC, a local company that invented some commonly used household and office products, almost didn't see its
50th anniversary in Indianapolis.
At the end of 2008, the company warned that it planned to shut its north-side headquarters and factory and a Fishers warehouse
and put 219 people out of work.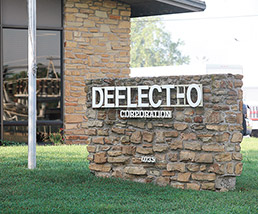 Deflecto
LLC makes plastic venting products and office supplies. (IBJ Photo/ Perry Reichanadter)
The company survived because of a last-minute intervention by two key retail customers, Chief Financial Officer Paul Thompson
said.
"It could've been a lot worse," he said. "We made some hard and difficult cuts, but we survived and
we have a plan for growth."
Deflecto, which celebrated its golden anniversary on July 27, now has about 150 employees in Indianapolis and Fishers.
The company says it's the world's largest maker of chair mats, bicycle reflectors and dryer venting supplies.
Its main retail outlets are Ace Hardware, Home Depot and Wal-Mart. Thompson declined to name the customers that propped up
the company.
Local entrepreneur C.P. Meyer started Deflecto in 1960 when he invented a plastic air deflector to prevent factory compressors
from freezing. He soon realized the deflectors could be used on home vents to deflect air away from windows and furniture.
Five years later, Deflecto came up with the now-ubiquitous wall pocket when an employee, looking for a way to sort invoices,
turned one of the deflectors upside down.
The Meyer family sold the company in 1998 to a private-equity group, The Jordan Co. of Deerfield, Ill. Deflecto remains the
flagship brand of Jordan Specialty Plastics.
The company has manufacturing facilities in Dover, Ohio; St. Catharines, Ontario and in China. Venting products and some
injection-molded office supplies, including the wall pockets, are made in Indianapolis.
Please enable JavaScript to view this content.