With temperatures throbbing around 90 degrees, the sweltering July heat ruthlessly pounds on Tom Dull's sweat-soaked body.

His 16-inch blade, which he sharpens daily, is raised above his straw hat, reaching its pinnacle before being repeatedly thrust downward. The 7-year-old's limbs softly fall to the ground.

With a more delicate snip off the top, Dull has created yet another masterpiece. He raises his arms with satisfaction.

"Now we've made a Christmas tree."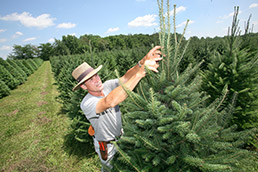 Tom Dull picks out a branch for trimming to improve the look of the future Christmas tree. He and his wife, Kerry, own 25 acres of trees in Thorntown. (IBJ Photo/ Perry Reichanadter)
Christmas and July harmonize like a blizzard on Independence Day, but the summer months are perhaps the most vital for Dull and his wife, Kerry, who raise 23,000 trees on their peaceful farm in Thorntown. It's an utterly rural setting, interrupted only occasionally by the gentle hum of a passing automobile.

From the first week in June through September—when corn and soybeans are growing elsewhere on the 2,000-acre Dull family farm—all the trees that are at least 3 years old are trimmed, or "sheared," helping to control the height, width, shape and density of the tree.

Younger growth is relieved of menacing weeds and undergoes "basal pruning," cutting the lowest branches to leave about 9 inches of clear trunk (known as the "handle") that will fit in a tree stand.

It's a lot of labor that won't pay off for some time. Yet when the winter months arrive and the other crops have been harvested, the Dulls cash in.

They began their Christmas tree operation in 1985, planting 200 White and Scotch pines. Eight years later—the average time from planting to cutting—they sold all 200 trees during their first selling season.

"We thought, 'Wow, this is pretty great,'" said 52-year-old Tom Dull, whose original hope was to sell half that amount.

The farmers sold 2,600 trees last season, which started the day after Thanksgiving, bringing in $120,000 and selling out for the second consecutive year.

Today, the trees range in price from $4 per foot for Scotch pines and up to $12 per foot for the larger Fraser fir, which is among the more specialty varieties shipped in from other farms to satisfy customers' demands.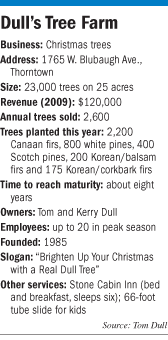 Dull sells its trees at the farm, mostly to customers who want to cut their own. While it is more work—pruning handles, shaking out old needles, bundling trees and loading them into buyers' vehicles—it provides the opportunity to educate customers on the environmental benefits of real Christmas trees and provide a hands-on experience.

On a typical in-season weekend, the farm could have 20 employees working—including the couple's 22-year-old daughter, Erin, who helps out with wreath making and sales.

This spring, they planted almost 3,800 trees on the 25 acres they allot specifically to tree farming.

It's all about velocity

The Dull Tree Farm belongs to the 75-member Indiana Christmas Tree Association. The group breeds camaraderie more than competition, Kerry Dull said, and serves as a clearinghouse for ideas and training.

Being a successful tree farmer can only come with experience. You've got to be fast—Tom Dull can shear a tree in five to 10 seconds—yet meticulous. You've got to have the touch.

A little before 2 p.m. on a Friday in mid-July, Dull begins his afternoon shearing duties, choosing to slice and dice some 8-year-old fir trees that have grown shaggy since last year's haircut.

First things first: He examines the tree, instantly finding its flaws. The 7-foot timber has a few unruly "horns" —branches growing inward (a tree cowlick, one might say)—in its lower body and two vertical branches vying for supremacy at the top.

He calls these top branches "leaders," and there can be only one. Competition must be eliminated.

Dull removes a pair of hand clippers from the back right pocket of his khaki pants, and carefully yet swiftly snips the unwanted stems, leaving a sole survivor elevated 12 to 16 inches above the pulp's bulk. And with a half-second transition, he unsheathes the blade from a leather holster on the left side of his belt.

He circumvents the tree counterclockwise. Keeping a loose grip on the knife's handle, he replicates a one-handed chopping motion from above his head to below his waist, shaving the tree's rebel offshoots to form the desired cone shape. It's very rhythmic—step-slice, step-slice, step-slice.

Tom, Kerry, their 20-year-old son, Lucas, and a part-time high school employee can combine to shear an average of 450 trees a day in the summer. Yet having to budget their time between trees and miscellaneous farm duties normally causes the shearing process to take three to four months altogether.

"It's important to keep the velocity up when you swing the knife," said Tom Dull, who learned his wrist-flicking technique at an association conference years ago. "You want to make sure you're making clean cuts."

And another word of advice: "It's really helpful if you can hit where you're looking with your knife."

Hmm … agreed.

Know your buds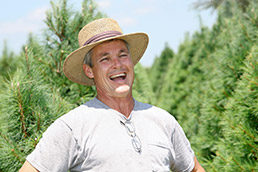 Tom Dull and his family shear an average of 450 trees a day in the summer. Last season, they sold 2,600 trees, primarily to customers who want to cut their own. (IBJ Photo/ Perry Reichanadter)
The farm grows several different species of trees—from highly desired pines to the increasingly popular firs.

A shearer must learn the finer points of each variety, particularly its budding system, Dull said.

Buds are easily missed by the untrained eye, but they give a tree its density, or fullness, so eliminating the small brown sprouts means the tree will appear thinner and likely less attractive to the 400 to 500 buyers the farm will have on an average Saturday.

Even at the tree's highest stem, the shearer must consciously make his cut, preserving a bud that will help "straighten the leader" in the next 12 months.

"Small details like that are what make the difference," Dull said.

No farm runs without its fair share of problems—frost, worms, deer—but this summer's rain has been especially damaging for the Dull farm, one of about a dozen Christmas tree farms in central Indiana.

Indiana received more than a foot of rain from May through June, making that span the third-wettest in the past 116 years. Many trees planted in the spring became submerged, and their roots could not get the oxygen they required. As the temperature of the standing water rose, the trees basically boiled.

It was the first time the farm had lost trees to flooding.

Fortunately, new trees can be planted to take their place, and with less aggressive shearing, the crop can be back to where it needs to be, size-wise. Yet the same cannot be said for the 2-year-old trees lost to floodwaters from the neighboring fields, which died from exposure to herbicides. For those, compensation will come by ordering more pre-cut trees.

Once a farmer …

Though he could not foresee his future leading toward the Christmas tree industry after graduating from Purdue University in 1980, Dull was focused on agriculture and moved back to his family's farm, a mile north of where the tree farm is now. The Dulls harvested corn, soybeans and wheat, and also raised hogs and cattle.

While traveling abroad in the Netherlands, Tom Dull met Kerry, a Nebraska native who was in the same foreign exchange program. The daughter of a farmer and auctioneer, she vowed not to work on a farm her entire life.

So naturally, she has lived on one ever since. Such is life.

Within a couple of years, they married, and decided to expand the farm. The Dulls started by adding to their existing crops and livestock, but changed course after making their annual trip to Crawfordsville to cut down the family Christmas tree.

It was always a fond memory for the couple, but making the half-hour trek was considered an inconvenience. Hence the birth of the Dull tree farm.

They sold off the livestock about 10 years ago.

The farm's location, less than a mile off State Road 39, has been great for business, said Kerry Dull, also 52. It is a central location between Indianapolis and Lafayette, and between Lebanon and Frankfort.

At first, the family relied on a single sign posted on State Road 39 to bring in customers. As the farm grew, the Dulls bought newspaper and radio ads—something they stopped last year. They still post four sets of Burma-Shave-like signs on nearby roads.

As customers head off the farm onto Blubaugh Avenue during the winter season, signs bid them farewell. "This green earth … A smile will make … Since you chose real … Instead of fake."•