Indiana lost 49 new-car dealers last year, the biggest thinning of the herd in at least a decade, according to data released last month by the National Automobile Dealers Association.

Despite an ongoing consolidation that has resulted in the exit of nearly a dozen metro-area dealers in recent years, "far and above, [2009] was the biggest loss," said Marty Murphy, executive vice president of the Automobile Dealers Association of Indiana.

Sales for the state's 454 dealers in 2009 plunged 18 percent, to $8.7 billion. Dealers averaged $19.1 million in sales last year—down nearly 10 percent.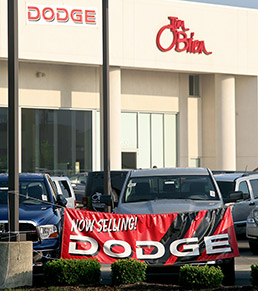 O'Brien Chrysler is now selling Dodge. O'Brien's friend Don Palmer, who sold Dodges from a site across the street, was among dealers to have franchises axed by Chrysler. (IBJ Photo/ Perry Reichanadter)
Dealers fell victim to the Great Recession, the wind-down of Hummer and Saturn, and the bankruptcies of General Motors and Chrysler.

Both troubled automakers axed hundreds of dealers nationwide, supposedly as a way to reduce their costs. Gone were local fixtures such as Palmer Dodge and Shadeland Dodge, which had stores just down the street from Chrysler dealerships.

"The remaining dealers are going to absorb that market share," Murphy said.

Among them is Tom O'Brien Jr., of O'Brien Chrysler Jeep. A sign blazing out front of his East 96th Street store declares that O'Brien also now sells Dodge vehicles.

"It's somewhat bittersweet because the Palmers are very good, longtime friends of ours," O'Brien said of Don Palmer, who operated Dodge dealerships for decades.

Palmer's former Dodge store, a stone's throw across 96th Street from O'Brien, now sells used cars as Palmer Huffman Auto Outlet, and offers multi-brand service with a NAPA repair shop.

"Very few of those that closed got out of the car business" entirely, Murphy said. Instead, they turned to used car sales or fell back on other new-car franchises.

For example, Lockhart Automotive refocused on its Cadillac stores in town after GM pulled the plug on Hummer and Saturn models it used to sell.

Although its Quonset-hut-like Hummer store in Fishers is now vacant, Lockhart converted its former Saturn franchise up the street into a used car sales and service outlet under the name All Things Automotive.

The All Things brand was formed recently by a former Crawfordsville car dealer who seeks to take the chain nationwide.

Although car sales are improving this year, more dealers could fall. General Motors has given doomed dealers until October to wind down operations.

However, some previously cut dealers may be on the way back, said Bill Skillman, who, with his father, Ray, operates a chain of eight new-car dealerships in the metro area. Skillman noted that a GM dealer in Shelbyville, for example, is being reinstated following an appeal process.

Some GM dealers haven't waited to close up shop. Last December, Reeves Buick Pontiac sold its Greenwood operations to the Skillman dealer group, which moved its Ford store into the space and shifted Reeves' inventory up U.S. 31 to Skillman's GMC store.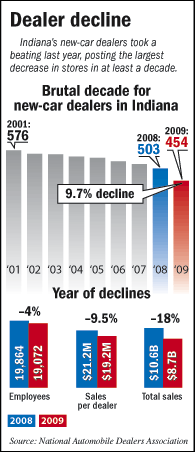 Reeves was burned when GM pulled the plug on Pontiac.

Such acquisitions have helped turn already-big dealer groups into even bigger ones. Skillman's eight dealerships encircling the metro area sell multiple brands.

Skillman said the consolidation of dealers has made properties available at discounts. To build a store from scratch would cost at least $3.5 million—more like $6 million or $8 million in a prime area.

"You cannot go out and build a facility for what it costs" anymore, Skillman said.

Instead, he acquired properties like Reeves' for a fraction, which has enabled him to remodel and turn the former GM franchise into a much larger Ford operation.

During the downturn, a lot of dealers "pulled their wings in" and cut inventory and slashed advertising and staff. Skillman said that strategy took a lot of dealers off consumers' radar screen. "It was sort of the kiss of death."

That was advantageous for the south-side-based auto empire.

"There were less cars being sold, but there are less dealers," Skillman noted.

"We showed growth in every new-car franchise that we have" except for Suzuki, he said.

Skillman's growing chain has added a few hundred employees over the last two years. Statewide, however, the number of people employed by new-car dealers last year fell nearly 800, to 19,072, according to NADA's 2010 report released last month.

Dealers of certain manufacturers did better than others, such as Pearson Ford, in Carmel. CEO John Pearson credited new products and good will toward Ford, both in public perception and in quality rankings. Toyota's problems with unintended acceleration also helped, as has taxpayer resentment over the GM and Chrysler bailouts.

Ford, before the downturn, essentially mortgaged the company, right down to its blue oval trademark, to raise cash and avoid government bailouts.

"We see a lot of non-Ford people because of that," Pearson said. "We're up something like 30 percent in new-car sales and certainly that much in used."

O'Brien said his Chrysler outlets have weathered the downturn in part by a boost in service department business. But "our numbers are not yet back to what they were prior to the recession."

Of course, he added, "it's not difficult to improve over what was a disaster [for the industry] last year."

He sees some bright spots, including sharp sales of the redesigned Jeep Grand Cherokee. He's hoping to begin selling Fiat models, with the Italian automaker planning to re-enter the U.S. market after acquiring a big share of Chrysler.

Chrysler dealers have been grumbling that Fiat has indicated it may want them to build dedicated showrooms for Fiats. That's the last thing cash-strapped dealers need.

O'Brien said he's interested in selling them, however, noting the East 96th Street strip is lined with prominent high-end and foreign-car dealers that draw foreign-car clientele.

Overall, U.S. auto sales in July rose 5 percent over the same time last year.•