With apologies to Willie Nelson, the truth is I could wait to get on the road again.
It's not that I don't enjoy spending time at the Jersey shore with family—it's just that getting
there (and getting back) is never even close to half the fun. It's more than 600 miles each way of driving, and when
the air conditioner isn't working and logistics demand overnight drives each way, well, those 13 hours require some
careful audio planning to maintain sanity.
My first move on the listening front was to catch up on CDs by Indiana artists—disks that have been collecting on my
desk waiting for some concentrating time.
I've sung the praises of Bobbie Lancaster in these pages and in my blog before. Whether as a part of the Hoosier Dylan
show, on stage at the Phoenix Theatre in "Pure Prine," or taking the stage at the Broad Ripple Art Fair, Lancaster's
combination of presence and musical talent have captivated me every time I've heard her. Her voice is distinct and fresh
and avoids the over-twang of a lot of music you find in the Folk or American category. Yet there's an authenticity to
her and a passion that finds the heart of her music, whether it's a wistful love song or a heavily plotted ballad.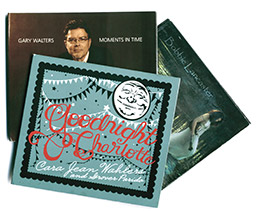 But I think anyone who loves music can point to occasions when a performer who is effective live doesn't
quite translate to recording. Sometimes, the performance feels too scrubbed by recording—buffing off the edges and imperfections
loses the heart. Other times, the orchestrations detract rather than accentuate.
And, of course, sometimes, a band just isn't as much fun when you don't have a beer in your hand and/or a crowd
of friends around you.
I'm happy to say that Lancaster's self-titled disc, recorded at Farm Fresh Studios in Bloomington, delivers.
Particularly strong is the take-no-prisoners "The Tragic Tale of Maggie Donovan" and the raucous "Oh Carolina."
And, yes, that's Jennie Devoe providing backup for four of the 10 songs.
So far, so good. In Ohio, I change the pace a little with Gary Walters' new solo piano disc "Moments in Time."
Walters has been teaching jazz piano at Butler University since 2000, has played on 11 of Carrie Newcomer's discs and
performs with Icarus Ensemble. I still remember with pleasure a post-fireworks Fourth of July performance by Walters at Symphony
on the Prairie a few years back. Translation: The guy is versatile.
Here, he skillfully constructs a disc that opens with music by Miles Davis, Oscar Peterson and Arthur Schwartz, closes with
Henry Mancini and Richard Rodgers and, in between, highlights his own compositions. I'm not exaggerating when I say
that there was no noticeable drop in listening pleasure during the meat of the disc.
Nearing Columbus, Ohio (and with darkness descending), I probably should have put on something upbeat. Instead, I went with
"Goodnight Charlotte," the dreamy new disc from singer/songwriter/guitarist Cara Jean Wahlers and cellist Grover
Parido.
There's both a vulnerable ache and core strength in both Wahlers' words and her voice. And the match with Parido,
a member of the (Re)Collective Company that proved an Indy Fringe hit a few years' back, is a strong one. This is a
low-key disc, so, as the moon rose, the barriers between songs didn't seem very strong, making this sound more of a
gentle, continuous piece than a collection of distinct songs. That's not a criticism, though, and I look forward to
repeat listenings.
But with a bit of West Virginia and all of Pennsylvania ahead, a drastic change was in order. Which meant putting aside the
local (I didn't have any Polka Boy music on hand) and switching to a collection of Prairie Home Companion's "Pretty
Good Joke Shows." A personal favorite: A police officer sees a car weaving back and forth and he takes off after it,
pulls up alongside, and sees an elderly lady knitting as she drives. He can't believe it and he yells at her, "Pull
over! Pull over!" "No," she says, "it's a scarf."
When the jokes ran out, it was time for catching up on recent Broadway cast recordings. "A Little Night Music"
has been given a roomy, two-disc treatment that includes some key dialogue, but the performers—including Catherine Zeta-Jones—don't
add much to the work done on the original cast recording by Glynis Johns and Len Cariou. And Leigh Ann Larkin gives an over-obvious
read to one of my favorite Sondheim songs, "The Miller's Son." I would love to be able to hear the replacement
company, currently on Broadway, including Bernadette Peters and Elaine Stritch.
The recording of the current "Promises, Promises" revival features appealing vocals from Sean Hayes and Kristin
Chenoweth, but the Burt Bacharach score doesn't hold up very well, even punched up with the addition of "I Say
a Little Prayer," and "A House is Not a Home," two songs not in the original 1968 production.
And that brought me to … the middle of Pennsylvania.
Note to self: Next year, stock up on more local music. Or fly.•
__________
This column appears weekly. Send information on upcoming arts and entertainment events to lharry@ibj.com.

Please enable JavaScript to view this content.